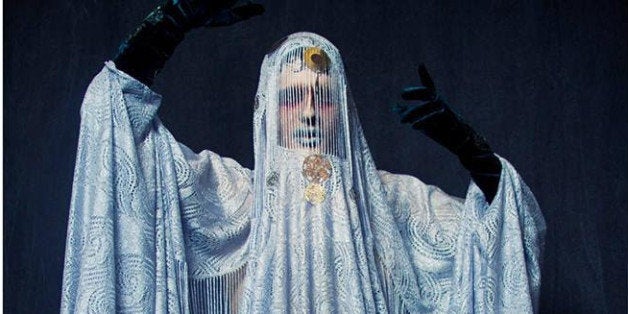 This is the tenth installment in an ongoing series that explores drag culture and the nightlife scene in Brooklyn, N.Y. Over the past several years, following the large-scale exodus of artists across the East River and into northern Brooklyn, those engaged in drag culture in this outer borough have created a new, queer world entirely their own. Accompanied by a larger movement to understand drag culture outside of the pageant circuit, many individuals engaged in the drag community in this borough approach drag culture through a nontraditional lens of "alternative" drag or performance art, enabled largely by the malleable and queer nature of this part of New York. Visit HuffPost Gay Voices regularly to learn not only about the individuals involved in Brooklyn's drag community, but more about the culture of the community itself.
How would you characterize the kind of drag that you do?
Lady Simon: Frankly, I've never really considered what I do as "drag," at least not in the conventional form. Female impersonation is not really my goal; chic androgyny, insane performances and all around gender fuckery is what I'm after. Basically, if you call me a drag queen, I'll take it, but I'm actually trying to figure out a snappy new term for what I do. However, something cuter than say, androgynous queen, which is boring. If you have any ideas, let a girl know!
Describe the drag scene and community in Brooklyn -- what makes the drag culture here unique?
Oh god, the drag scene here is crazy. To me its much less about drag and more about the new school of nightlife. It definitely involves some amazing drag queens, but isn't just limited to being a queen, it's much more than that. Brooklyn is home to HANDS DOWN some of the most amazing performers in the game right now! I've even been on the verge of tears watching some of these girls on stage and I don't think you can say the same about most other places, at least not that I've personally experienced.
How does Brooklyn as a community shape and construct drag culture?
I think Brooklyn is really, or at least it should be, pushing drag forward. We should be at the forefront of what's next, and I think for the most part we are -- always striving for something new and different, bigger and better. I mean, come on! It's New York City, its 2014 -- lets not be basic ladies! Keep an eye on Brooklyn, because we're coming for the world. But I guess since it's Brooklyn you should probably keep the other eye on your purse.
(The interview with Lady Simon continues after the slideshow.)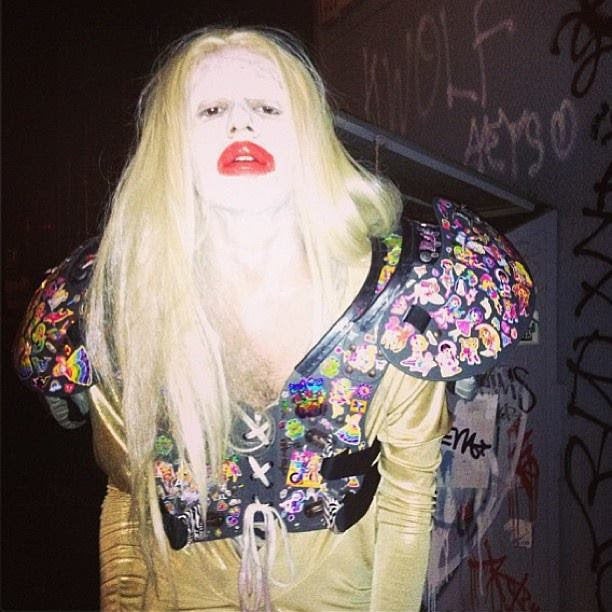 Lady Simon
How did you get your start in the drag world?
Well let me first say I've always just a dramatic crazy person with some intense dance moves, so performing wasn't really a stretch! But I can definitely say a huge inspiration for me came the very first weekend I moved here after seeing Krystal Something Something and Backspace perform at Sugarland Nightclub. It was one of the most amazing things I had ever seen, and I was like "Um, yes please!" So I started partying in the scene quickly after that, but really got my start during The Mr(s) Williamsburg Pageant earlier this year, in which I placed top three, by the way.
What does it mean to you to be a drag artist? How do you experience or understand this identity?
Simply put, to me it means freedom. Which for a repressed kid from a intensely Christian family from Ohio, it's what I longed for me entire life! It means I can do and be and say and feel and experience whatever the hell I want. And even more than that, I can put all of who I am on a stage and throw it in everybody's face. Which is also why doing what I do is so hard, because when they love it, it's a joy and high like you can't even imagine. But when they hate it, holy hell ouch, hard to not take it personally. Especially with someone like me because I'm not playing a character I invented -- its all just me on and off stage. But I love it so you have learn to stop caring and just enjoy it.

Drag culture is becoming increasingly more mainstream, particularly with the popularity of "RuPaul's Drag Race." How would you say this has affected drag culture and the nightlife community?
It's such a tricky subject -- it's great when something you work hard at becomes popular, but it's also horrible when something you work hard at becomes trendy. For "Drag Race," in particular, I very much respect RuPaul and I think we can all agree that the show is really entertaining. But, for me, it really has very little to do with what I do. So when people watch that show and assume that's the end all be all of what drag is, its kind of like saying all gay people are the same -- which is nonsense, obviously.
Where can you be found throughout the week?
I'll be hosting a new party at The DL starting at the end of January with Trey LaTrash, Cher Noble, and amazing legends like Amanda Lepore and Formika! Also, in light the recent developments with the closing of Sugarland, my weekly party "Lady Simon Says" will be relocating, details to come soon. I frequent Macy Rodman's night at Don Pedros, "BathSalts," every Monday. Tuesdays you can usually find me at Tandem Bar in Bushwick, performing every first and second Tuesday and watching amazing shows the rest of the month. I emcee and perform every Thursday at Wreck Room for Trey LaTrash's party, fittingly called "Bless This Mess." Friday and Saturday, well you'll have to just find me frequenting places like Bizarre and Spectrum, or sleeping...just kidding, I don't sleep! Also I usually have a few random gigs throughout the month so keep checking my Facebook.

Any parting words?
I'll just leave you with what I sing to myself right before I step on stage.. "I'm old enough to bleed, I'm old enough to breed, I'm old enough to crack a brick in your teeth while you sleep" - Die Antwoord. KISSES!
Missed the previously featured drag performers and installments in this series? Check out the slideshow below.
Support HuffPost
Every Voice Matters
Before You Go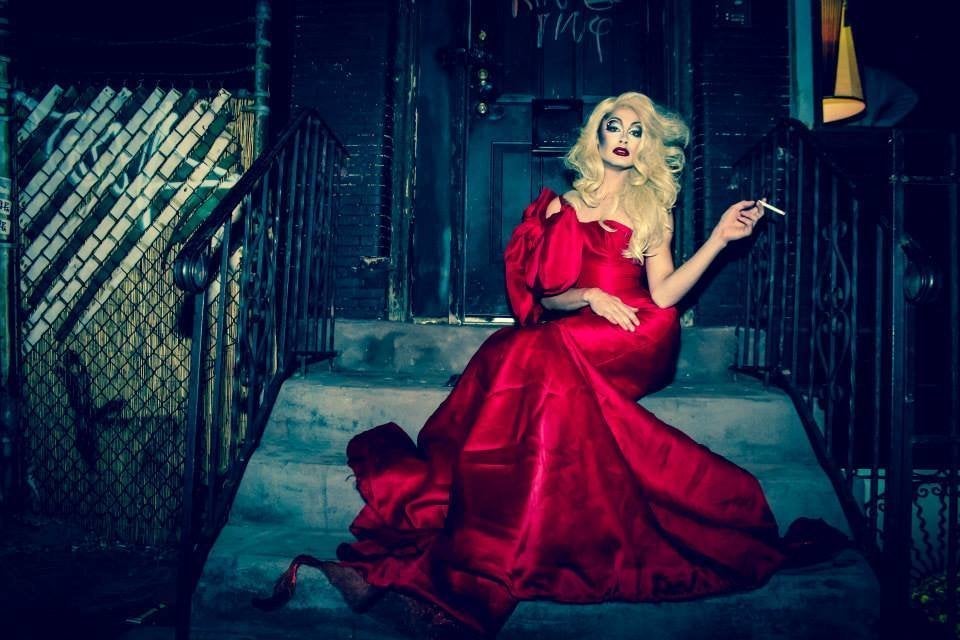 Queer New World: Brooklyn Drag Culture
Popular in the Community