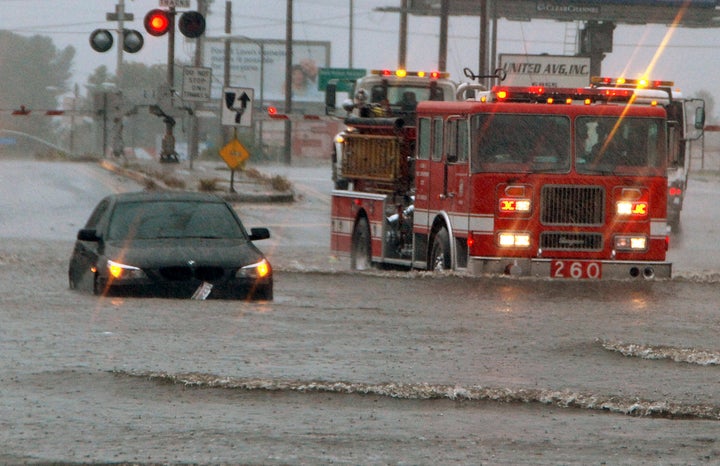 But the new plan could change how quickly fire crews respond when multiple emergencies happen at once, what kind of equipment works in certain situations and how quickly a second crew arrives at the scene of some fires.
While every station will remain open, many will operate with fewer firefighters. The LAFD notes that no apparatuses "are being removed from any fire station," but the fewer firefighters available at some stations mean trucks could sit unused until backups are sent. The LAFD insisted the amount of time required to "knock down" the average fire in the city will not rise above 15 minutes.
Reduced fire crews can significantly affect the amount of time it takes to put out a fire, according to a report released last year by the National Institute of Standards and Technology. For example, a four-person crew can finish up tasks 25 percent faster than a three-person one.
It will also be difficult for the LAFD to respond to multiple emergencies, such as wildfires and flooding, at the same time under the new plan. The city as a whole will lose 20 of its 49 two-piece fire companies, according to Ted Nonini, a director at the United Firefighters of Los Angeles City Local 112.
"The remaining companies that are in service are going to have to pick up the slack," Nonini told HuffPost. But that's not always possible, according to Nonini, because "sometimes the weather can change rather abruptly in Southern California, and we can get caught behind the eight ball."
Flash floods or brush fires, for example, can happen with little of the warning the LAFD would need to send its pool of additional firefighters to an area in danger. The LAFD responded to this concern by noting its dispatchers "can rapidly add resources and put these companies into service, typically before a wildfire breaks out."
LAFD spokesman Brian Humphrey said the threat of multiple emergencies at once is not unique to Los Angeles. "Every fire department in the nation faces the same challenge, what if," he said.
In Chatsworth, which will lose an engine company, and nearby Porter Ranch, which will lose an ambulance company and firefighters, residents worry about what the deployment plan will mean for them. The two communities will collectively lose eight LAFD employees. (No firefighters lose their jobs under the deployment plan; some will be shifted to other areas and some positions will be left unfilled after retirements.)
If it is on a call, a backup fire truck or engine will have to travel a greater distance and sometimes up steep inclines, slowing down the response time.

They also talked about the reduction in ambulance services in the proposed plan.

Capt. Fred Lopez said potential heart-attack calls are given first priority, but non-life-threatening calls will be delayed under the proposed deployment plan.
"The fire chief's plan is to do the best with available resources, and the resources that we speak of were determined by the City Council," Humphrey said.
In Nonnini's 28 years on the job, morale under the current "Modified Coverage" deployment plan, set to replaced by the new one on July 5, is "the lowest I've ever seen in my career," he said. With greater constraints and fewer firefighters in the new plan, he added, "I can't see anything but their morale becoming even worse than what it already is."
REAL LIFE. REAL NEWS. REAL VOICES.
Help us tell more of the stories that matter from voices that too often remain unheard.