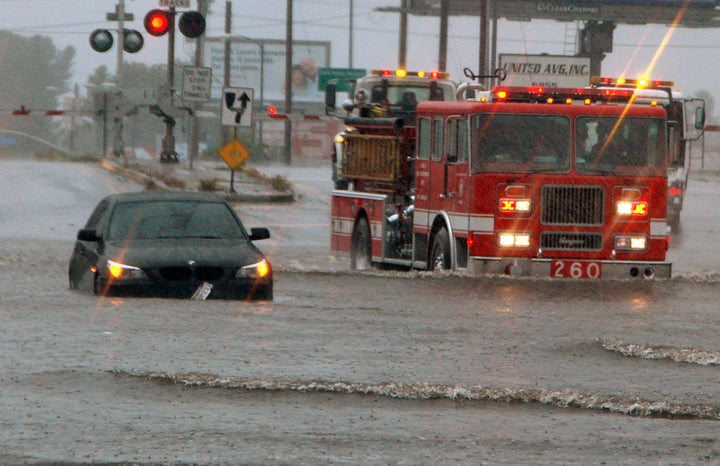 Just 12 days ago I challenged Los Angeles City Hall to make public safety a priority. City Hall data showed the Los Angeles Fire Department with a dramatic worsening in response times, getting to an emergency in less than five minutes only 59 percent of the time versus 86 percent in 2008, and against a stated goal of 90 percent.
City Hall has since admitted the 86 percent figure they provided the public was wrong -- it might have been 87 percent (LAFD reports for 2007), or 64 percent (City Hall's latest claim for 2008) or some other figure yet to be shared with the public. Any way we look at it, it's taking far longer for our firefighters to respond to an emergency than it used to.
City Hall politicians have reacted in typical fashion -- expressing outrage, claiming ignorance, denying responsibility and promising to find out what the actual number was in 2008.
They are missing the real problem -- the issue is the current 59 percent, the slowing of response times, and what can be done to improve it. LAFD responds to more than 300,000 incidents a year, so each 1 percent change in response times means 3,000 more lives are at risk.
Problem-solving can be broken down into three parts: identify and understand the issue, develop a plan to address it, and work to make changes and fix the problem.
Let's start with understanding the issue. The issue of response times should come as no surprise to Eric Garcetti, Wendy Greuel and Jan Perry since in 2009 the fire chief warned that the new fire department deployment plans they were adopting would increase response times and make our City less safe.
Wendy Greuel, following her years in City Council, was elected Controller in 2009. Her website's mission statement reads, "'The Controller's job is to investigate and publicly report problems with city departments." Yet not one of her 49 audits has been a performance audit of the fire department. Public safety doesn't even make her top 50.
If any of them had tried to properly understand the issue and asked the right questions, they would find the 59 percent figure understates the problem as it's only an average for the City as a whole. As the chart below shows, in some neighborhoods it's far worse.
Emergency response in less than five minutes:

National Standard 90 percent
San Francisco 90
Los Angeles 59
Westchester 38
Sun Valley 32
Porter Ranch 30
Encino 15
Source: Report to LAFD Board of Commissioners - Deployment Plan Analysis
November 22, 2011, Attachment 1, Measurement 2; Los Angeles Times, March 13, 2012
The report cited above is a public document. Why haven't the mayor, the controller and city council done anything about it?
How many more unfortunate tragedies like the March 2nd fire in South Los Angeles have to occur before something is done? How long will it be before Los Angeles is subject to lawsuits like one filed recently against Northwood, Ohio, claiming the city was negligent because it took too long to respond to an EMS call?
We should start by addressing the issue where the problem is most acute. Angelenos deserve answers and we deserve a solution.
Here is a framework of a plan to address the problem: provide a simple scorecard of how the fire department is doing, make better choices and spend our money more thoughtfully, embrace new tools and technology, listen to the ideas of our firefighters; and, if necessary, provide more resources to the LAFD.
City Government should provide simple, easy-to-understand performance metrics for every service or department, posting them online and updating them in a timely manner.
LAFD could start with one number -- showing in each neighborhood in Los Angeles how often our firefighters arrive at an incident in less than the stated goal of five minutes.
Just three weeks ago, Los Angeles opened a new LAFD dispatch center. Yet, as far back as 2006, then-Controller Laura Chick questioned whether this was a good use of taxpayer money since there was extra space in a new police dispatch facility the fire department might have used. In addition to saving money, this would have allowed for "integrated dispatch" (police and fire working together) which has been used around the country -- including in New York where this has helped cut response times.

Embrace Technology
Every fire department vehicle should have GPS to replace paper maps. A GPS device costs less than $100 at Best Buy. This should be easy.
The City should invest in an integrated Automated Vehicle Locator System (AVL), which allows the command center to dispatch resources more efficiently. New York City has saved more than 30 seconds in response time with this technology. Nearby Verdugo Fire Communications Center, serving Glendale and Pasadena, has adopted this approach with great results.
Listen to those who do the work
The career politicians aren't helping -- we've heard promises from them to fix it for years, but the problem has only gotten worse. Let's start listening to the hard-working men and women of the fire department for their thoughts on how to address the issues. They'll also help us identify wasted spending like the $200,000 worth of portable combustible gas detection equipment (CGI) purchased years ago but stored in a closet since because the City inexplicably chose not to pay $10,000 to properly calibrate the equipment.
We also need to make sure our firefighters have the tools to reduce the risk they take in keeping Angelenos from harm. In 2008, firefighter Brent Lovrien was killed when he and his crew tried to force entry into a building in Westchester and the combustible gas inside the room exploded.
This tragic loss of life might have been prevented if the crew had the use of CGI to check the smoke coming out of the door before they tried to enter.
City Hall has to provide enough funding to LAFD to do its job. This needs to start with a top-to-bottom review of where money is spent and a careful look at how to make each dollar go further.
This plan is only a start. If we are to make progress in City government, it starts with leadership. Leadership will earn the public's trust -- trust built on transparency and accountability. Unfortunately, transparency and accountability do not exist today in City Hall.
Public safety is not just about facts and figures -- it impacts lives. After I raised my concerns
12 days ago, I received an email from a friend who lost his daughter in a fire many years ago. Tragically, the fire department could not get there in time to save her.
It's time for new ideas and new approaches to start solving problems in Los Angeles.
This issue is too important to be left in the hands of the career politicians who helped create the mess. They're "shocked" and "outraged" -- they're everything but serious about solving the problem. The time for empty political promises and posturing is over.
I would urge the mayor to appoint a Citizens Task Force with a firm deadline and the authority to get to the bottom of this. Angelenos deserve to know the facts -- this emergency needs a timely response.
Austin Beutner, a candidate for Mayor in Los Angeles