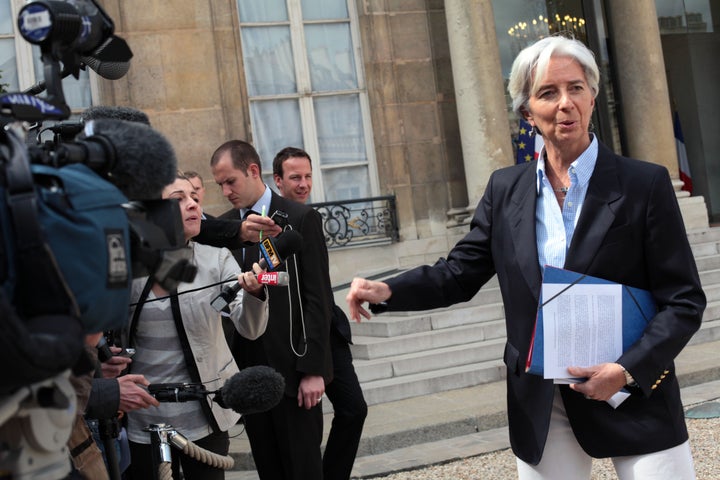 NEW DELHI (Manoj Kumar and Rajesh Kumar Singh) - French Finance Minister Christine Lagarde said on Tuesday that the size of the additional financial package for Greece had not yet been worked out and that the package will not include the restructuring of Greek debt.
The European Union and the IMF are readying a new bailout package for Greece which would replace a 110 billion euro deal agreed only a year ago, but that would depend on Athens implementing further austerity measures.
"It is in process, there is no final number at this point in time," Lagarde told a news conference with reference to the size of the additional package for Greece.
"No," Lagarde answered to a question on whether she expects Greek debt to be restructured.
While the government struggles to prevent Greece from defaulting on its debt, the Socialist cabinet has debated a medium-term economic plan which will impose 6.4 billion euros of extra savings in the rest of this year alone.
The bailout assumes that Greece could resume commercial borrowing early next year which it is unable to do so now.
But there is still no clarity on whether private creditors will be asked to share in the burden of funding Greece.
While German Chancellor Angela Merkel wants creditors to take a hit to share the funding burden, acting IMF chief John Lipsky has said that the latest plan for Greece 'does not contemplate debt restructuring'.
Lagarde is currently in India as part of her global tour to drum up support for her candidacy as head of the International Monetary Fund (IMF). She flies to China on Tuesday night.
The minister, who failed to get public backing from India, said that Indian officials had positive views on her credentials and that she hoped to get a view on China's position later this week.
Lagarde added that many countries would wait until June 10 before announcing who they would support.
"Many African countries have expressed, publicly for some and privately for others, their support for my candidacy," Lagarde told CNBC TV.
"My suspicion frankly, is that a lot of countries are going to wait until June 10, because that is the closing of candidacy filing," she added.
The IMF top job fell vacant after its former boss Dominique Strauss-Kahn was arrested on charges of sexually assaulting a hotel maid.
Kahn has pleaded not guilty to the charge.
Lagarde is seen as the leading candidate in the IMF race, which also includes Mexico's central bank chief Agustin Carstens.
The French minister said she would know more about China's position over her candidacy after she visits China on Wednesday.
France has claimed the support of China for Lagarde's candidature to the IMF top job, though China has made no official statement openly supporting her.
Lagarde described her meetings with Indian officials as "excellent".
"I don't think I will betray their confidence in saying that they (Indian leaders) expressed positive views about my skills and credentials," she said.
Lagarde added that a pending legal case in France involving her would not be an issue for her candidacy and that the case had no grounding.
The main obstacle in Lagarde's bid for the top job is the possibility of an inquiry into her role in a 2008 legal settlement which involved paying about $408 million to businessman Bernard Tapie, a former left wing government minister who switched sides to support Sarkozy's 2007 presidential campaign.
Judges will rule on Friday whether the French finance minister would face an enquiry on the issue.
Finance Minister Pranab Mukherjee told reporters earlier on Tuesday that India had not given any commitment to support Lagarde. A separate statement from the finance ministry said Mukherjee had "wished her well" in efforts for her candidacy.
(Editing by Alistair Scrutton)