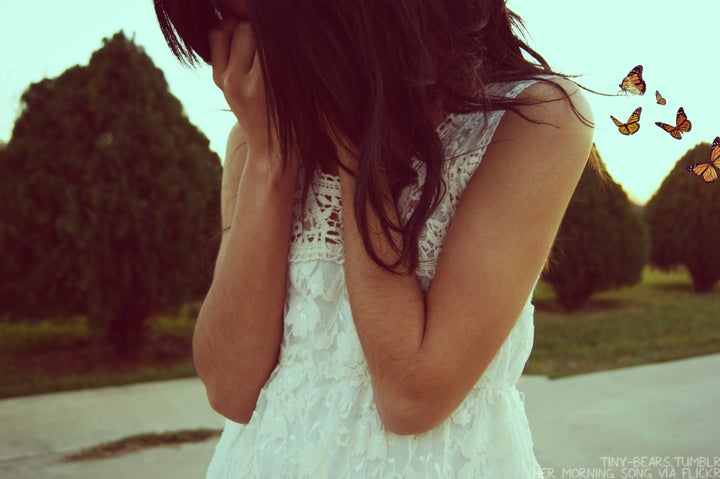 It felt as though I was having an affair. (Or so I've heard.) My first love, secure and comfortable, was beginning to feel, well, secure and comfortable. I often thought about what else was out there, eyes peeled for a new adventure. But the more I looked, the more I realized how good I had it.
And then, it happened. It started innocently enough. Meeting for coffee, discussing our goals, dreaming big. Before I knew it, our chemistry was undeniable, and we were talking about our futures…together. I had a newfound optimism; my potential seemed limitless. I was falling in love all over again, and it was all I could think about.
Daily, though, I questioned my decision to leave a situation that had been so perfect for a time, and that I still cared about deeply. But after almost ten years, I knew a fresh start was best for both of us. So I decided to follow my heart.
Until we made it official, I had to keep my new love a secret. It was hard: friends and family could tell that I had a new glint in my eye, a skip in my step. Slowly, I began telling those closest to me. And word began to spread: I was leaving my job.
Having been the Alumni Director at a prestigious independent high school for nearly a decade, it was a nerve-racking decision. Like the graduating seniors that I'd watched launch their caps in the air each June, it was my turn for commencement. And I felt the same anxiety, anticipation and excitement that they did.
The leap was bittersweet. I still loved the school: the community, the kids, and the latte mornings. But this kind of opportunity didn't come around very often.
A pair of sprite young co-founders visited my office on a crisp fall morning, to pitch their innovative new software product. The synergy between myself, the product and the team was palpable, and my endless ideas for the company began keeping me up at night. "I don't want to be a beta client," I said, after our second meeting. "I want to be a partner." What started as a free six-month trial soon became the adventure of a lifetime.
I joined the company as Business Development Director in January 2015. As the first U.S. employee (eighth overall), it was a new and exciting opportunity that was a far cry from the stability and security of my former post. Perhaps I wasn't immune to the entrepreneurial bug that had bitten our high school campus, or the "pursue your passion" mantra that pervaded the curriculum. But there was a critical difference between me and the kids on the quad: I was more than double their age, and a suburban mom of two.
"I'm only working part-time," I'd say when people asked me how on earth I would juggle two young kids and a startup. "Oh, so you mean like 60 hours instead of a hundred," joked a friend. At least, I thought he was joking.
I'm not going to lie: it was hard at first. I was so passionate about the company that I ate, slept and breathed its mission. Feature ideas wracked my brain at breakfast; potential clients permeated my thoughts at the playground. I rushed through bedtime stories to get back on my laptop, and sacrificed many hours of sleep to share screen time with my colleagues abroad. Since I worked from home, my to-do list would stare at me every time I went to the kitchen to make dinner or fetch a sippy cup. I checked my email incessantly.
But after a few months, I realized this lifestyle wasn't sustainable. I remember the day: I spilled an entire cup of coffee on myself and accepted the fact that I couldn't do it all. So my boss agreed to cut back my hours and I got better at sticking to them. While I still logged on every evening after the kids were in bed, I consciously uncoupled family and work time as best I could.
The job quickly became a dream. I had a flexible schedule doing a job I loved for a company that I believed in. I wore many hats, but was empowered to focus on the tasks I was best at: content marketing and lead generation. I traveled to Europe and had coffee with Silicon Valley visionaries. Erlich Bachman-esque buzzwords spontaneously crept into my vocabulary: disrupt, pivot, innovate. Our co-working space had a slide. I was finally on the inside of the once-elusive startup world.
The honeymoon ended on a blustery December day in a coffeeshop in the Dogpatch neighborhood of San Francisco. My boss was visiting from Europe to pitch to a renowned seed accelerator program. First, she complimented my work: myriad prospect meetings, improved SEO, and blogposts published in Bloomberg and POPSUGAR. Then it came: the "but."
Our burn rate was too fast and our runway too short. We had just pivoted to serve a different market and had to rebuild our pipeline from scratch. While my work was needed more than ever, they could only afford to pay me for one day a week. Could I just agree to that arrangement for three months until the next investment comes through?
Figuring I could supplement my income with some freelance work and spend a little more time with the kids over the holidays, I agreed. I was upset, but I knew it was nothing personal since they wanted me back ASAP. Because of my devotion to the company, I ended up working my full schedule, spending more on daycare than I was earning. It took me months to recoup my losses.
But they stuck to their promise, and my hours were increased as soon as the next seed round reached our bank account. Things were great again.
In April, I flew to London to visit the team at a three-month mentorship-driven accelerator program. The Program Director called me a "founding member" of the company and our CEO praised my energy and ideas. Comments like this made up for the fact that I was sharing an Airbnb with a total stranger and taking tubes instead of taxis. While bootstrapping was a drag, my proverbial cup runneth over.
I continued to raise awareness about the company, evangelizing the platform and its significance. I created white papers, led webinars, and was offered a spot on a local radio show. I was a regular contributor to several industry publications, and was gaining traction with some of our top leads. The energy from the London trip stoked my fire; I felt unstoppable.
But things across the pond were less optimistic—the end of the accelerator program loomed and a new round hadn't been raised. Investment is a lot tougher to come by than it was a year ago, and the clock was ticking. Something had to give.
It started as a regular morning in June—my kids climbed into my bed to "snuggle" (er, thrash) at around 6:15 am. When my husband called them into the kitchen for breakfast, I rolled over to check my email and prolong pillow time. And there it was: a message from my boss, telling me they couldn't afford me anymore. Again.
As the only non-developer (with exception of the Founder/CEO), I was also the only team member adding more long-term than immediate value. My goals were lofty, and while I worked tirelessly to establish us as the thought and technology leader in the space, it wasn't something that was going to happen overnight. The imminent survival of the company didn't necessarily depend on me.
At first I was in denial: they mentioned wanting me back again when they closed a new round, so maybe that would happen in a matter of weeks. Then, I was hurt: I felt so dispensable, and silly for ever considering myself a core member of the team. Then came anger: how dare they let me go via email and move on so quickly as if nothing ever happened? And finally, I accepted my new reality: a chance to explore new opportunities, learn new skills and see what else is out there.
Like any one-sided breakup, it still burns. I'm jealous when I read about the company online or catch a glimpse of 'beer Fridays' on Facebook. When I saw a team photo from a major pitch event, I felt left out and superfluous. And dang I'll be jealous when they start courting their next hire.
Being laid off sucks, even if they say it's nothing personal. It's hard not to feel inadequate and wonder what more you could have done. It's alienating to extricate yourself from the Slack chats and Skype calls. And it's deflating not to feel needed anymore.
When our relationship first started, I had butterflies and hope. After getting dumped, it took me awhile to get up the courage and confidence to get back out there. I know there are other fish in the sea: maybe even more established ones with bigger bankrolls. Ones that can afford to treat me to lunch every once in awhile and will have a hot cup of coffee waiting for me in the morning. I now know what to look for in my next partner: more stability, camaraderie and mentorship. Most importantly, I'm stronger, more confident, and brighter now. I'll make one hell of a partner.
I wish nothing but the best for my ex, and I hope we remain friends. If, someday, I'm wooed to return, I'll have to see whether or not it's the right fit for me anymore. I can't wait around until I'm needed again; who knows where I might be by then. "It's not you, it's me," I might say with a hug, my new love's logo on the back of my sweatshirt shrinking as I walk away.
About the Author: Liza Bennigson is a mom of two and the Content Marketing Manager for Teen Mental Health at CHC. She enjoys running, writing, and spontaneous dance parties with her kids. Find her on Medium and Twitter @LizaBennigson.
Calling all HuffPost superfans!
Sign up for membership to become a founding member and help shape HuffPost's next chapter