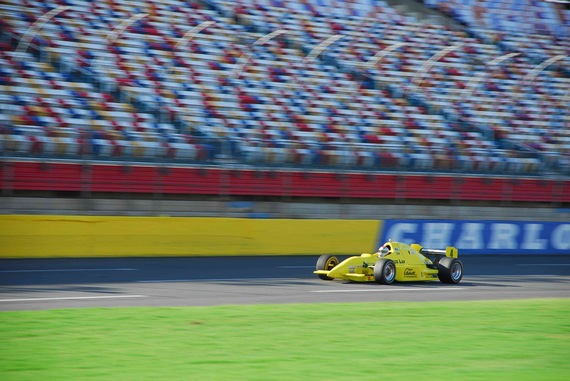 Author on the front straight of Charlotte Motor Speedway. (Photo by Robert Anderson, courtesy of Jim Clash)
Charlotte is known by most tourists for its laid-back, southern charm. But to auto racing fans it's the capital of NASCAR, with its famous "Hall of Fame Museum" downtown.
Just a few miles from city-center is also the Charlotte Motor Speedway, one of the better-known tracks in the U.S. I'm here not to drive stock cars, but to test the sleeker open-wheelers raced in NASCAR's evil competitor series IndyCar.
Barreling down Charlotte's front straight at 170 mph is kind of laid-back, actually. With 1,900 feet of track before the next corner, all you need do is drive in a straight line. The late afternoon sun skitters off the colored grandstand seats, creating a calming, hypnotic effect.
Don't daydream, though, because the distance evaporates in under 10 seconds, then it's time for Turn One - another sweeping left-hander banked at 24 degrees. You ease the throttle, gently point the nose of the car toward the white line at the bottom of the track and brace for a multi-G jolt as the tires bite the asphalt and your body is crushed into the right side of the car.
Believe it or not, the Mario Andretti Racing Experience gets folks turning laps like this in a day or two, providing he or she has the skill and guts. "It's not for the faint of heart," says Robert Lutz, 44, who founded the school in 1999 and who is still CEO.
Before I visited Charlotte, I asked 2014 Indianapolis 500 champion Ryan Hunter-Reay for some tips. "The important thing is to gradually pick up momentum," said the 33-year-old who races in the IndyCar series for Andretti Autosport. "But don't just stay at the same speed. Continually push a little harder each lap. You'll feel the car can take more speed through the corner than what you could ever comprehend."
A program at Andretti Racing starts with an hour of classroom instruction, then students belt into a race car for track sessions of between five and eight minutes each. The 600-horsepower, 1,800-pound cars are pretty close to real Indy cars. Inside, your legs mash into the nose of the cockpit. The clutch, brake and throttle are within centimeters of each other. Good thing you don't much need the first two. Because the cars have just one gear - high - you never shift and only use the brakes in pit lane.
Adding to the feeling of cockpit claustrophobia is a tight five-point harness/belt system, a crash helmet equipped with a radio - and a hot, bulky driving suit.
A rolling start is needed to fire the engine. After my push, I popped the clutch in a bright yellow car (see photo) and was off. I took the first laps slow. My radio spotter Nick Celano, positioned high in the grandstands to see the entire track, sensed my building confidence and urged me to speed up each lap. Within minutes, I was cruising above 100 mph. A strong air draft began to build around me, mashing my helmet into the headrest.
Once I really got flying, the car occasionally hit the rev limiter, a device controlled by a computer chip capping engine RPMs. My first sessions were limited to 5,000 RPMs, but as I got more comfortable, the staff upped the chip size by increments of 400 RPMs.
While these cars are built to hug the track at very high speeds, as Hunter-Reay said, there are limits. Push too hard or run the wrong racing line and the machine won't just slide up the track like your family sedan. Rather, the slick fat tires will break loose without warning.
"It's never pleasant hitting the wall," Hunter-Reay had warned me. "Even with the advent of the softer safer-barriers, it's still an extremely hard impact - and it hurts."
On my final session of the day, I kept that advice in mind as Celano pushed me to turn my fastest laps. The building G-forces in the corners were downright scary. Sure enough, though, the car stuck to the track at quicker and quicker speeds. I was getting around the 1.5-mile oval in under 40 seconds!
My top speed was determined to be 177.27 mph, fastest of the day. Afterward, I was given a certificate by operations manager Chris Daniel saying as much, as are all students.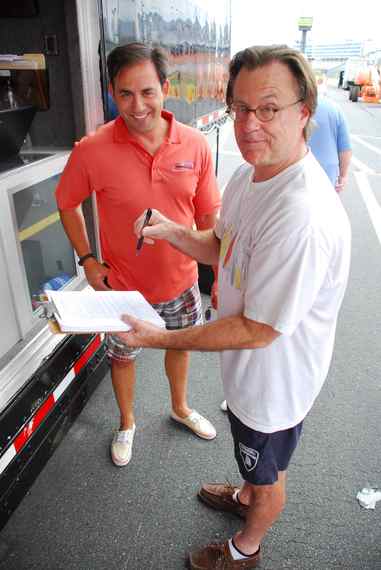 All students sign liability waivers. Here the author does so while Andretti Racing CEO Bob Lutz looks on. (Photo by Robert Anderson, courtesy of Jim Clash)
Who was my competition? All 200-plus participants at Charlotte that day were racing fans in one way or another. Ted VonderHaar, a retired residential construction manager from Simpsonville, SC, had asked his wife Linda to marry him at the 1970 Indianapolis 500 race. He had participated at the Andretti Experience before, and was back at Charlotte as a gift from his wife.
Others were there for a Sunday spin (no pun intended). Myles Anderson, 16, from Wilton, CT, had signed up for a ride-along in the two-seater. For $129, he got three "hot" laps with a pro behind the wheel. "Amazing," is all the stunned teenager could muster after stumbling out of the car following his run.
The Mario Andretti Racing Experience [www.andrettiracing.com] is offered at nine other tracks in the U.S. Excluding airfare and hotel, programs range from $400 for a single five-minute "Practice Drive 5" session, to $3,035 for the two-day "World Champion" package which includes four solo eight-minute track sessions and two side-by-side sessions. The fees cover race equipment, helmet, radio and suit, plus insurance for potential damage to the car.
Wouldn't you know it - Bob Lutz also runs a stock car school in Charlotte, the NASCAR Racing Experience. I'm already thinking that could be next on my thrill list. Bob, are you listening? Can we make that one happen?
Jim Clash, an adventure journalist, is author of "The Right Stuff: Interviews With Icons of the 1960s" (AskMen, 2012) and "Forbes To The Limits" (Wiley, 2003).
Related