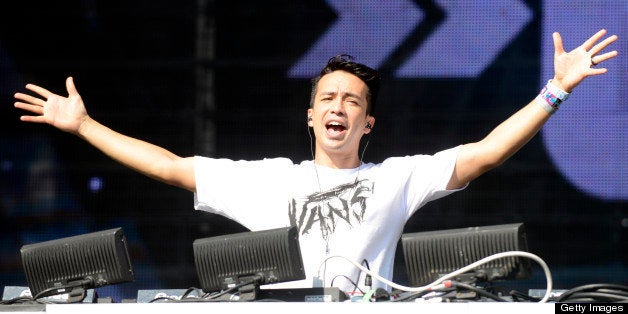 Laidback Luke is probably the best named DJ in the business. In an industry characterized by an almost oppressive obsession with positivity and hand-hearts, Luke's naturally sunny disposition shines through. (He's a bit of an everyman, too: While other DJs hawk jewel-encrusted headphones, he mixes for tens of thousands with a pair of iPhone earbuds.)
But it turns out there's a big secret to his grounded-ness. Luke quietly posted a photo of gold medals on his Instagram with the caption, "Was silent as I competed in the World Championships of Kung Fu in Hong Kong. Won 4 gold and 1 silver!". It turns out everyone's favorite Dutch progressive house producer is a kung fu master with teaching level skills and a silent dedication to a craft outside of making party goers jump in unison.
In an interview with The Huffington Post, Luke describes the gold medals as not just a "dream come true," a dream deferred. "As a kid I competed as well," he said. "But I only got as far as being the second in the Netherlands. I never became No. 1. I could have, and this was always very much of a frustration for me."
That sense of accomplishment -- and his admission that he already sees an endpoint to his career as a touring DJ -- don't mean that there has been a change in his priorities. "DJing and producing is the No. 1 love of my life and kung fu is my second," he stressed. "The only reason I would leave this is because I would be growing too old, and as of right now, I still really enjoy producing and DJing with all of my heart."
Instead of continuing with martial arts (he primarily practiced kung fu as a child), he went on to become a globe-trotting DJ. Ahead, we chat with Luke about his path to being a world champion, how fellow producer Steve Angello changed his life and why he thinks dance music will be bigger than rock and roll.
So set this up for us. How did you first get into martial arts?
As a kid, I was always into martial arts. I grew up doing karate and when I hit puberty, I just kind of forgot it and focused on music more. When I was in my mid-20s, I kind of got out of shape, and I thought I needed to something healthy. Going to the gym was never a thing for me, and as a kid I had always wanted to take up kung fu, so I found a good studio and started doing it.
Where do you primarily train now?
I train in the Netherlands, it's a small town called Leiden. But most of the time, and for these world championships, I train on the road because I'm always traveling. I usually just take an hour or an hour and a half a day to train and go through my forms to keep my level up.
There are a number of other musicians who are very deep into martial arts, perhaps most notably RZA. He has been very open about how kung fu informs his whole life. What does it offer you?
It's a method of keeping up this crazy DJ schedule I have and keeping me grounded. It also keeps me energized on tour and keeps the peace and quiet while everything else is chaos and manic moments. It really helps me even out this crazy life that I live.
Do you have any other friends who are musicians who also practice?
I know a couple of DJs that do as well: I heard Nicky Romero is big on jiu-jitsu, I heard Fedde Le Grand is a teacher in Indonesian martial arts, so there are a couple who do it again.
And your wife, Gina Turner, is very big into yoga.
Yes, she actually has her teacher's certificate as well. We're both addicting to the healthy life, for sure.
When you gaze into the future, do you ever see martial arts overtaking music as your primary focus?
A big dream of mine is to open a school one day and start teaching. I'm at the teaching level now, but I can't stick any time into it because of DJing. So whenever the touring will slow down a bit, I'll focus on that more. The thing with kung fu is that we have our great grandmasters who are teaching until their mid-90s. So if you're DJing up until your 50th, that's very old, so martial arts will go a long way.
And if you had to guess, is 50 about the age you'd want to step back from DJing?
Yeah, I would say so. Definitely. From when I hit 45 up until 50, I'll probably slow down. I've been speaking to fellow DJs who are around 45 years old and they always say, "Oh, this is the last year I'll be touring that hard," and then another year pops up and they're still touring. So we'll see.
Are there any ways you prepare, mentally and physically, for the summer?
The summer is really busy -- sometimes you'll be combining two festivals on a day. So the summer season makes the rest of the year look busy in terms of bookings. But we have a lot of exciting things lined up, like I'm hosting the second main stage at Tomorrowland in Europe, hosting my own area at Creamfields in the U.K. and I'll be back for the U.S. festivals as well. Electric Zoo [in New York] just got confirmed.
But is there anything special that you have to do mentally or physically to prepare?
The funny thing is, I'm hosting my own "Super You & Me" areas and the one thing I'm very concerned about right now is getting a costume ready. I'm even thinking about tailor-making some costumes that I've designed. In terms of music, but it's always something I go in for unprepared and it evolves on the moment itself. I never know what I'll play out.
Let's talk a bit about your new song with Hardwell, "Dynamo." How did that come about?
Hardwell and I have known each other for ages -- I remember him just being a young kid and always coming to my shows. We had a show in Moscow once where we performed together, so I just hit him up and was like, "Yo, I'm in the hotel room, do you want to come by with your laptop and we'll just make a track?" And so we did, and we made the track and tested it out that night. It went down a storm and it was all said and done!
You've often said that you make a track in two to four hours. At what point in your career did you have the confidence to know that something was done and didn't need more tinkering?
The thing with me is that I always floor test. If I can't floor test my track, because it will always sound different in a club. You can anticipate how the crowd will react, but to see them actually react confirms it. In the past, I have made remixes that I couldn't test out on the floor, handed them in and played them out the weekend after and was like, "Oh, shit. I needed to adjust this or that." I'm in a very lucky position that I have so many shows so I can finish my productions accordingly. But you should test your track out on every system -- headphones, car, living room, through the telephone -- anywhere you can get some audio that sounds different than your studio will help.
But did the speed come naturally to you, or was there a shift at some point in how long it took you to produce?
This is actually a tricky thing. I've been a producer for 20 years now, and up to 10 years in, I had developed a method of producing that took me a lot of time. It took me two weeks to finish a track. I was really stuck in my ways. At that moment, I met Steve Angello and we started producing. I saw the way he produced and it was so quick and easy and sounded to fat in an instant, that I totally switched up my way of producing.
So, thanks to Steve Angello and Swedish House Mafia, I was able to produce tracks in four hours when I got back from Sweden. And just before that, I had hit rock bottom and I thought I couldn't learn anything new. Producing had become a pain in the ass, and all of a sudden I got this new energy and method that really sped up the way I produce.
Is that around the time of the "Show Me Love" remix and those sessions?
Absolutely, when Steve and I produced "Be" and I produced "Get Dumb" with the Swedish House Mafia, it was just around that period.
For you, as an artist, are there any recent differences in dance music that have caught your eye?
I see all of these horrible writeups about EDM and I actually experience it in a very different way. I feel, especially in the U.S., there's a whole new generation coming up who is very knowledgeable about EDM. When I first started playing in the U.S. it was all very new and people didn't know the roots. But now, I'm playing to a lot of younger crowds and they are very knowledgeable -- they actually don't want me to play the pop hits and mashups; they're very much tapped into what's going on. There's a big and new market that's different than what we've seen in the last couple of years. It reminds me of Europe, and it will be so much deeper and layered than what we've been doing at the surface the past couple of years. So I'm very positive about EDM.
I feel electronic dance music has the opportunity to become a bigger and longer lasting genre than rock and roll did. That's a very big quote, but I think that's coming at the moment.