In the heart of Slovenia, a country of the former Yugoslavia, lies an, admittedly popular, fairytale destination.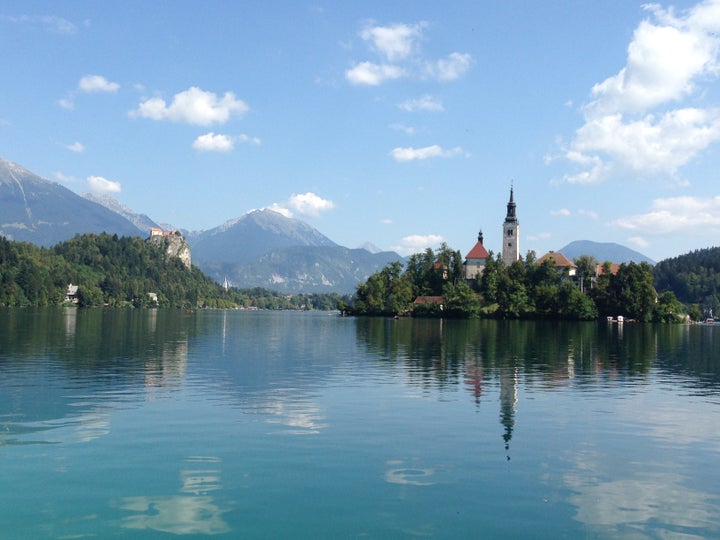 About a half hour's drive from the nation's capital - Ljubljana, and a 33 mile/55km distance, the landscape as you traverse the route to this magical destination is breathtaking.
I'm talking about Lake Bled.
I've seen many picture of Bled as my travel adventures grow – so my appetite had really been whetted. Bled is actually a small town, and the Lake is the tourist attraction. As you approach Bled, located in northwestern Slovenia, you'll see the Julian Alps in the background and as you finally make the twist to the lake itself, you'll see it magnificently framed against the Alps backdrop.
Where and what is Lake Bled
The lake itself didn't disappoint. Rarely do I visit a place and feel the reality is better than the pictures…not so at Lake Bled. The waters were a bluey/green hue – this is probably due to the glacial waters. It's 6,950 ft (1,380 m) long and 4,530 ft (1,380 m) wide and has a depth of 97 ft (29.5m). Is there a Bled Ness like at Loch Ness? Not that I've heard of!
It's surrounded by forest and mountains, and the medieval Bled Castle – one of the oldest in Slovenia dating back to the year 1011, sits atop the north shore, whilst Bled island in the centre accommodates the 17th Century pilgrimage church of the Assumption of Mary. The church frequently hosts weddings and with its 171 ft (52 m) tower and 99 stone steps in a baroque stairway leading up to it, tradition says that if the groom can carry the bride up the steps on the day of their wedding and ring the bell, he may make a wish inside the church.
It's also possible to hire canoes, swim and there's a campground on one side of the Lake.
This post was originally posted on my website Life Beyond Borders. Take a look here to find out more and read the original.
Ljubljana - the nation's capital
I'd never though to visit this capital city before. Rome, Paris, Milan, Venice, Athens, Brussels then yes...although I've not been to all of them, I've certainly considered all these places But Ljubljana (I mean, how do you even pronounce it?!) is another fairytale waiting to be discovered...a jewel in the crown of Eastern Europe and should not go unexplored.
Ljubljana Castle has sat for approx. 900 years, silently watching over the city and offers amazing views, houses a puppet museum and museum exhibition of Slovenian history. There are two restaurants where you can eat and a cafe, plus a nightclub! Reached on foot or funicular railway, this is one attraction not to miss.
This is a MUST visit to anyone coming to Ljubljana – but maybe prepare yourself. In the centre of the city sits a former army barracks, harking back to the days when Ljubljana was part of the former Yugoslavia. Then a squat, but now a hub for alternative music, art, clubs and bars, it's a haven for 'alternative' types. The day I visited, extremely heavy rock music blared from one of the buildings…but the people milling around were incredibly friendly – as most artistic people are.
Distinctive art work and street art adorns the walls, and Metelkova has been a cultural hub since 1993, when 200 volunteers initially set themselves up to transform the place, to stop it being demolished. I have to be honest, despite feeling a little overwhelmed, it's an interesting place and I would highly recommend popping in there, to find out for yourself.
To find out more about Ljubljana and its attractions, from old to the quirky, head to my site Life Beyond Borders to read more.
Have you visited this Eastern European country? What did you think? Do share your comments.
Popular in the Community