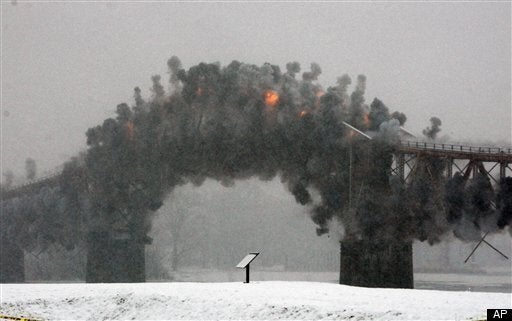 CROWN POINT, N.Y. (Associated Press) - Controlled explosions have brought down the Lake Champlain Bridge between New York and Vermont.
Snow fell and a small group of onlookers watched as the 2,184-foot-long span between Crown Point, N.Y., and Addison, Vt., was dropped into the water and ice at the narrow south end of the lake Monday morning.
There was a sharp concussion followed by billowing smoke as steel and concrete fell.
The 80-year-old bridge was closed Oct. 16 when engineers deemed it wasn't safe because of severe erosion to its concrete piers.
Idaho-based Advanced Explosives Demolition handled the detonation, using 800 pounds of explosives packed into more than 500 charges.
Debris will be removed by the spring, when construction is scheduled to begin on a new span expected to open in the summer of 2011.
Related
Popular in the Community