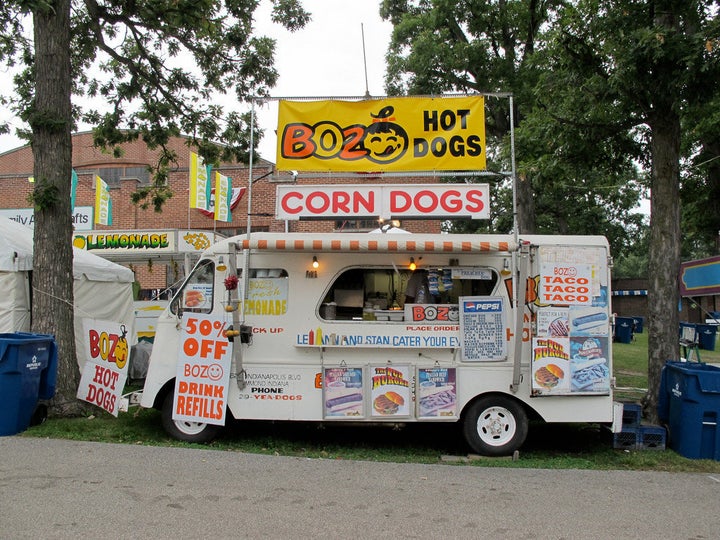 The Lake County Fair in Crown Point, Indiana, was established in 1852. It is a small rural fair that draws people from the metro Chicago area and northwestern Indiana. It offers classic old-time entertainment along with a dose of Hoosier hospitality. As part of a Huffington Post Travel series on state and county fairs, here is our guide to making the Lake County Fair as fun and rewarding as possible.
Local Culture
Set in the shadow of Chicago, Lake County, Indiana, is a patchwork quilt of small cities, suburbs and rural countryside. The
, held in the town of Crown Point in early August, celebrates the county's rural character. For 10 days, residents of the area can get a glimpse of the folks who help put food on their tables and the culture surrounding them.
Country Life
Nearly everything about the Lake County Fair is country, from the livestock to the competitions to the
. Rural families come out to show off their animals and participate in arts, crafts and food competitions. The fair stages old-fashioned, low-tech contests like bean-spitting, frog-jumping, apple-peeling and goat-milking, which could very well have been events when the fair started more than a century ago.
Hell Drivers And Monster Trucks
The fair's more modern spectacles include various motor sports events. Gearheads young and old will enjoy classic cars, monster trucks, tractor pulls, a demolition derby, a mud pull and the Hell Drivers thrill show. These
cost extra admission. For kids, there's a Hot Wheels race, a petting zoo, plenty of 4-H activities, a coloring contest (forms
from the fair's website) and a family fireworks show.
A Diverse Soundtrack
Entertainment includes country and gospel music, show tunes and acoustic and folk rock. Traditional country acts, a jug band and tribute bands that play the music of well-known acts like Tom Petty and AC/DC are among the featured performers. On opening day, don't miss the Battle of the Midway, which features local bands with members ages 21 and under. The triumphant band wins the honor of being showcased on Friday night with two of the headlining bands. There's also a karaoke contest.
Eating Contests And Food Competitions
Champion chowhounds can chomp down on hot dogs and pies at the fair's eating contests. The many agricultural and crafts shows include dozens of cooking, baking and preserving competitions, showcasing everything from pickles to salsas to pies.
Rides, Admission And Parking Prices
No county fair is complete without rides, and the Lake County Fair has more than 30 of them for all ages. All-day
are $25, though discounted wristbands for afternoon-only (or after 5 p.m.) access are also available. Tickets can also be purchased individually or by the sheet. Fair admission is free on weekdays before 3 p.m. and on Family Value Day. Regular admission prices are $4 for adults, $2 for ages 9 through 12 and free for children 8 and under. On-site parking is $4. Patrons can also park at Crown Point High School and take the free shuttle to the fairgrounds.
Racing pigs! Pigs named George W. Bushhog, Barack O'Rib Obama, Arnold Schwarzenhogger and Elvis Pigsley compete for the prize.
What's your favorite county fair memory?