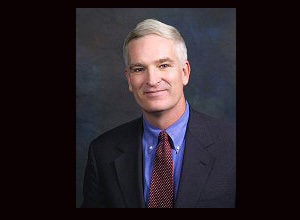 Lake County Sheriff Mark Curran began a week-long stint as an "inmate" in his own jail Wednesday.
Curran believes the voluntary detention will give him a better sense of the Lake County Jail and improve his job performance, according to the Sun-Times:

"I believe that I can be a better sheriff by having a better understanding of jail operations from the perspective of an inmate in the Lake County Jail," Curran said before being locked up. "I believe that I will receive significant introspection from staying in the jail with inmates for a week."

Curran plans to live in a cell, eat jail food, mingle and talk with other inmates in common areas, while also attending numerous programs offered in the facility, including substance abuse counseling, parenting and educational classes, along with religious services.
Curran will get preferential sleeping arrangements for only part of his time inside, reports the Tribune:

Curran will spend three nights in one of the jail's dorm-style accommodations, according to a schedule organized by jail officials. Though the hundreds of other inmates in that area will sleep in beds arranged in rows in a large room, the sheriff will have his own cell. From there he will spend two nights in a general population cell that is one of several arranged around a day room where inmates play cards and watch television. Curran also will spend a night in the high-security segregation unit and the jail's medical unit, he said.
"A publicity stunt?" the Tribune wonders. "Perhaps."
Though Manny Hill, executive director of Koinonia House, a Wheaton-based prison ministry group, described Curran's move as "historical" in the Sun-Times.

Support HuffPost
The Stakes Have Never Been Higher
Related
Popular in the Community