 When a private prison corporation paid Ohio $72.7 million in 2011 to purchase one of the state's facilities, the company touted the deal as a "groundbreaking" move that would serve as a model for other states looking to cut costs.
"We understand that it's a private entity now, and that it's for-profit, but nothing can come at the expense of the safety and security of our citizens," said Conneaut Councilman Neil LaRusch, who recently sent a letter to Ohio Gov. John Kasich's office requesting assistance with the crime problem. "With the city finances the way they are right now, I can't go put 20 more people on staff at the police department."
Private prison companies such as CCA have pushed for a growing share of the nation's inmate population, promising to save states and the federal government money by managing their prison systems. Yet criminal justice experts say the experience in and around the Lake Erie prison amounts to a cautionary tale for other states considering whether to hand over their own facilities to private corporations.
"This is not a bargain for the states," said Michele Deitch, a senior lecturer and criminal justice expert at the University of Texas School of Public Affairs. "The longer the contracts are, the more likely you are to give rise to poor conditions and problems. It gives the states very little leverage to demand improvements."
CCA spokesman Steve Owen said the company has a "very strong track record" of transitioning prisons from state to private management, and said more recent audits have shown improvements at the Lake Erie prison. He said its sale offered immediate revenues for the state of Ohio, and as a private entity, the facility will provide local property tax revenue.
Private prison companies typically build their own facilities or manage existing prisons; the Ohio prison sale was the first of its kind. In an attempt to trim the state's corrections budget, Kasich, a Republican, in 2011 proposed selling off and privatizing up to five state prisons. After studying the costs, the state decided to sell only one: the Lake Erie Correctional Institution. (The state previously owned the prison but it had been managed by another contractor, Management & Training Corp.)
For its purchase price, CCA obtained not only the prison but a 20-year management contract to house inmates for the state and an initial guaranteed 90 percent occupancy rate. (The state has the option of renegotiating the occupancy rate down the line.)
Critics argue that the Lake Erie facility offers a textbook example of the problems that can arise from prison privatization: high rates of staff turnover, problems in administering health care and poor physical conditions.
"CCA has positioned this as a seamless transition," said Mike Brickner, public policy director for the American Civil Liberties Union of Ohio. "It's been anything but that from the very beginning."
A September state audit found that inmates being disciplined in segregation at the prison were using plastic containers and bags as a makeshift restroom, in the absence of working toilets and running water.
Owen, the CCA spokesman, wrote in an email that a follow-up state audit, released in November, found improved conditions inside the facility. He also pointed to high marks for the Lake Erie prison in an outside inspection recently released by the American Correctional Association, an industry group that performs audits every three years.
"While we received an initial audit report for the facility that did not meet our high standards, both a re-inspection from the State and an extensive audit from the independent American Correctional Association ... confirm our commitment to ensuring that [the prison] is operating at the highest quality," Owen wrote.
He cited the ACA inspection as proof of CCA's high standards, calling it a "rigorous process involving a 72-hour, onsite audit of the facility and its operation," where auditors evaluated standards such as employee training, health care, rehabilitation programs and safety and security.
Outside critics argue that the ACA has inherent conflicts of interest that weaken its potential for oversight. The association's current president, Davidson County, Tenn., Sheriff Daron Hall, is a former managing director for CCA, and part of its budget comes from thousands of dollars in fees that prisons must pay to be accredited.
A spokesman for the ACA did not respond to requests for comment.
Over the past year, the state of Ohio has assessed almost $500,000 in penalties on CCA related to the Lake Erie prison, deducting $318,000 for staff vacancies and an additional $181,000 in damages for not adhering to its contract. Staffing was a persistent problem at the facility, according to state records. CCA did not fill several important positions, including a required vocational instructor and nurse practitioner.
Other breaches highlighted in the September audit included problems with medical care and concerns about security:
Inmates requesting to be seen by a nurse were not seen within 48 hours
Doctors' appointments were usually delayed, and often there were no follow-ups
Staff wasn't following the proper procedures for chronically ill inmates, including those with diabetes and AIDS
Inmates were triple-bunked, with some sleeping on mattresses on cell floors
"Some staff expressed safety concerns due to low staffing numbers and not having enough coverage."
The follow-up audit in November noted many improvements at the facility, particularly with cleanliness of the kitchens and other parts of the prison. The running water problems for inmates in segregation were fixed, according to the report.
But the state said there had not been enough time to determine whether there were consistent improvements to medical care at the facility. "Continual monitoring is needed to ensure the corrective action remains in full compliance," the report said.
Meanwhile, city officials in Conneaut are asking state police for additional assistance in monitoring the prison's perimeter. LaRusch, the local councilman, pointed to the recent arrest of a man who was trying to smuggle crack cocaine, marijuana and a cache of cell phones into the facility.
Owen said in an email that CCA has a "positive working relationship" with local law enforcement in Conneaut, and added that criminal incidents inside the prison have decreased. "While we cannot prevent people from trying to introduce contraband at the facility, our team, along with local law enforcement, has been able to successfully impede these efforts, which is a positive for facility safety and overall public safety," he wrote.
LaRusch said CCA officials have been receptive to suggestions about adding additional lighting and security guards to the prison, but he said the increase in smuggling points to a breakdown of control within the facility.
"There's something going on within the prison that is changing the atmosphere, that's saying, 'Yeah, you can get away with it,'" La Rusch said. "If they have that little amount of control inside their own prison, how long until there's an escapee? That's what we are really concerned about."
Related
Before You Go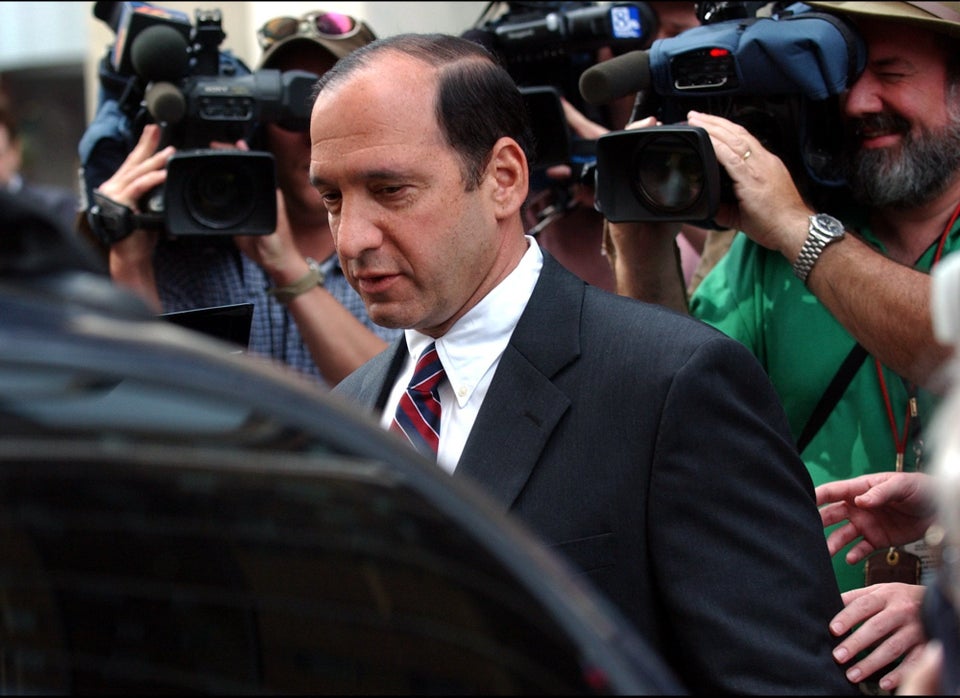 Top Ten CEOs Sent To Prison
Popular in the Community