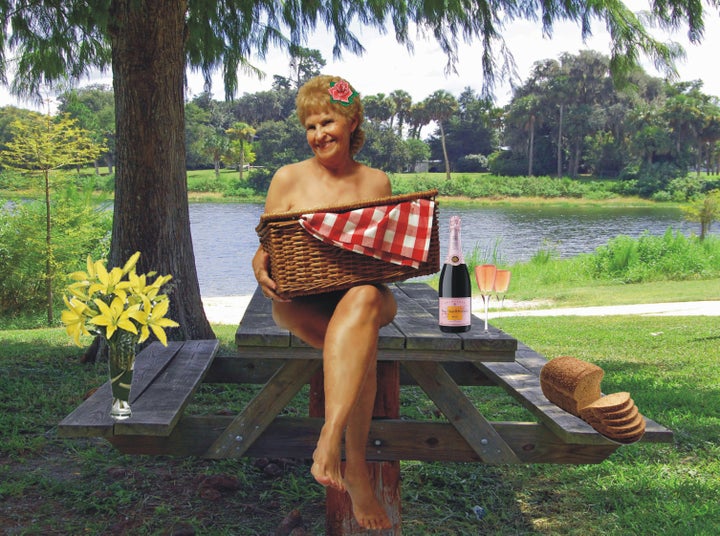 An unofficial economic indicator that our economy is far from recovered? Grandmas are stripping for cash. When a group of women found out that the local Lake Helen American Legion Post 127 in North Florida needed $10,000 to bring the hall's kitchen up to city codes, they decided to fund raise by baring some skin.
Pat Chadwick, editor of the Lake Helen Observer newsletter, came up with the idea for a pin-up calendar to raise renovation funds for American Legion Post 127, according to My Fox Orlando.
She was inspired by the 2003 film, Calendar Girls, in which older women pose as pin-ups to raise money for leukemia research. Titled the Ladies of 32744, alluding to Lake Helen's zip code, the calendar went for sale the day before Thanksgiving, Chadwick told HuffPost Miami that the 200 original copies plus a second printing have already sold out.
The featured women, who range in age from the mid-40s to late 80s, appear in homage to pin-ups of the 1940s and 1950s, when many of the Ladies of 32744 were young women. Although they appear quite nude, the poses are tasteful rather than raunchy. "They all had clothes on," clarified Chadwick, who photographed the women. "You just don't know that." Their modesty is protected with a few well-placed props.
Sharon Cremen, 67, wears only a gift box as Miss December. Miss July is Nancy Roberts, 75, who dons combat boots, a helmet, and a patriotic scarf while relaxing on a tank. The oldest pin-up is Betty Pfahler, 87, who is shrouded in a sheer wedding veil with an elaborate bouquet as her only coverage. It's like a real life episode of the Golden Girls.
At $13 a calendar, they will have to sell a staggering 800 copies to pay for the kitchen renovation. But even if they fall short of their fundraising goal, the women are invigorated. As Miss December told the Daytona News Journal "We are not all over the hill yet. We've still got some life in us."
Photos courtesy of Pat Chadwick.
PHOTO GALLERY
Ladies of 32744
REAL LIFE. REAL NEWS. REAL VOICES.
Help us tell more of the stories that matter from voices that too often remain unheard.