A Florida man's desire to change the name of a nearby lake is arousing controversy.
So is the lake's name: Lake Horney.
Barry Zimmerman of Lakeland lives on the shores of Lake Horney, but is petitioning to have its name changed.
Zimmerman petitioned the U.S Board of Geographic Names to rename the lake, according to the Lakeland Ledger newspaper.
Zimmerman told the board he does not want to "denigrate Mr. Horney's contributions to the history of Lakeland" but wants the name changed because it is a "homonymic to a vulgar term meaning concupiscent or libidinous."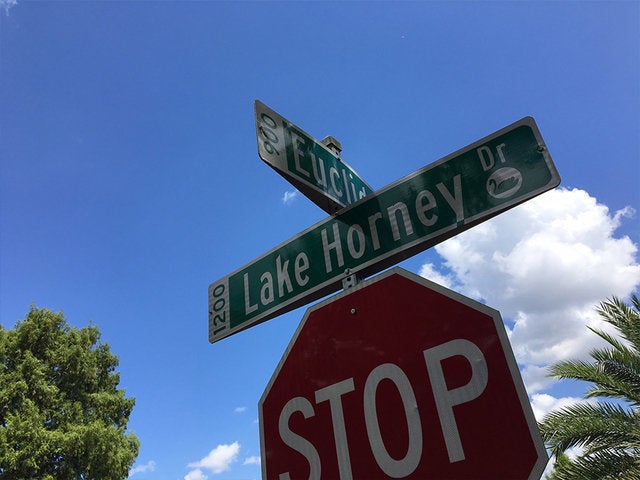 One woman who used to live on Lake Horney Drive admits getting embarrassed by the street name.
The woman also said she changed the orientation of her house during a remodel so she didn't have to tell people she lived on Lake Horney Drive.
Zimmerman wants to drop Lake Horney and rename it in honor of Alfred Lodwick, an aviation pioneer who built a military pilot training program in Lakeland during World War II, according to WTSP.
The Geographic Board has asked Lakeland city officials to weigh in their opinion before making a final decision.
City Manager Tony Delgado told the Lakeland Ledger that the federal agency indicated that by saying nothing, the city government is implicitly in agreement with the change.
Delgado said the comments and emails he's received suggest most residents are against changing the name of the lake.
So is the Miami New Times, which passionately defended Lake Horney's name in an editorial:
"This is of course very stupid and should not be condoned. What does this say to all the people out there who have to go through life with unintentionally hilarious names? What of all the Mr. and Mrs. Coxes, Dixes, Cummings, Cockburns, and Gaylords? Do we say to the residents of Florida with snicker-worthy last names that no matter how hard they work and how much they contribute to the community that they can never dream of having a street or park or lake named after them all because teenagers have ill-developed senses of humor?"
Calling all HuffPost superfans!
Sign up for membership to become a founding member and help shape HuffPost's next chapter
BEFORE YOU GO
PHOTO GALLERY
Hilarious Signs That You Grew Up in Florida