There is a hidden lake tucked away in the middle of a swanky Los Angeles neighborhood, but it's unknown even to the vast majority of native Angelenos. The lake provides a site of profound spiritual transformation for many, including Brother Satyananda, a monk of nearly 40 years from the spiritual organization Self-Realization Fellowship.
Lake Shrine stands majestic just off a curve of L.A.'s iconic Sunset Boulevard and is less than a mile from the Pacific Ocean. It's shrouded in tall green trees, but you can easily spot the landmark by the beautiful golden lotuses that stick straight up into the sky.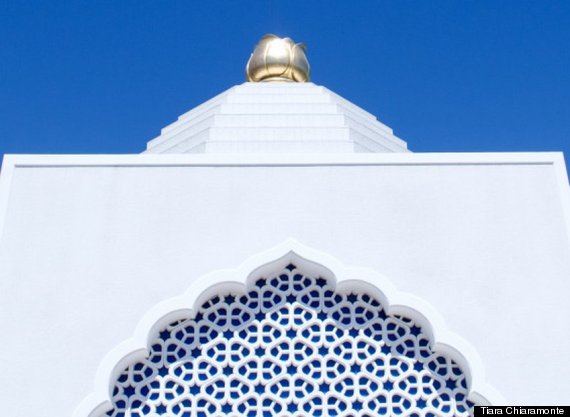 "Sometimes people come and want to swim in the lake, but we have to say it's really for meditation," Brother Satyananda tells The Huffington Post.
The lake itself belongs to Self-Realization Fellowship (SRF), a religion founded in India by spiritual figure Paramahansa Yogananda in 1920. Yogananda is known for being one of the first masters from India to introduce Westerners to the practice of yoga. He bought the lake in L.A. in the late 1940s with the hopes of introducing diverse groups of people to the philosophy of yoga as well as its long-standing companion, meditation.
"It's an ancient custom in the East that wherever there's water, it's a good place for meditation. The surface of the water is calm, and it's a symbol of the infinite calmness of the universe," Brother Satyananda says. "So if you can sit quietly and enjoy the reflections and stillness of water, it has a calming effect on the mind."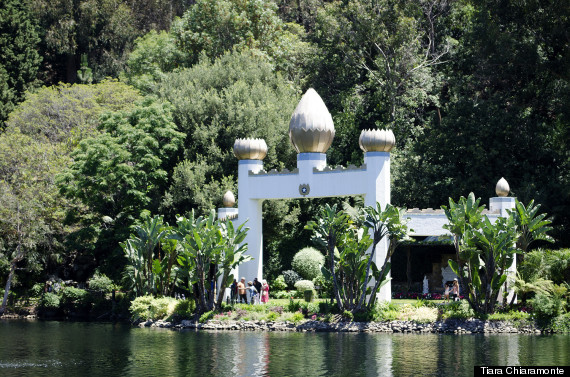 But it's not just the peaceful lake that brings thousands of people there every year. Lake Shrine's name is quite literal: Monuments honoring Christianity, Judaism, Islam, Hinduism and Buddhism surround the lake. Together, the shrines and gardens are meant to function as a symbol of unity and peace for all religions.
Further back in the garden stands the Mahatma Gandhi World Peace Memorial -- a beautiful shrine that holds some of Mahatma Gandhi's ashes. According to Brother Satyananda, this is the only place to find Gandhi's ashes outside of India.
Yogananda called Lake Shrine his "temple without walls," Brother Satyananda says. "He said a temple that's open for all humanity should have no walls. It's open for all souls."
"The golden lotuses on top are an icon from ancient India symbolizing rising consciousness. The lotus that is closed is the consciousness waiting to be enlightened," he explains.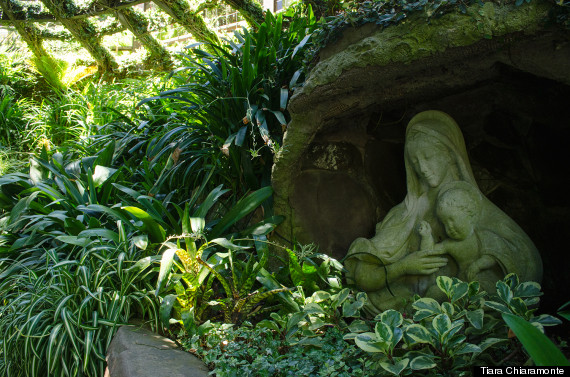 Yogananda observed that Los Angeles is a "kind of a convergence for seeking," Brother Satyananda says. And seek people do. On any given Sunday, close to 700 people come to the SRF temple in the morning for services, and then some filter down to the lake afterwards for meditation, he says.
Others are welcome to visit the serene, 10-acre sanctuary anytime and take a walk around the lake or sit in the gardens. The grounds are free of charge and open every day of the week except Monday.
Stone benches are tucked away throughout the gardens, encouraging quiet reflection. Koi fish, turtles and swans add to the natural beauty of the lake, and tropical ferns, roses, passion flowers and wisteria vines decorate the lush landscape.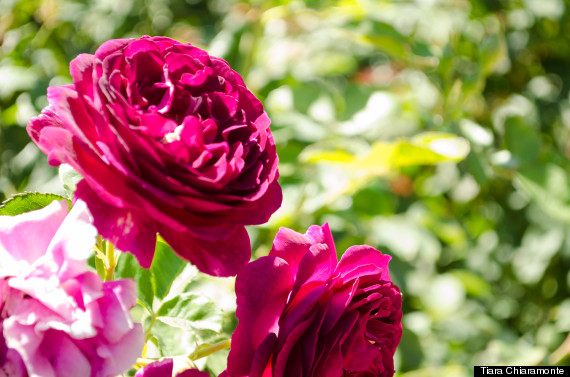 The whir of traffic from Sunset Boulevard is audible, as is the occasional wail of a fire engine. (There is a fire station close by.) And though there is construction currently being completed at the lake, the overwhelming serenity there conquers all distractions.
According to SRF, last year alone, over 100,000 people visited Lake Shrine. "You hear all different languages here when walking around on a Sunday. L.A. in itself is a destination, and Yogananda understood that," Brother Satyananda says.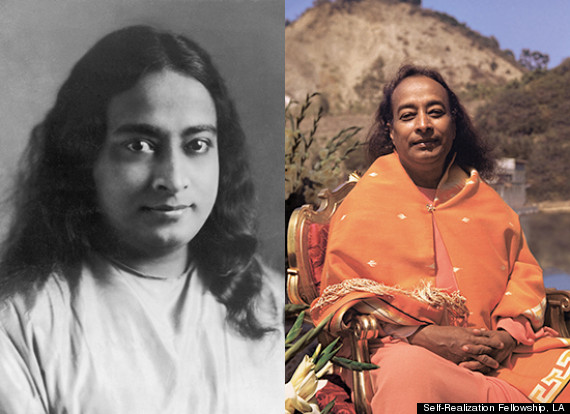 Left: Paramahansa Yogananda in 1920; Right: at Lake Shrine in 1950.
Brother Satyananda, too, was once one of the seekers that Yogananda hoped would arrive. In the early 1970s, the Southern California native found himself attending college in San Diego -- and profoundly unhappy.
"I was a pretty troubled young man, and I was really taking a look at all of my options. My father wanted me to be a partner in his business. What I saw for my future was kind of depressing to me." Walking across campus every day, he kept crossing paths with a young man who really stood out because of how happy he looked.
After studying him for some time, Brother Satyananda finally stopped and asked, "What makes you so happy?" The man simply replied, "Meditation."
"It rang a bell deep within me," he recalls. "It was 1973. Meditation was just starting to gain popularity. George Harrison and Ravi Shankar were both connected with it."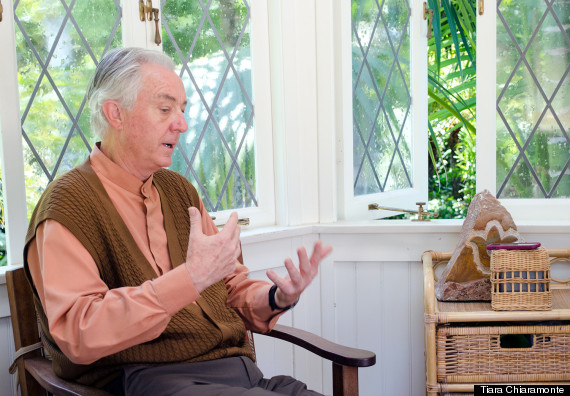 Left: Brother Satyananda at Lake Shrine in July 2014.
It was at this time that he stumbled upon Paramahansa Yogananda's The Science of Religion. "The book basically says that everybody in the world is seeking happiness. And the greatest happiness is bliss -- which is a happiness that comes from within and has no boundaries. Bliss is God. That really fired my rockets," he says.
"I actually felt a prayer start to come up. I had never prayed before in my entire life. It was really simple: Lord, if you do exist and you are bliss, prove it," Brother Satyananda recalls, laughing.
"God proved it. I was one day with a couple of friends, and I just got transported. I got overwhelmed with this tremendous joy. It was the result of my inner prayer -- because I had this prayer going for probably a month or two, and it was pretty desperate. You know when you really, really need something, you're just up against a wall and it's the one thing that's on your mind constantly? Now I realize that what I was making was a soul call. And I got my answer. It was so powerful that I just simply couldn't deny it. It was very transformative."
After that, Brother Satyananda took a U-turn, as he describes it. He found a master and learned about the monastic order at SRF. "That was it," he says. "Everybody who knew me at the time, including my father, was just shocked. I was anything but pious."
As Brother Satyananda dedicated himself to becoming a monk, he began to study the intricacies of meditation even more. "There is an expanding state of awareness that we can experience, and that is basically where our intuition comes from."
He practices twice a day, every day, and teaches meditation as well. For him, meditation is deeply personal. "It's becoming aware of who you are in essence. We teach that this state of being is always present with us and we can tap into it. This is actually where the greatest joy comes from. As we go into meditation, we can start to experience a sense of peace and love and joy that are somehow inaccessible to us."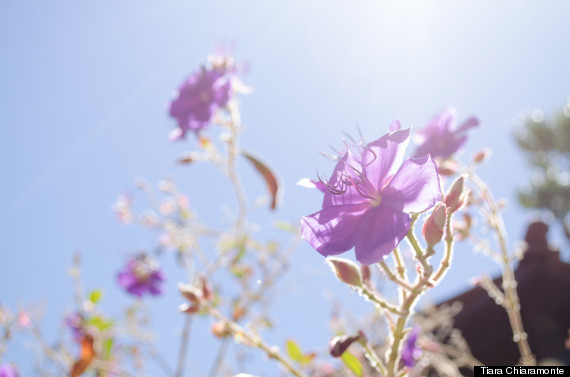 Brother Satyananda says he recently worked with someone who was grieving the death of a loved one. This particular woman had been practicing meditation for years, but never felt how profound its impact was until she encountered grief. "She comes out of the meditation and feels comforted," he says. "She is much stronger. And then of course the grief comes back, but she is gaining an interlude of peace that she wouldn't normally have. And so as a result, her grieving is shortened and it's moving forward."
This kind of relief is an expected outcome of SRF meditation. In fact, one of Yogananda's main goals in expanding SRF to the United States was to specifically close the gap between religion and meditation, Brother Satyananda says.
"He wanted to create a direct link between the two. And he said that the missing link is an actual personal experience with God. In SRF, we emphasize the potential for being able to experience a state of awareness that we might call highly inspirational. You can call it the experience of God or whatever you want. It tends to transcend your normal daily experience, so the feelings that you get are elevated beyond your normal emotions."
Brother Satyananda pauses and sums it up: "You experience a love that actually has no object."
He connects this kind of transcendence to people all over the world. "Poets, mathematicians, artists and musicians have had cosmic experiences and personal epiphanies, but they don't know where it comes from. It comes and it goes. And they go crazy because they want it back. So what I often tell people is Yogananda will show you how to reclaim the most magical moment of your life."
When asked if it's a promise that he actually believes SRF can deliver, he doesn't hesitate.
"It's a promise that comes true. We have personal epiphanies -- it can be a dream that transports us, it can be a moment of sunrise on a mountain in the wilderness that just kind of fills your heart. You hold your baby child and all of a sudden he looks into your eyes, and it's just so much happiness you can't hold it. I tell people that that happiness and more can be found. Bliss is God."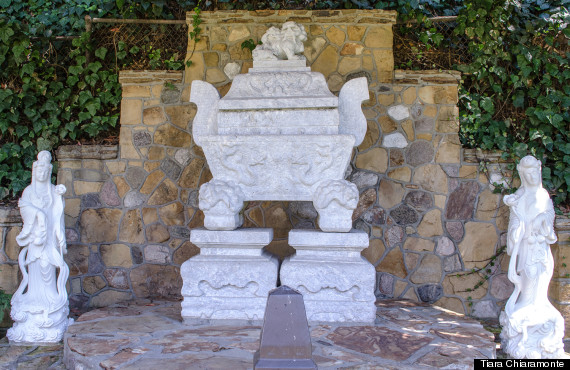 Holding a child of his own in his arms is an experience Brother Satyananda will not have. When the monastics take vows, they also give up certain attachments to worldly things, like age, birthday celebrations and romantic relationships.
Back in San Diego in the '70s, Brother Satyananda had a girlfriend and says they were thinking about marriage. In fact, she was with him the day he had his epiphany. "When I later decided about monastic life and told her we would have to break it off, she said, 'I was with you that day and I knew I had lost you.'"
He remembers it with great tenderness. "She understood exactly what I was going through because we were so close. She adopted the meditation practice too, so we got on the spiritual path at the same time. It was very special."
But as he got closer to becoming a monk, he eventually said goodbye. "When I joined the monastic order, I told her I could never have a better woman. She wrote me a beautiful letter that said, 'It breaks my heart, but I give you to God.' I don't know where she is now. I haven't seen her for a long time. But I hope she has a wonderful family and found a man who is worthy of her."
"I dedicated myself then and have always been happy. I love my life and I see couples together and if they're happy, I'm happy. I don't feel like I'm missing anything. I have been here for 40 years."
At one point, a mother and young daughter quietly interrupt our conversation to ask how they can feed the swans in the lake. Brother Satyananda points them in the right direction. When he turns back, he says with a smile, "The swans are kid magnets."
In SRF, when a monk or nun completes the last step of his or her monastic vows, a monastic name of Sanskrit origin is given and the birth name is abandoned. Brother Satyananda's name means "the attainment of bliss through truth."
In recent years, as meditation has taken off, so have the number of people seeking bliss and truth at the lake. "We tracked visitors last year just to the lake alone and it was over 100,000 coming to experience it," says Brother Satyananda.
"People are inquiring all the time and saying this place feels good, how can I get more of this feeling? Which is essentially the question I asked in my 20s: 'Why are you so happy?'"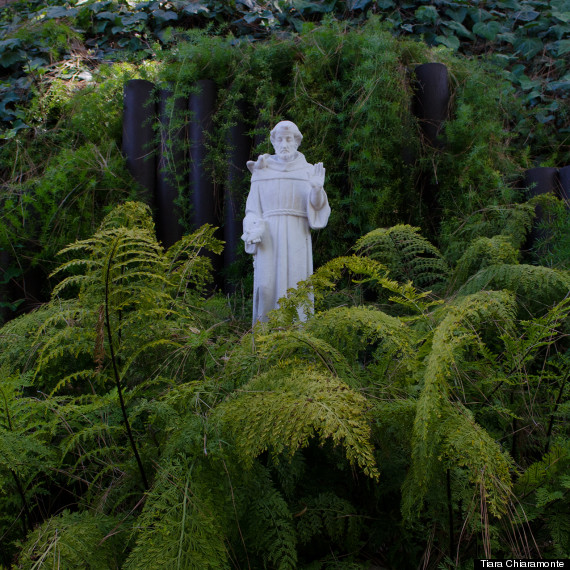 REAL LIFE. REAL NEWS. REAL VOICES.
Help us tell more of the stories that matter from voices that too often remain unheard.