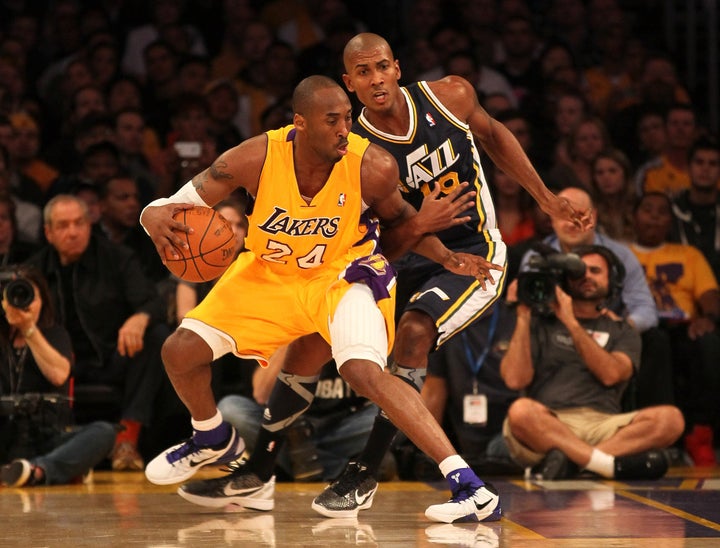 Imagine that, another Laker bubble gets popped before the wife and kids can pick up the wrapping paper from their Christmas gifts....
Here's a timeshare in Hawaii for you and one in Cancun for you, and a Rolls-Royce for Mom....
Dad has to run downtown but we'll eat at, like, 6 p.m.?
No problem. By 4, we should be winning by enough to coast in. We're the Lakers.
Of course, even with local talk show hosts predicting they'd win 72 or 82, their bubbles would last a week or two.
This one lasted 44:15, before the Lakers blew an 11-point lead in the last 3:45 of the opener. Then they were upended in Sacramento where Phil Jackson delighted in torturing the fans ("semi-civilized barbarian rednecks") before walking over their team.
I know many of you are curious about the exciting, new Clippers. People here are excited about the Clippers, who sold the rest of their seats for this season.
I'm excited about the Clippers but we'll get to them soon and often enough.
Age, and accomplishment, before beauty.
Now, back to our story about how tough life at the top is....
If things didn't start as the Lakers and their fans hoped, who else could have been surprised after their Preseason from Hell, (David Stern takes Chris Paul away, Orlando keeps Dwight Howard away, Lakes give Lamar Odom away)?
Oh, right, the Lakers' owners.
Before the hits started happening, officially, Jim Buss told the Los Angeles Times' T.J. Simers: "I think we have a championship team and that's without making another move....
"I don't understand the thinking that we need saving as a franchise. We have three All-Stars, and we need saving?"
I know what you're thinking. I had to look it up, too. There is a third: Metta World Peace in 2002, when he was called Ron Artest.
The fact that Jim knows this leads credence to reports he pushed to sign World Peace in 2009, after Trevor Ariza's agent said the Lakes had to pay a premium that no one else would, sending Trevor on his way to Houston, New Orleans, etc.
Not that it was a total disaster with Artest coming up huge in the Game 7 win over Boston in the 2010 Finals, the biggest game in Laker history. And with amnesty arriving in the nick of time, the Lakes can duck $22 million in luxury tax through 2014, even if they have to pay Metta's remaining $14.6 mill.
No, I'm not sure the Lakers are still the Lakers, either, Toto.
There is no joy in Lakerdom, even if things are going pretty much according to the script... the one from the movie, 2012, in which Southern California falls into the ocean.
Actually, the seas engulf the whole world, but we take pride in the local setting, like the grocery where the dufus Amanda Peet left John Cusack for, tells her, "I just feel like there's something pulling us apart" -- just as a crevasse splits their aisle, leaving her on one side of a yawning canyon and dufus on the other.
Then there's our beloved Santa Monica pier sliding into the ocean, followed by the rest of Santa Monica... a handy metaphor for Lakerdom, which is either going bananas in one direction or the other.
Not that the organization hasn't been through times tougher than these. even if these are the first with free-wheeling Jim Buss as spokesman.
One way or the other, they'll wind up as a pretty good team... whatever that avails them. After playing in seven Finals and winning five titles in 11 years, with court side seats up to $2,750 (apiece, not for all of them together), "pretty good" will get you run out of Lakerdom on a rail.
This season had t-r-a-n-s-i-t--i-o-n written all over it, with moves to make, Pau Gasol and Andrew Bynum beseiged with trade talk, Mike Brown trying to follow in Jackson's gargantuan footseps, before the Preseason from Hell turned Laker dreams into nightmares.
Just to show how much things changed in four weeks, the Lakers opened training camp, thinking they had a chance to land Howard and Paul... but things were going to have to break just right.
First, it would help if the two free agents became available at different times, which is what happened, at least in the beginning, with the Hornets making CP3 available while the Magic held Dwight back, hoping to win him back.
Getting Paul, as the Lakers thought they had, would have put them half-way through their transition, leaving them in great shape with CP3, Bynum and Kobe Bryant if nothing else happened.
Unless something positive happened in Orlando, the Magic would have been running out of options by the trade deadline, obliging the team to stop asking for pie in the sky and take the best offer... which figured to be Bynum, if he was healthy.
However, the clock struck 12, David Stern struck the Lakers, sending them back into talks to reconfigure the deal... when Howard suddenly hit the market, ending months of coy silence by asking the Magic to trade him.
The Lakers switched their focus to Dwight, effectively handing their place in line for CP3 to the Clippers, who may now take their place once more, as the best team in town.
If you're disappointed the Lakers aren't going to win a title, that's on you. Their season was always going to be a crossroads with two ways to go -- on to further glory with Howard, Paul and/or Deron Williams, or off into an unknown wilderness.
Now it has become a run to the trade deadline, which isn't until March 15.
If they remain in good position to get Howard or Williams -- either of whom would open up a bright future -- there's also a nightmare scenario:
Dwight signs with the Nets, who have room for a max deal, to play alongside DWill... long shot that it may be, with Howard obliged to take $25 million less as a free agent unless it's a sign-and-trade, with Brook Lopez, the centerpiece of any deal, out until February.
Happily for Lakerdom, with the waves about to wash over the ferris wheel on Santa Monica pier, the schedule served up the Utah Jazz, now reduced to expansion team level, and the Lakers got a win.
Now for the 11-week run to March 15, in which we'll see what everyone around here is made of.
REAL LIFE. REAL NEWS. REAL VOICES.
Help us tell more of the stories that matter from voices that too often remain unheard.