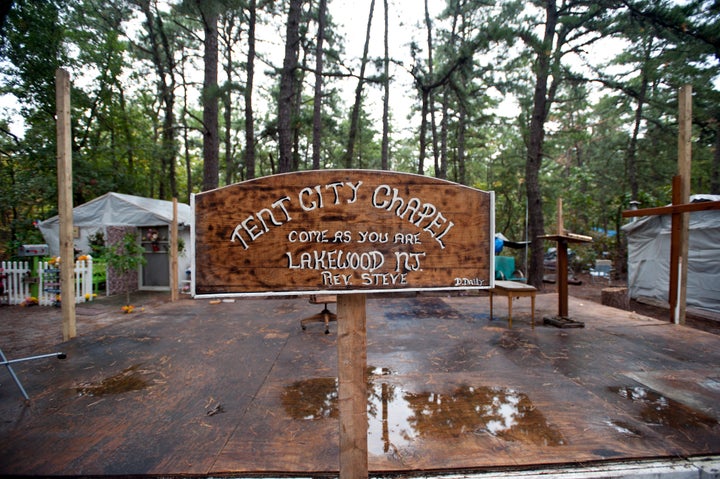 LAKEWOOD, N.J. -- It was not long ago that most Americans would envy Marilyn Berenzweig.
A textile designer, she earned $100,000 a year and lived a comfortable New York City life with her husband, a former radio producer. They paid $2,000 month for their apartment, kept a vegan diet, and had had a soft spot for pet birds -- ultimately collecting so many that they devoted a room to housing them.
But her world came crumbling two years ago when she lost her job in the recession. Like many of the jobless, Berenzweig couldn't fund her old lifestyle with meager unemployment payments. She downsized. She moved from place to place. Eventually, she left the city altogether.
Today, Berenzweig eats, sleeps and entertains in a two-person tent in the middle of the woods. On her recent 61st birthday, she was one of dozens of people, from the chronically homeless to former professionals like herself, who have come to call such places home.
"We're too young for Social Security and too old to to be trained for another job," she said recently, standing by a makeshift kitchen table under a tarp outside her tent. "So here we are."
Today, the camp is home to almost 80 people, led by a former electrical contractor-turned-pastor who left a modest life to take his ministry on the dirt road. They live with little electricity and without a modern sewage system. Instead, they use propane tanks for heat and a pump that sends water to a generator-powered washing machine and shower housed in a shack.
"This camp is for the homeless. It doesn't matter what caused you to be homeless," said the Rev. Steve Brigham, who lives in a converted school bus with a desk, twin-size bed and bookshelves from which he doles out supplies like food and propane tanks to residents. Yet, for all the hospitality he's received from local churches and temples, he has started to have "trouble with the powers that be."
A Lakewood resident since childhood who was ordained at a local nondenominational congregation, Brigham is talking about his hometown's government. For most of its years, he said, the township largely ignored the tent city, but now Lakewood is taking Brigham to court to get the camp shut down.
A lawyer for Lakewood did not reply to a request for comment from The Huffington Post, but the township said in court filings that the campers are living illegally on public land. Brigham has responded by suing the township and the Ocean County, saying neither provide any other adequate shelter for the homeless. An eviction hearing is set for Friday, Jan. 6.
"In New York, if it's below freezing outside, you can go to a shelter. In Ocean County, there is no shelter," said Jeffrey Wild, an attorney with Lowenstein Sandler, a law firm that has taken up the case pro bono. Wild argues that the county is "required by New Jersey law to provide emergency shelter" and that the homeless have "a right to survive" on public land.
The county contends that it does its part for the downtrodden by renting motel rooms for hundreds of the homeless and running programs offering programs assisting with rent, mortgage and utility payments.
In total, 2,200 people take part such programs and other social services in Ocean County each night. But homeless advocates say many of the homeless aren't accepted into the programs, whether due to disqualification or lack of resources. Between January 2009 and August 2011, 3,774 applications for emergency assistance were denied by the county, which has a total population of 576,567. A January count found 45 people who were unsheltered and homeless in the county, but advocates believe the number is higher.
"The county is not saying homelessness is not an important issue. We spend millions on the homeless," said Jean Cipriani, an attorney who represents the Ocean County Board of Social Services. She added that the county, which spends $20 million each year on services for the poor, also has its hands tied because of the same recession that has led many to reside in the tent city to begin with.
Tim Wible is one of those residents. After 17 years, he recently lost his position as a carpenter. Living on $140 a month in general assistance and $200 a month in food stamps in addition to his meager savings, he barely made ends meet until he missed an evaluation appointment. Then, the money was cut off and he had nowhere to go.
"I'm looking for work every day, but it's hard because I don't have my IDs. So first I'm trying to get those," said Wible, 43.
On a recent night, a Wible held hands with campers as Brigham led them in prayer after a visitor donated roasted chicken and pumpkin pies for dinner.
"Father, we thank you for this food that you have given us today. We ask you that you would bless the hands that made it. We ask that you would bless us all that we may accomplish thy will and pleasure," the group chanted.
Wible said being a part of the camp has brought him closer to God.
"I'm not really a religious man, but I've started to go to services here with Steve. You wouldn't believe how many people he's helped," he said. "I haven't a clue what I would do if they shut this place down."
UPDATE, Fri., 1/6: A judge has ruled that the homeless of Lakewood's tent city will be allowed to stay put -- at least temporarily. At a court hearing in Toms River, N.J., Superior Court Judge Joseph Foster said he will not order the homeless out of the camp, but he asked Lakewood Township representatives and Brigham to come up with a solution to the standoff over the encampment.

"When you take someone else's property, you can't expect the property owner isn't going to say at some point, 'enough,'" Foster said at the hearing, according to the Associated Press.

Foster said that the government is obligated to take care of the poor to some degree, but added that he is unsure if he can legally force Lakewood Township or Ocean County to spend more money on the homeless.

Tent city representatives say their lawsuit against Lakewood Township and Ocean County will continue.
Support HuffPost
The Stakes Have Never Been Higher
Related
Before You Go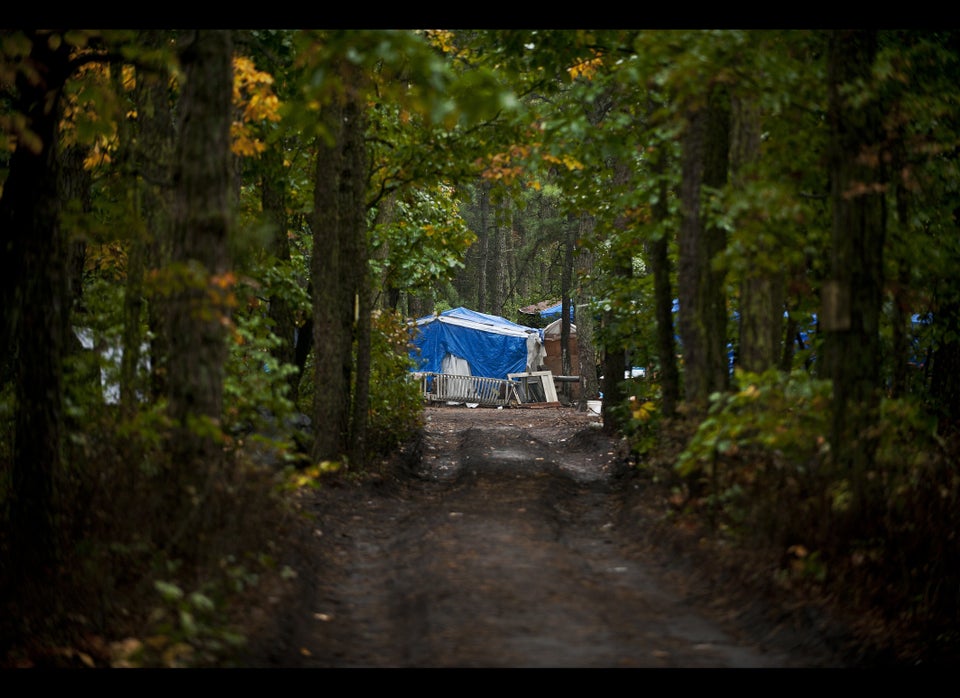 Tent City - Lakewood New Jersey
Popular in the Community