While international editors, stylists, models and photographers were busy with such celebrated shows as Chanel, Louis Vuitton and YSL in Paris for the parisienne leg of fashion week fall 2012, a very different fashion fraternity was equally occupied on the shores of the Arabian Sea with Lakme Fashion Week Summer/Resort 2012, held in glistening Mumbai, India.
A season apart, and oceans too, Lakme Fashion Week in Mumbai has an even longer way to go before it could ever hope to join the stylish ranks of fashion's most important metropolitan quartet -- New York, London, Milan and Paris -- but interestingly, it doesn't quite seem to matter. Business is booming, not only within India but throughout the entire Asian region, and the boom is "business as usual for the Indian markets," says Anjana Sharma, Director of Fashion at IMG Reliance (IMG Reliance runs LFW alongside Indian cosmetics giant Lakme.) So there you have it, booming business-as-usual in India, without Anna Wintour and the coterie of front row regulars.
Business was undoubtedly the unofficial theme of LFW S/R 12 and it manifested itself in myriad ways, some positive and some downright unfashionable.
Perhaps the most encouraging aspect of LFW's fiscal focus was The Source, a cavernous tented building erected near the main venue that housed clothes and accessories stalls, showing off the wares of each participating designer. Whether it was lavish Indian finery from Sabyasachi or psychedelic prints from a young label like Retarded Velvet, it was smart to have everyone represented under one roof, referred to as the "business hub" by LFW. Lesser known designers also showed on The Source's ramp in The Talent Box -- though much smaller and far less attended than the main LFW runway, a nevertheless worthy platform to showcase new design talent to media, buyers and individual customers. Consensus among young designers at The Source was that business had been consistently fantastic over the five days of LFW S/R 12 -- surely thanks in large part to the ingenious setup of the stalls in one great big space.
There were seven young designers who were particularly enthusiastic about LFW and The Source -- the same seven young designers who participated in Summer/Resort 2012's Gen Next program, designed to be a launch pad for promising new talent in India. Mentored by an industry insider, young designers get critical help in creating and editing a small capsule collection, which is shown on the main runway as LFW's opening show. Celebrated stylist and designer Aki Narula has been the Gen Next mentor for the past three seasons and waxes poetic when asked about how important the show is to these designers. "It's those six garments, those three minutes -- and it's your first big step into that big, bad world of fashion," says Narula, who didn't have a real mentor when he first started as a young designer in Kolkata. This season he graciously preempted the press for the Gen Next talent, styling an editorial in Elle India with one look per designer, which was published in time for their show. The editorial spread -- and the Gen Next designers' presence throughout the week at The Source -- were important ways to generate exposure (and orders) that they likely wouldn't have received until three months later, the regular press cycle for print magazines.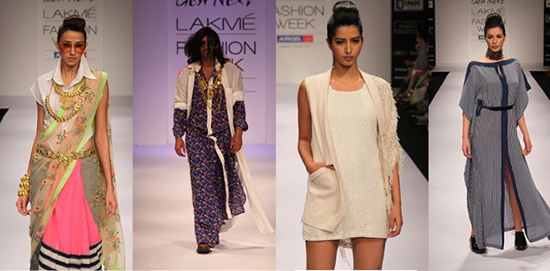 Images from the Gen Next show
But what gets lost when the business of fashion is booming? Eminent Indian designer Sabyasachi was slated to show at LFW S/R 12 but pulled out at the last minute, apparently because of his health but more likely related to costs. On the third day of LFW R/S 12, dedicated as Indian Textile Day, Sabyasachi spoke on a panel for traditional Indian crafts and weaves, boasting about how many saris his stall had already placed orders for -- and therein boasting about how much money he had already made (sans show.) Manish Maholtra, Bollywood's trusted go-to designer, was supposed to show at LFW S/R 12 but cancelled (also at the last minute) purportedly due to a film's scheduling conflict, though murmurs hinted it too stemmed from cost related concerns.
The biggest and most elaborate shows at LFW S/R 12 all had one thing in common: wealthy sponsors flush with cash for fashion shows that could boldy showcase corporate advertising. Narendra Kumar showed Mick Jagger-inspired menswear on a rollicking runway while acting as DJ for the show -- all post the DHL commercial that played before the first look hit the ramp. Popular womenswear designer Anita Dongre designed her show (and her clothes?) around her recent collaboration with Godrej Interio, for which she designed a limited edition line of retro looking sofas. Besides the runway's living room-like set featuring her sofas, her show also featured a so-called 'augmented reality' element meant to simulate virtual sofas on the runway. Gen Next alum Masaba Gupta, who opened her show with up-and-coming Bollywood star Prateik, tweeted during LFW S/R 12 "the only review that matters is the one your bank account gives you!" Not feeling quite so honest after some online backlash to her comment, the tweet was later taken down. Rohit Bal, enfant terrible of the Indian fashion industry, put on LFW S/R 12's closing show with extravagant flourish - a live orchestra, prancing violin players and a white confetti shower - all made possible thanks to beauty brand Lakme, who in exchange proffered novel-sized press packets and ran a lengthy beauty commercial featuring Bollywood Lakme ambassador Kareena Kapoor. By far the biggest celebration of corporate dominance was the Walt Disney show, which featured garments and accessories designed by Little Shilpa and Nitin Bal Chauhan, designers not (previously) considered mainstream. Disney, which recently bought India's UTV Motion Pictures in a spectacular purchase, was clearly intent on strengthening its brand power, not just through film but through fashion, two industries in India which are inextricably intertwined.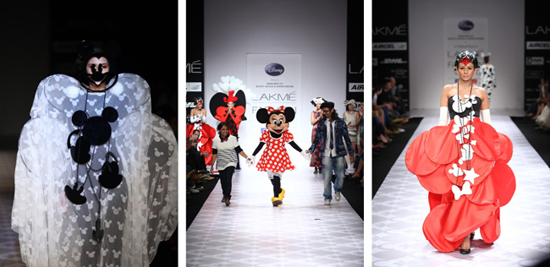 Images from the Disney show
But maybe Masaba is right? It seems Sabyasachi thinks so, and they're not alone. If the business of fashion is booming -- and Indian markets are showing no signs of slowing -- why do editorial reviews, whether positive or negative, even matter anymore? Oscar de la Renta may be anxious about what US Vogue's editrix-in-chief thinks of his latest creations but you can bet that fashion's bad boy Rohit Bal could care less about what India's magazine editors write about his collections.
There's a business in Bombay that's far bigger than fashion -- the all-consuming, awe-inspiring, mob-inducing phenomenon that is popularly known as Bollywood -- and each season it steps in to help sell clothes, or at least help designers make the front page of Bombay Times. Designer Vikram Phadnis (sponsored by Ink Infrastructure for S/R12) called upon Malaika Arora Khan, famous for her tantalizing dance moves in Bollywood blockbuster Dabangg, and Malaika's lesser known sister Amrita, to be his showstoppers. The Karmik store enlisted up-and-coming star Sonakshi Sinha (coincidentally, also of Dabangg fame) as their showstopper -- and a handful of lesser known labels and designers choose to present other showstoppers on their ramps. Bollywood was also out in full force in LFW S/R 12's front row -- Rohit Bal surprised show-goers by foregoing a showstopper but Bollywood star Arjun Rampal and his wife Mehr sat front row, alongside Hrithik Roshan's wife Suzanne, a bevy of Indian socialites and a handful of lesser known Indian TV actors. Indian designer and New York resident Bibhu Mohapatra (fresh off a plane where he and In Style's Hal Rubenstein commiserated about the timing of LFW S/R 12 -- more on that later) showed gorgeous garments that were fawned over by Bollywood newcomer Nargis Fakhri (of not rocking Rockstar reviews) and industry heavyweight Amitabh Bachchan's respected wife Jaya Bachchan. Vikram Phadnis' show rolled out to cheers from Karisma Kapoor, Neha Dhupia, Neil Nitin Mukesh, Sonakshi Sinha and the usual cadre of socialites.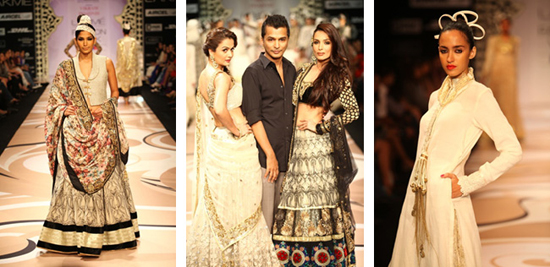 Images from the Vikram Phadnis show
What is a showstopper, to be precise? Derided by some as a circus act but beloved by the Indian media and fanatic fans, showstoppers are Bollywood actors (both male and female) outfitted in a designer's most sparkling outfit, who close the show by strutting down the runway to much fanfare. Do the theatrics detract from the clothes? Well, perhaps that's the point. Much of what's presented isn't worth getting excited about, so the need for stimulation courtesy of a film star in a city that eats, lives and breathes Bollywood isn't so outlandish. IMG Reliance's Sharma strongly advised designers this season to forgo using a showstopper and instead "let their clothes be the showstopper" -- advice that appeared to resonate with some at LFW S/R 12 but which also fell on many a deaf ear. In New York, London, Milan and Paris, designers let the clothes do the talking -- and keep the editors writing -- but this doesn't yet appear to be the modus operandi of LFW.
Aside from all the flashy sponsorship and masala style showstoppers at LFW, there is another criticism looming large over organizers that has nothing to do with DHL TV spots or Sonakshi in a sari: how can LFW ever hope to gain international attention when all eyes are on Paris fashion week, which runs at the same time as LFW S/R 12. Mohapatra, who flew to Bombay for LFW S/R 12 after his show at New York fashion week, laments the scheduling conundrum. "Whether it's the Gen Next designers or the most established designers, they need that international audience", he says, adding "they really deserve more because the quality of work they put out is amazing -- it's really unfortunate that it's not organized in a way that falls in with the rest of the fashion world." When asked about Mohapatra's comments Sharma countered, "there are lots of domestic buyers and we focus on that, everyone's got enough exposure." Mohapatra concedes that LFW does stimulate business but "that's not really looking forward". Well known and frequently worn Indian menswear designer Narendra Kumar doesn't think it matters that LFW runs alongside Paris fashion week, it's like comparing apples and oranges -- or Dior and Swapnil Shinde. "LFW is a platform where you introduce yourself to the world", says Kumar, "and it's played a great role in discovering new talent -- that's become the real forte of LFW." There's a decided difference between a fashion week that discovers new talent and one which celebrates talent that's already earned the international spotlight -- LFW is certainly the former but there's no reason why it can't evolve into the latter -- after all, only a few years ago London wasn't even mentioned alongside New York, Milan and Paris fashion weeks.
As evidence of LFW's role in discovering new talent and showcasing it, LFW S/R 12 saw some exciting shows from a handful of noteworthy young designers. Sleek swimsuits were sent out on the runway by Shivan & Narresh in a show that was expertly styled and a genuine joy to watch. Another fantastically styled show came courtesy of Swapnil Shinde, whose runway was dominated by fierce fembots in futuristic, sculpted pieces that will surely go straight into high fashion editorials and onto the stylish backs of forward thinking Indian fashionistas. Stars of this season's Gen Next show included Yogesh Chaudhary, whose collection celebrated stripes of all sizes, Paris-educated Archana Rao, who created quirky but wearable separates, and Tanya Sharma, who played with the idea of a classic men's shirt in a highly stylized, Indo-cool show. Regardless of which Gen Next designer's collection appeared strongest, what is important to note is how clearly they each created garments that spoke to their particularly aesthetic and were not afraid to experiment - in fact the show bore an interesting resemblance to the more experimental shows popular at multiple seasons of London fashion week.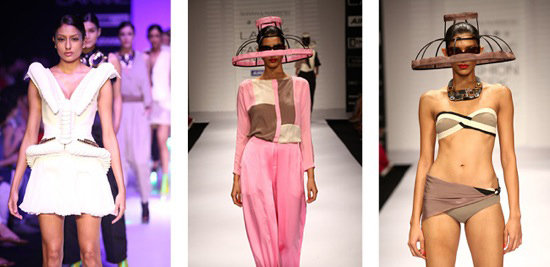 Image from Swanil Shinde (left) and Shivan & Narresh (middle and right)
Perhaps London's trajectory from experimental style playground to international fashion capital offers a look into the possible future of LFW and should act as a reminder to those critical of the filmy antics displayed by some of India's designers on the runway that India is not alone in headline-grabbing tactics. Be it in London, New York, Milan or Paris - one can count on a bevy of the hottest young starlets to populate the front rows of fashion weeks in these cities - and appear in newspapers, magazines and on TV just for showing up. And while Karl Lagerfeld isn't asking Hollywood actresses to walk his runway, there is competition among designers to use the hottest models of the moment. Which model opens or closes the most shows is on everyone's lips by the time Paris fashion week wraps.
Fashion is a business and the specifics don't matter much, anywhere in the world. Chanel is still a couture house today -- and not a museum -- because more than merely showing off exquisite garments on a runway, they sell sell sell. Marc Jacobs can show on a giant, candy floss carousel in Paris because Louis Vuitton sells sells sells so many monogrammed leather goods. Marchesa designs fantastical gowns that seem too precious for real life but which routinely appear on Hollywood starlets when they grace the Oscars red carpet - but co-designer Georgina Chapman is married to Hollywood heavyweight Harvey Weinstein. Maybe it's not so different after all.
Yes, LFW S/R12 was a season behind and oceans too but don't underestimate the power of business and brains -- both of which India has in abundance -- to put a city and a fashion week on the proverbial style map.
See exclusive, behind the scenes pictures from LFW S/R 12's fittings and backstage here.
All photos courtesy of LFW.