WASHINGTON -- Sen. Lamar Alexander (R-Tenn.) spent most of Tuesday criticizing Senate Majority Leader Harry Reid (D-Nev.) for signaling that he may go back on his initial pledge to not make changes to Senate filibuster rules. But it turns out Alexander hasn't exactly stuck to his own filibuster pledge.
Reid has indicated that he may be ready for a filibuster fight if Republicans don't ease off their obstruction of President Barack Obama's nominees. Plenty of Democrats support changing the filibuster rules so nominees would require only a simple majority to be confirmed, versus the current 60-vote threshold. While it's true that Reid struck a January deal with Senate Minority Leader Mitch McConnell (R-Ky.) to not mess with filibuster rules, Reid says Republicans threw that agreement out the window months ago as they continued blocking a number of Obama's nominees.
Regardless of what's happened in the past several months, Alexander said Tuesday that the bottom line is that Reid made a promise. And in the Senate, a person's word is what people count on the most.
"Senators keep their word," he said during floor remarks. "The majority leader has given his word."
Alexander echoed those sentiments later at a press stakeout, and then again in a huddle with reporters. "I expect him to keep his word," he told reporters.
But the Tennessee Republican didn't mention his own pledge to "never filibuster a president's judicial nominees," a promise he has broken numerous times.
Here's Alexander giving floor remarks on March 11, 2003: "I don't know what happened in the past, but I know what this one Senator will do in the future. If there is a Democratic President and I am in this body, and if he nominates a judge, I will never vote to deny a vote on that judge. If two or three more Senators on both sides will do the same thing, we could go back to having more respect for our judicial nominating process."
He made a similar floor speech again, on Nov. 12, 2003. "I will pledge to do what the Senator from Utah pledged to do. While I am a United States Senator, if a nominee comes to the floor for a judgeship by any President, Democrat or Republican, I will not participate in a filibuster," he said. "I will vote to cast an up-or-down vote on any nominee of any President. I think that is the right thing to do."
Several more of those vows came again in 2005. On April 12, he said he "would never filibuster as long as I were a Senator." On May 20, he said while he may vote against a nominee he doesn't support, he will "insist that we eventually vote up or down, as the Senate has for two centuries." And on June 9, he said he made a pledge that "I would never filibuster any President's judicial nominee. Period."
But Alexander's promise to not filibuster nominees hasn't exactly played out under Obama. He filibustered Goodwin Liu, a nominee for the U.S. Court of Appeals for the 9th Circuit in May 2011, and Robert Bacharach, a nominee for the U.S. Court of Appeals for the 10th Circuit in July 2012.
He also filibustered Caitlin Joan Halligan -- twice -- when she was a nominee for the U.S. Court of Appeals for the District of Columbia. Once in Dec. 2011, and then again in March 2013. The White House ultimately withdrew Halligan's nomination.
Alexander spokesman Jim Jeffries responded to the suggestion that the senator has broken his own pledge by pointing to a statement he made after he filibustered Liu. Jeffries did not specifically address the contradiction.
"The Senate is a body of precedent. Since 2005, in the case of Court of Appeals judges or Supreme Court justices, I have followed the precedent established that year by the 'Gang of 14': I reserve the right to vote against allowing an up or down vote in an extraordinary case," Alexander said at the time. "I consider this to be an extraordinary case."
Before You Go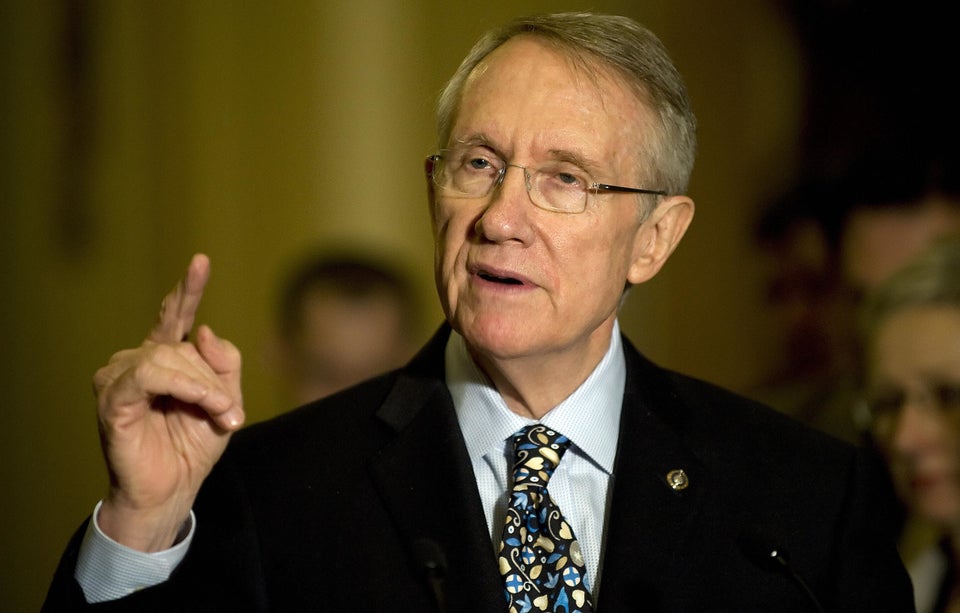 Senate Majority Leaders Through The Years
Popular in the Community