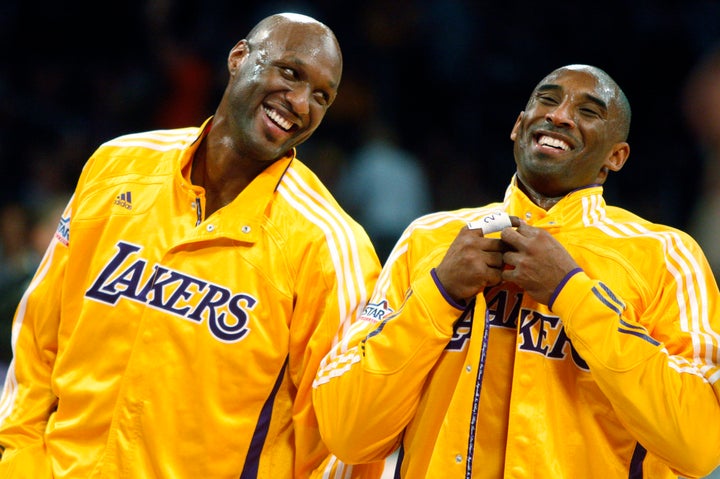 It's been over a day since Lamar Odom was hospitalized in Nevada, but the kind words about the former NBA player continue to pour in. A beloved figure around the NBA, Odom's unselfishness was tangible both on and off the court, and people connected to the former Sixth Man of the Year have shared a handful of the anecdotes that prove as much.
While we wait for updates on Odom's health, here are just a few of the stories people have been shared about Odom. Get well soon, Lamar.
1. Magic Johnson spoke of Odom's generosity, remembering the times when he took care of his younger teammates.
Magic went on to say that L.O. is even "a better person than he is a basketball player" and that he has been continually praying for Odom to make it over this hurdle.
2. CBSSports' NBA Insider Ken Berger recalled a conversation he had with Odom back in 2012 that displayed Odom's modesty.
Toward the end of a five-minute interview on the Clippers' practice court, I asked Odom if, after all he'd been through, he ever wondered why difficult times always seemed to find him.

"Jesus went through a lot," he said. "This is easy for me, you know what I'm saying? Basketball?"

"He didn't have your handle," I said.

Odom appreciated the joke, and didn't miss a beat.

"No, he didn't," he said with a smile. "No, he had his hands around the world. But we all go through a lot. We're all going to go through it one day."
3. Metta World Peace took to Instagram to remember his "[b]est memories" of their time growing up together in the gyms of New York.
Shortly after news of Odom's hospitalization spread on Tuesday night, World Peace simply had no way to express what he was feeling: "There's not one word I could say that would make sense."
"He picked up the phone and called me up," Gentry said on Wednesday. "He said, 'I want to apologize because I feel like I am as responsible as anybody for getting you fired because I didn't play the way I supposed to and I didn't do what I was supposed to.' I been in the league 27 years, and that's happened once, OK? And it was Lamar Odom who did it."
Van Pelt's words are worth quoting at length:
… I saw a tweet from rapper Bun B that got to me. It was about Lamar Odom, who fights for his life in a Vegas hospital. His plight was described by entertainment-based shows in this way, and I quote: "Kardashian reality star in a coma." … "Kardashian reality star"? No, no, no, no. Lamar Odom, unlike for those for whom fame is oxygen, whose fame comes in the absence of accomplishment, his fame was earned ... To read the tweets from the stars still in the league was to feel genuine anguish for a brother who has had an unspeakably difficult road and who has struggled mightily to find his footing post-NBA. Passed out in a brothel makes for a hell of a headline and I'm sure quite a juicy episode of TV, but stripped to the foundation, it's just incredibly sad. All of it. A man who's dealt with so much loss, unable to find his way. Who's unfortunate reality becomes a plotline in alleged reality. I understand not everyone watches sports, but "Kardashian reality star"? His name is Lamar Odom, and we knew it long before he got married on a TV show we don't watch.
The happiest Laker is the one whose father was addicted to heroin, whose mother died of colon cancer when he was 12, who attended three high schools, had his first college scholarship revoked before the fall semester of his freshman year, became a subject of three college investigations, declared for the NBA draft, tried unsuccessfully to pull out of the draft, was picked by arguably the worst franchise in sports, violated the league's antidrug policy twice within eight months and after finally getting his life together, went home to New York City for an aunt's funeral and wound up burying his 6 1/2-month-old son, then getting robbed at gunpoint.
The warmness he has exuded throughout the entirety of his career is more of a feat in the context of his personal history. But, to hear his peers tell it, Odom never seemed to think twice about his acts of kindness -- the custom suits he gave his rookies or the sympathetic words he said to a distraught coach.
Years ago, then Lakers sideline reporter John Ireland relayed to SI that sometimes, mid-game, after he connected on a jumper, someone would shout "Nice shot!" down from the rafters. Odom, Ireland said, would turn around, locate where the compliment came from, and thank the fan for his or her kind words.
Because that's just the guy he is, a fact attested to by the dozens upon dozens of stories and salutes we've seen pour in this week.
Odom was once questioned about a T-shirt he had on, fresh from his custom line, which featured an image of a rose. That rose, he explained, was "a symbol of what can grow" even from the most unlikely places.
Our fingers are crossed that we will all once more be able to see the heights to which L.O.'s life grows. Get well soon, Lamar.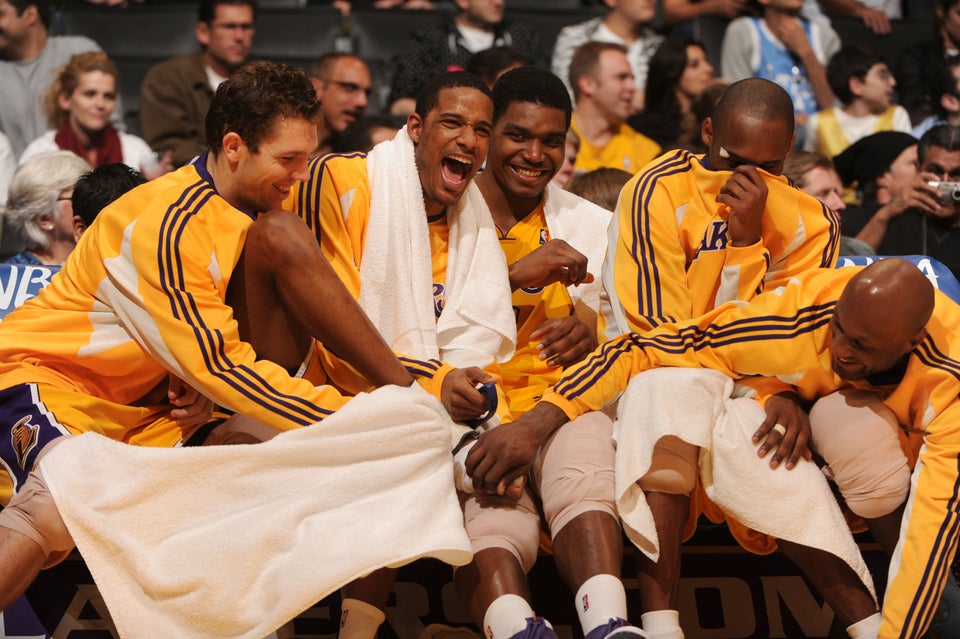 Some Of The Best Photos From Lamar Odom's Career
Popular in the Community