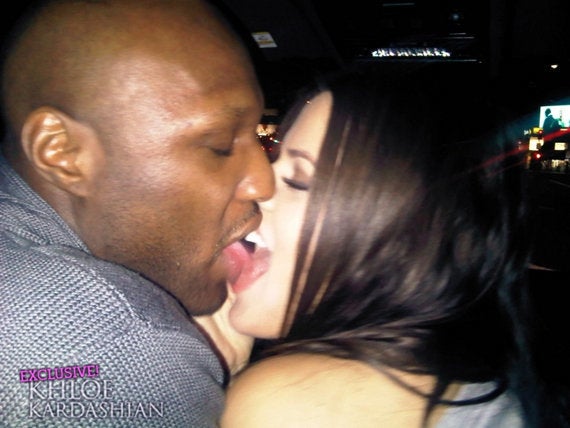 Lamar Odom, Los Angeles Lakers star and Khloe Kardashian's husband, is the subject of Playboy's February Interview. He talks about finding love with Khloe, the repercussions of a hypothetical sex tape leak and growing up playing basketball in Queens.
Excerpts from Playboy's press release follow; read the whole interview here.
On how marrying Khloe has changed him:
"Men, most of the time our goal is to have what we want when it comes to women...Most men like more than one woman. A lot of them would not want to admit that because that might not be cool, right? Most people don't want to get married. Being married, that's a responsibility. I always used to tell that to women. I don't want a girlfriend because that means I've got a responsibility. I have a responsibility to call you. I have a responsibility not to be with another woman. I have a responsibility to be there on time when you need me. With her I was like, If I do what I normally do, I'm going to lose her. And if I lose her, I think it's going to hurt a lot. Right then and there I knew. We were together every day."
On whether it was true that he withheld sex until they were married:
"I tried to. I didn't know why I wanted to wait. We came together and knew what we wanted from each other really early, and everything we did felt good, from a hug to a kiss. Then there was a time when I just tried to be a gentleman about the whole situation. I was accepted by her family. She stayed at my place and vice versa. I thought, We're going to step back for a second. Keep it classy."
On what would happen if a sex tape of Odom and Khloe leaked:
"When people see us in person, they see Khloé's not small. I'm not small. People see us and are probably like, Damn, I wonder how that looks. We wouldn't have anything to be ashamed about, but no, that's not going down."
On Khloe's stepfather Bruce Jenner's feelings towards him:
"Bruce likes me because I'm normal. First, because he's in a house full of women. He could tell my energy is just about trying to do the best for his stepdaughter and do what I need to do. Respect goes a long way when you carry yourself a certain way and show manners when you first meet someone. If you do that, then it's hard for somebody not to like you."

On growing up playing basketball with fellow Laker Ron Artest:
"Ron was from Queensbridge Housing Projects, and we grew up playing for the same traveling team, Brooklyn Queens Express. We used to go all around the city, playing in different tournaments. I always knew Ron was going to be one of those players who made it to the NBA."
On which NBA teams have the craziest fans:
"You walk around [Boston] and somebody driving his or her car yells, 'Hey, Odom, f*ck you! We hate you!' They say it like they mean it, too - not like they're rooting for their team but like they really don't like you. There and Utah, the fans are nuts...They bring up all kinds of things. You'd be surprised. But the one thing I do respect about those places is that they know basketball. They know the game. You hit a nice bounce pass, you might hear, 'Oh!' That's when you know you did it."
On meeting President Obama when the Lakers visited the White House:
"That was cool. He can ball. And he plays lefty, so he has a unique way of thinking and doing things. He asked me, 'How's married life treating you?' I was like, 'Oh, okay.' He's hip. He knows what's going on. It was amazing. My grandmother was born in 1923 in Georgia in the segregated South, so the significance of this was pretty big to me."
Calling all HuffPost superfans!
Sign up for membership to become a founding member and help shape HuffPost's next chapter