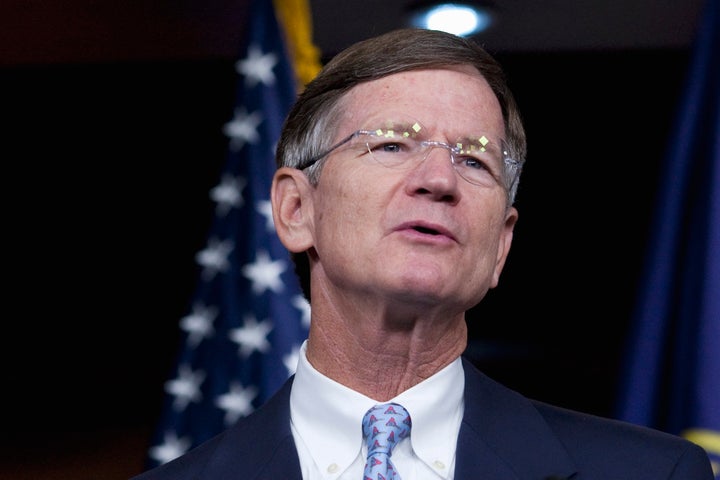 WASHINGTON -- Rep. Lamar Smith is working to gather support for a bill that would block the Obama administration's ability to take executive action on deportations, even though the Texas Republican pushed previous administrations to use the same authority.
Smith is attempting to draw support for the Hinder the Administration's Legalization Temptation Act -- more commonly referred to as the HALT Act -- to stop the Obama administration from blocking deportation for families of U.S. citizens who are being sent to dangerous countries.
The bill is a political attempt to push back on Democrats, who are advocating for the president to end some deportations since major immigration reform remains nearly impossible. Although the HALT Act is unlikely to make it out of the House -- and would almost certainly be vetoed if it passed the Senate -- Smith is highlighting a controversial presidential power at the same time that Democrats urge Obama to use it, which may lead him to not assert his authority at all.
Democratic lawmakers have asked the president to use his executive power to stop certain people from being deported, such as families of U.S. service members and citizens, or young men and women attending college in the United States. Some have argued the government should redefine "extreme hardship," a classification used when determining whether a family member or spouse of an American citizen can remain in the United States, to allow families to remain together.
But Smith claims in a "Dear Colleague" letter that the White House is already using its discretion to avoid enforcing immigration law.
"[T]he Obama Administration has made clear that it plans not to use but to abuse these powers," the letter reads. "Because of the Obama Administration's record, it cannot be trusted with these powers."
Smith's bill would prevent administrative officials from granting work authorization on a discretionary basis or granting parole or issuing deferred action, except under narrow circumstances. It would also prevent Obama from canceling orders of deportation entirely and from waiving the three- and 10-year barriers to entry for men and women who have been caught illegally present in the United States.
While Smith is now looking to take away Obama's executive discretion, he has previously pushed for additional leeway in immigration enforcement. In 1999, he signed a letter to then-Attorney General Janet Reno urging her to help the family members of U.S. citizens avoid deportation.
The bipartisan letter was signed by Smith along with Reps. Barney Frank (D-Mass.) and Sheila Jackson Lee (D-Texas) and former Reps. Henry Hyde (R-Ill.), Bill McCollum (R-Fla.) and Martin Frost (D-Texas).
"We write to you because because some believe you have discretion to alleviate some of the hardships, and we wish to solicit your views as to why you've been unwilling to exercise such authority," the letter stated. "True hardship cases call for the exercise of such discretion."
In spite of his campaign against Obama's immigration enforcement, Smith is still supportive of the White House's discretion -- so long as it's another president is living there. The HALT Act provisions would not apply "to the next president whom the American people elect," the letter says.
Rep. Luis Gutierrez (D-Ill.), one of the main Democrats calling for administrative action on deportations, said the fact that Smith put a sunset on his bill shows that it is just an attempt to hurt Obama, not to make a real policy change.

"It's concerning to us that you want to take something away from only this president," he said, speaking for congressional Democrats. "If it's good public policy, it should be left in everyone's hands; if it's bad public policy, it should be abolished. He's agreeing that it's good public policy, or he would abolish it, but saying [Obama] would abuse it. It's just politics, politics, politics."
Popular in the Community