In his latest showing of support for Big Oil, a House Republican has subpoenaed state attorneys general and environmental groups that are investigating whether companies like Exxon Mobil committed fraud by covering up the risks of climate change.
Rep. Lamar Smith (R-Texas) said during a press conference Wednesday that the subpoenas are necessary to "protect the American people from further infringement of their free speech rights."
Smith, who chairs the House Committee on Science, Space, and Technology, has a long history of denying climate change and going after those who accept the scientific consensus.
The investigations led by the attorneys general of New York and Massachusetts, Smith said, "amount to a form of extortion," "threaten legitimate scientific debate about climate change" and are a "blatant effort to silence free speech."
The congressman's First Amendment argument is also a go-to defense for the oil industry in its fight to keep buried what it knew about the effects of fossil fuels and when.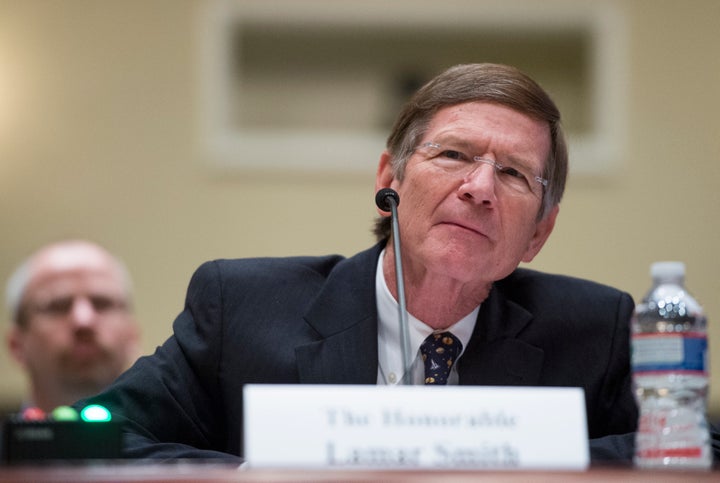 In November of last year, New York Attorney General Eric Schneiderman subpoenaed Exxon seeking documents related to the allegations that it lied to the public and its investors. In March, Massachusetts Attorney General Maura Healey said her office would join the Exxon Mobil probes in New York and California. In June, Exxon filed a lawsuit against Healy in an effort to bar a so-called civil investigative demand from her office.
Also this spring, a larger coalition called AGs United for Clean Power formed after reports by InsideClimate News and the Los Angeles Times found that Exxon executives were aware of the climate risks associated with carbon dioxide emissions, but funded research to cover up those risks and block solutions.
Responding to the congressman's announcement on Wednesday, Eric Soufer, a spokesman for Schneiderman, said the American people "will wake up tomorrow morning shaking their heads when they learn that a small group of radical Republican House members is trying to block a serious law enforcement investigation into potential fraud at Exxon."
Smith's committee, he added, "has no authority to interfere with these state law enforcement investigations." Moreover, Soufer said that the New York attorney general "will not be intimidated or deterred from ensuring that every New Yorker receives the full protection of state laws."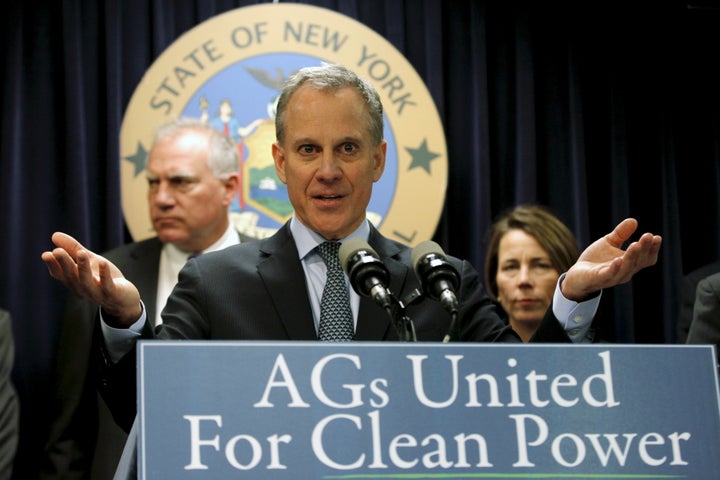 Republican members of the science committee who joined with Smith on Wednesday saw things very differently. Rep. Randy Weber (R-Texas) accused the attorneys general involved in the investigation of veering away from enforcing the law and participating in "environmental activism."
"Since when did it become a crime to express an opinion or to even hold an opinion?" Weber asked. "This posse of attorneys general believe that those whose opinion or scientific research conflict with the alleged consensus view on climate change should be the subject of an investigation and possible prosecution by none other than our own government officials. You talk about a chilling effect on free speech."
He claimed that the attorneys general sought to intimidate and put out of business those who disagree with their views on climate change.
"It's beyond ironic for Chairman Smith to violate our actual free speech rights in the name of protecting ExxonMobil's supposed right to misrepresent the work of its own scientists and deceive shareholders and the public," said Ken Kimmell, president of the Union of Concerned Scientists.
"It's going to have the opposite effect," Boeve said. "They may want to silence us, but we're just going to keep getting louder."
Smith questioned the groups' motives on Wednesday. Those investigating the industry, he said, "want the companies to settle out of court so they can obtain funds for their own purposes."
The congressman has received $675,597 in donations from the oil and gas industry since 1989, according to data compiled by OpenSecrets.org.
Before You Go
Here's What The 10 Leading GOP Candidates Think Of Climate Change
Popular in the Community