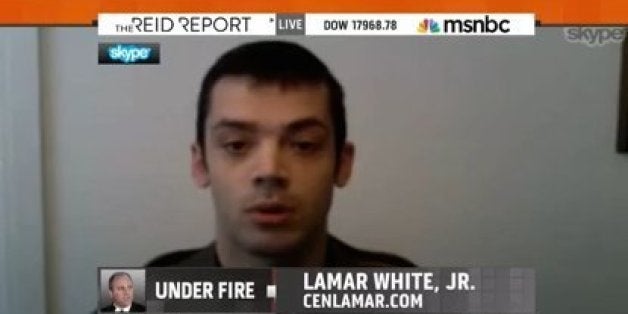 NEW YORK -- In early December, Lamar White, Jr., a third-year law student and liberal political blogger, got to work on a tip about Rep. Steve Scalise, a Louisiana Republican.
White learned there might be evidence that Scalise, the third highest ranking Republican in the House, had associated in the past with David Duke, a former Ku Klux Klan Grand Wizard and Louisiana state representative. White, by his account, simply Googled "Steve Scalise" and "David Duke" and immediately found a couple posts on a white supremacist site that have since consumed the sleepy holiday political news cycle and rocked the Republican House leadership.
Through his search, White noticed a commenter on Stormfront, a white supremacist site, describing how in 2002 Scalise spoke to Duke's group, the European-American Unity and Rights Organization. In a later post, the commenter again noted Scalise's presence at the event.
White was convinced of Scalise's association with white supremacists based on those posts, telling The Huffington Post that there "was no conceivable way that somebody would have planted this story 12 years ago." White didn't officially seek comment from Scalise's office before posting his story Sunday morning about the congressman's 2002 speech at a Marriott hotel in Metairie, Louisiana.
White said he was motivated to pursue the Scalise story because "even though it was 12 years ago, it is important because this man was 36 years old, a state representative, an elected official. He knew exactly what he was getting into."
Scalise has claimed otherwise. "I didn't know who all of these groups were and I detest any kind of hate group," he said Monday. "For anyone to suggest that I was involved with a group like that is insulting and ludicrous."
House Speaker John Boehner (R-Ohio) defended Scalise Tuesday, saying the congressman "made an error in judgment."
Since the revelations broke on White's site, CenLamar.com, journalists have been digging into Scalise's past comments and affiliations. Scalise told Roll Call in 1999 that he agreed with some of Duke's "conservative" views. On Monday, Duke -- who wasn't present at the 2002 gathering -- told HuffPost that Scalise is "a good person" and that the two agree on many issues.
Several news outlets have also resurrected a May 2002 report from the Des Moines Register about how the Iowa Cubs, a minor league baseball team, refused to stay at the Marriott because of the conference, showing the group had received some media attention prior to the event.
The still-unfolding story is the biggest scoop for White in the nearly nine years he's been blogging at CenLamar.com. White, 32, has maintained the blog as a sideline while working and attending school. He worked as an assistant to the mayor of his hometown of Alexandria, Louisiana, from 2007 till 2011. He then enrolled in law school at Southern Methodist University's Dedman School in Dallas.
While writing for CenLamar.com isn't a full-time job by any stretch -- White's last post before his Scalise scoop was an entry four days earlier on top movies of 2014 -- the liberal blogger has recently been involved in two other political controversies, in two states.
In October, White, who has cerebral palsy, expressed support for Texas Democratic gubernatorial candidate Wendy Davis after she was criticized for a campaign ad highlighting Republican challenger Greg Abbott's disability. Abbott, who went on to win the race, was injured by a falling tree in 1984 and uses a wheelchair. After White spoke at a Davis press conference, staffers dragged him seated in his chair to the side of the stage, a move which prompted Abbott to label Davis' supporters as "props."
White told the Houston Chronicle that he asked be slid over by staffers because he feared falling on camera if trying to walk himself. He also tweeted: "I am a human being. Not a campaign prop."
The next month, White and another blogger reported that Republican Congressman Bill Cassidy, then in a runoff Senate election against incumbent Democrat Mary Landrieu, had improperly billed an LSU hospital for work while serving in the House.
The billing story got pickup from local media and some national media, and White's reporting earned him a profile earlier this month in The Town Talk, a daily newspaper in Alexandria. But Cassidy disputed the allegations and handily defeated Landrieu days later.
White said that it was while reporting on the Cassidy story that Robert Reed, who was campaign manager for his mother, Gilda Reed, when she ran against Scalise in 2008, passed along the tip about Scalise associating with Duke. From there, White said, he Googled and landed the scoop in about 35 seconds.
On Sunday, White posted the story on his site and on his Facebook page, and sent it in an email to his roughly 2,000 subscribers. It quickly got significantly more attention than a typical post.
White said he noticed the Scalise story had been viewed 21,000 times through Facebook within a matter hours. A typical blog post, he said, may get around 8,000 views in its entire lifespan. By Sunday night, White said, his site had registered over 50,000 hits, which was much higher than his daily readership of around 1,110 hits. The post, he said, was also given prominent placement on Reddit.
"Almost immediately, it went viral in a way that the Cassidy story didn't," White said. "I was surprised, in many ways reassured, that folks are still uncomfortable with the idea of a congressman hanging out with a group of white nationalists under any circumstances."
Related
Popular in the Community