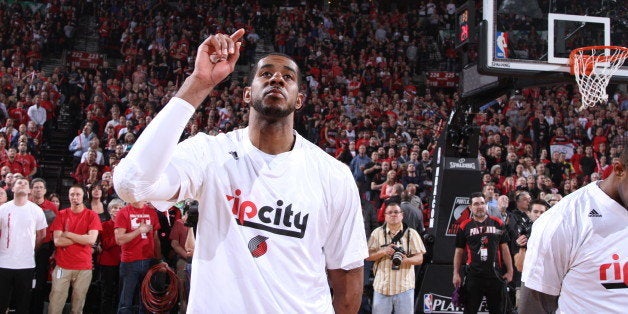 LaMarcus Aldridge's rise to elite status this season wasn't some shocking transformation of an ordinary player turned great. With his robust skill and size, Aldridge, the second overall pick in the 2006 NBA draft, was already one of the league's premier power forwards and most challenging match-ups. But this year's leap was tangible: The statistical improvement in the Portland Trail Blazers star jumps off the page.
Despite his playing fewer minutes, Aldridge's scoring average this season has increased from 21 to 23, his rebounding from 9 to 11 and his free throw shooting to 82 percent, all career highs. He's also tied his career high in assists. When he's not on the floor, Portland's scoring and defensive metrics suffer dramatically, per NBA.com.
More importantly, his postseason play for "Rip City" has been the fulcrum of its success. He recently became just the third player ever to score 40-plus points in Games 1 and 2 of a playoff series on the road, joining the likes of Michael Jordan and Tracy McGrady, and he has surpassed all but two players -- Jordan and Jerry West -- in combined points (89) in the first two playoff games. After scoring 30 to help close out Houston in the first round -- mostly while Houston's titanic Dwight Howard was on the floor -- Aldridge trails only LeBron James in playoff scoring. And he's converting 54.6 percent in the all-important true shooting percentage, which measures a player's shooting efficiency.
Though his notable improvement may be a surprise to some, it comes from a conscious decision by Aldridge to upgrade his approach to the game.
"I knew that if this team had a chance to go somewhere, I had to try to be elite in both areas, as far as scoring and rebounding," he told The Huffington Post. "I felt like it was something that I could do if I put my mind to it. ... I [wanted] to show I belong and still prove that I'm the best power forward in the game."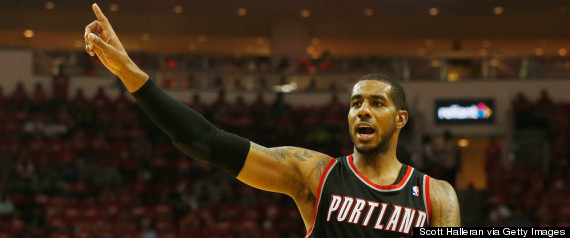 Aldridge believes that fatherhood -- he has two boys -- has helped him evolve into a more complete person, which in turn has helped him on the floor.
"It takes pressure off of you, I think," Aldridge said. Before he had kids, he said, "if I had a bad game, it would just eat at me and I would let it dwell. ... When I had my first son, it kind of taught me how to have a bad game but not kill myself and just try to bounce back the next game, because I knew that, no matter what, my son still loved me. ... He showed me how to have that balance of work and personal life."
This year, Aldridge, a self-proclaimed "Shameless" and "Scandal" fanatic who naps every game day, has discovered that precise balance he needs to fully release his immense potential. The 6-foot-11 power forward was never viewed as some freewheeling talent who did whatever he wanted, but at 28, the co-team captain has finally embraced his leadership role.
"I think I've definitely taken on the role better," Aldridge said. "I try to lead better this year as far as being vocal. ... I feel comfortable telling guys to do what I'm doing. I think this year I've definitely gotten out of my box."
Aldridge's transformation was not a sure thing, however. During his eight years in the league, he has endured a slew of coaching and roster changes (e.g., the loss of Greg Oden and Brandon Roy), and he had long been rumored to be a departing free agent -- but no more. Head coach Terry Stotts has praised his star's dramatic upgrade all season.
Reserve Blazers point guard Earl Watson, a 13-year NBA veteran who has been around plenty of talented players who did not embrace their own possibilities, has also noticed a change in Aldridge's demeanor this season.
"All he cares about is winning every possession and game so badly," Watson said. "It fuels our team culture."
Email me at jordan.schultz@huffingtonpost.com or ask me questions about anything sports-related at @Schultz_Report and follow me on Instagram @Schultz_Report. Also, be sure to catch my NBC Sports Radio show, "Kup and Schultz," which airs Sunday mornings 9-12 ET, right here.
Calling all HuffPost superfans!
Sign up for membership to become a founding member and help shape HuffPost's next chapter