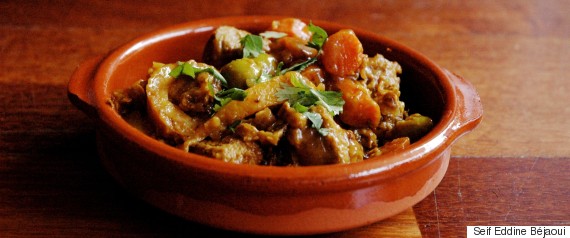 Tagine is one of the central dishes of North African cuisine, and it's named for the iconic earthenware pot that it's traditionally cooked in. But even if you don't own a traditional tagine pot, you can still cook up this delicious meal at home--and fill your house with the scents and tastes of North Africa.
In this recipe, the subtle perfume of orange and lemon pair exquisitely with the lamb meat. The gamey tang of the lamb blends perfectly into the flavor of this dish.
My father kept coming back for seconds... And so did I! Here's a recipe I'll come back to again and again.
Makes 4-6 servings.
Preparation time: 25 mins
Cooking time: 1 hour
• 3.3 Lb lamb shoulder
• 3 onions
• 1 potato
• 2 carrots
• 2 zucchinis
• 4 tomatoes
• 1 lemon
• 10 fl oz of orange juice
• 5 pinches of ras el hanout (Moroccan spice blend; you can make your own at home)
• 5 pinches of ground cinnamon
• 5 pinches of coriander powder
• 7 fl oz water
• 1 vegetable bullion cube
• 1 lemon confit
• Fresh coriander
• Sunflower oil
• Salt, pepper
Cut the lamb meat into pieces and season it with salt and pepper. Heat a pan on a high flame with some oil, and brown the meat for about 10 minutes.
In the meantime, peel and chop the vegetables, squeeze the lemon.
Place the meat in a tagine dish or heavy Dutch oven. In the pan, brown the onions for 5 minutes while stirring.
Add the potatoes, the zucchini and the carrots. Pour the orange and lemon juice over the top, add the spices, the tomatoes and the vegetable bouillon cube.
Bring to a boil, then pour over the meat with it in the tagine dish or Dutch oven. Stir to mix the ingredients. Add the diced lemon confit.
Season to taste and bring to a boil. Reduce the heat and skim the fat off the surface, cover and simmer for an hour at least.
Serve it very hot, with fresh coriander and a few black olives. You can also accompany it with couscous.
This piece originally appeared on HuffPost Maghreb and was translated into English. It was adapted for an American audience.