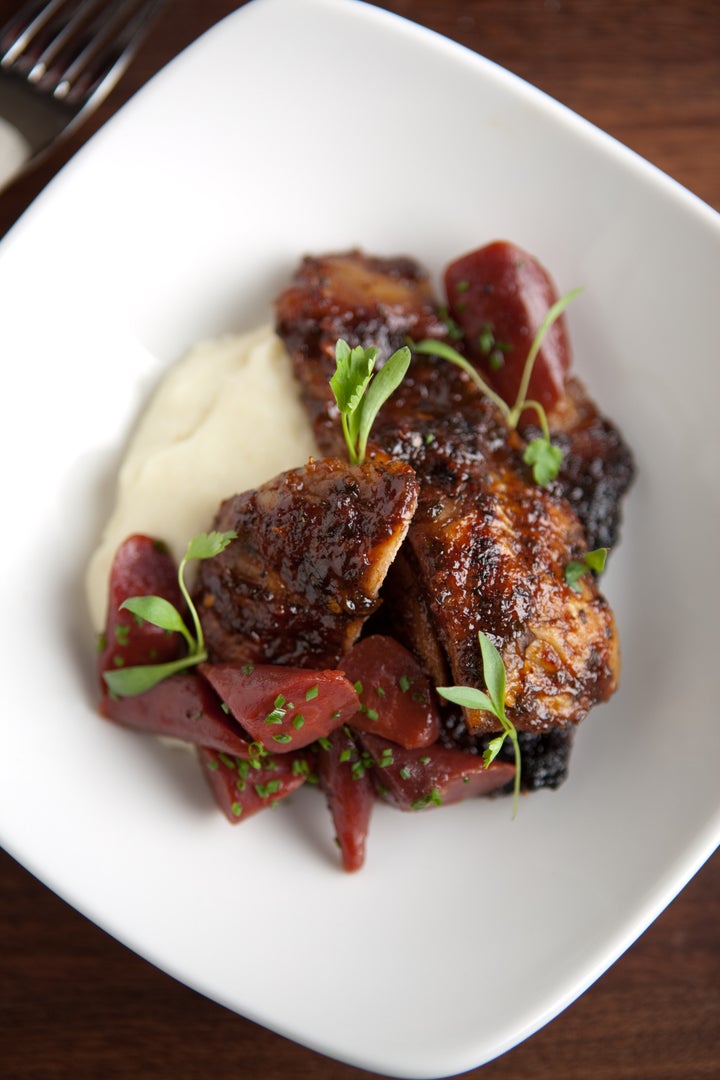 What was formerly referred to as lamb breast is finally getting its proper moniker back: Thanks to the favorable receipt of pork belly in recent years, the spotting of lamb belly on a menu triggers an urge to order it. It's muskier and perkier than the hog's belly, and right now in LA, you can order the lean/fat meat at the following five restaurants:
The Spice Table: Satays, aka meat on a stick, are quite popular in Southeast Asia -- in part due to how conducive it is to walk, talk and chew with this feminine version of a kebab. You're often stuck with simple carnivorous selections as beef, pork and chicken, but ever since The Spice Table opened its doors for dinner, the satay to beat is, of course, the lamb belly. Every bite is gamey, juicy and appropriately fatty. The Spice Table, 114 South Central Avenue, at East First Street (213-620-1840 or thespicetable.com) Chimu: The walk-up window at Chimu is already too accustomed to hearing two words uttered: lamb belly. And that's for anyone that's too embarrassed to butcher the proper Peruvian name of your forthcoming meal, Seco de Cordero. We've had Seco de Cordero before, but never with lamb belly, which you get a heaping pile of -- both crispy and tender -- deliberately braised in black beer and served over rice and Canario beans. Chimu, 324 South Hill Street, at West Third Street (213-625-1097) M.B. Post: In Manhattan Beach, chef David LeFevre is taking the belly of his Sonoma Valley lamb, cooking it for 48 honest hours, and giving it an addictive Moroccan BBQ flavor. It's almost charred on the outside -- not unlike how you've come to enjoy your pork belly -- and it's served over creamy semolina and the accompaniment of Weiser Farm's tiny carrots. M.B. Post, 1142 Manhattan Avenue, at Center Place (310-545-5405 or eatmbpost.com) Lazy Ox Canteen: When the Lazy Ox Canteen can be bothered to source lamb belly (follow the chalkboard specials), chef Josef Centeno offers a worth-the-wait preparation. His belly is plated alongside a healthy dollop of creamy lebni and mint, something you'd think to find on the menu at Cleo (http://www.cleorestaurant.com/) -- but Cleo hasn't thought of it yet. Lazy Ox Canteen, 241 South San Pedro Street, at East Second Street (213-626-5299 or lazyoxcanteen.com) Red Medicine: If chef Jordan Kahn ever quits cheffing, you'll surely spot his new work in a modern art museum near you. The lamb belly at Red Medicine easily wins "Most Attractive," served with squirts, sprinkles and carefully sprawling hibiscus-onion, salsify, sunflower seeds, Lady apple and hoisin. It's raised-eyebrow Vietnamese food. Red Medicine, 8400 Wilshire Boulevard, at South Gale Drive (323-651-5500 or redmedicinela.com)
REAL LIFE. REAL NEWS. REAL VOICES.
Help us tell more of the stories that matter from voices that too often remain unheard.