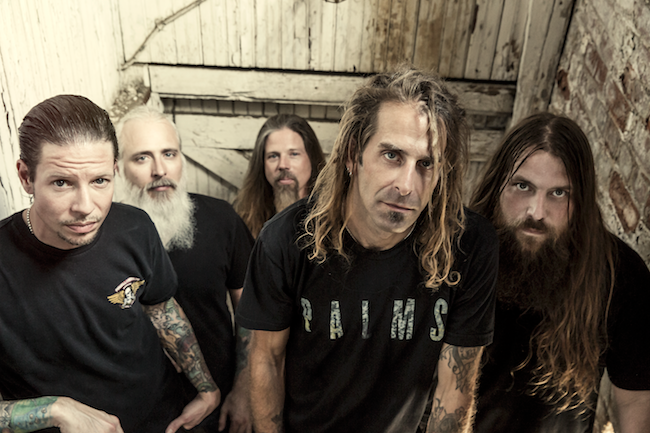 At Propeller, we recently teamed up with heavy metal act Lamb of God on a fundraising campaign in support of Leukemia and Lymphoma Society.
The title track of the band's new EP "The Duke" was named after fan Wayne Ford who lead-singer Randy Blythe got to know in his time before passing.
Brandon Deroche: How'd you first meet Wayne Ford?
Randy Blythe: I first met him in Phoenix, Arizona. We were on tour, and this guy came up to me in the backstage area and said, "Hey, man, my friend wanted to speak with you tonight. He's a huge fan and was diagnosed with leukemia a couple years ago. He's been fighting it, but he's had a rough go of it, do you think you could give him a shout out? It would raise his spirits a lot."
And I said, "Yeah man. Absolutely." I wrote his name down in Sharpie on my hand so I wouldn't mess it up. Then we went out on stage and while we were playing I dedicated a song to him and told him, "Hey, you're going to beat this thing."
Three years went by and I got an email while we're recording our album from another one of Wayne's friends. He said, "Hey man, I don't know if you remember this guy, his name is Wayne Ford, he had leukemia. He's not going to make it. He's fought it really hard for three years, but he's not responding to treatment, so he's decided to go home to die surrounded by his family and his wife. Do you think you could get the band together to give him a group phone call or something?" I emailed the guy back and I was like, "Regrettably, that's not going to be possible because they're in California right now recording, and I'm in Virginia. But I'll certainly give him a ring."
I wound up doing a Skype chat with him and from there we exchanged phone numbers and started keeping up with texts. I asked him if he wanted to watch me track some vocals which was a really weird thing for me to do because I don't let anyone come in while I'm tracking vocals. My band isn't even allowed in there when I track vocals, but he was really mellow and wasn't going to be around much longer, and he was a really big Lamb of God fan. He said, "Sure, man. That would be awesome!"
We talked about cancer a little bit while he was in there, just sort of matter of fact. That's how our conversations were. They were just normal. That's why he had decided to come home and die with his family, because he wanted some normalcy in his life. He had been fighting this thing for five years.
After that I had this idea to send him a message and said "Is there anything you want to say? Or anything you want to be remembered as saying? We can record it over the phone, and I'll layer it into the record or work into a lyric."
I never heard back from him on that. I don't know if he just hadn't thought of something, or didn't feel like it.
Regardless, he passed away shortly after that. I got another email from one of his friends saying, "Hey, Wayne passed away last night peacefully at home." And that's when I decided I'm going to write a song for him. Very shortly after his death I wrote the lyrics to "The Duke" and put them to the music that was already recorded.
Brandon Deroche: What was your hope with writing this track for Wayne?
Randy Blythe: I don't know if there really was any hope in writing the track for Wayne, he just had a profound effect on me. He was a very stoic, very calm person. We'd all like to think that we're going to be composed when it's time to face our own mortality, but we don't know.
I sat there and watched a guy live out his final days exactly how he wanted to and he did it with grace. That's pretty profound. If I can handle my own mortality, with half as much grace as this dude, I'll be pleased. So I wrote the song originally just out of respect.
I figured The EP would be a great way to tell the story behind it, but thought maybe there's a way to do some actual good. I started thinking and I told management, "You know, we just got these gold records. I wouldn't have one if it weren't for guys like Wayne, so why don't I auction mine off for charity? Can you guys help me organize that?" And that's when they came up with the idea to work with Propeller.
When we got Propeller involved and made it a multi-tiered sort of thing, it really turned into something a lot more than I originally thought it would, which really pleases me.
It's really cool when you can write music and write something impactful, meaningful, and do some actual concrete physical good with it, you know?
I think people support causes that they actually care about. Something that has moved them or affected them in one way or the other. The cool thing about this being connected to the song and the story behind the song is that this song originated from one of our fans.
It really keeps it in the circle. Our music community is... I wouldn't say insular, but it's sort of it's own thing. It's just really cool to me that it's staying in that circle.
Brandon Deroche: What's something that you'll never forget about Wayne?
Randy Blythe: He was extremely calm, and very stoic. Not in a bullshit, tough-guy kind of way, but in a really stoic kind of way. I talked to his wife and his family, and I know it wasn't some sort of show he was putting on for a dude who's in one of his favorite bands. That wasn't it. That's just the way he was. He just had a whole lot of dignity about the whole deal. The man was only 33 when he passed away, but he was extremely cognizant of the reality of his situation. That was not to say he didn't fight hard against it for five years. But when reality set in, he made a very hard decision.
He'd say to me, "Well, you know, there's a couple of different treatments that might prolong my life a little bit, I'm not interested in that." I think a lot of people would just grasp at any sort of straw in order to stay alive long enough. But he looked at the manner in which he would have been living if that stuff had worked, and knew it wasn't for him. At a very young age he became very accepting of the reality of his situation, and he did it in a very calm manner.
So, I guess the big thing is he provided a living example of how to live out your end with dignity. I saw it happen. I guess I hope I retain some of that dignity when it comes my time to die, whatever those circumstances may be.
Brandon Deroche: If you were in Wayne's position and given a year to live, how do you think that would affect you as an artist or as a person?
Randy Blythe: I don't know. That's an impossible theoretical for me. I can say what I would do, but it would be complete bullshit because I don't know.
I can only hope that I would behave with some dignity. If I found out that I had a year to live or something like that, I think I'd try and finish a book, surf as much as possible, and hang out with my family as much as possible. I don't think I'd be on a rock and roll tour, I can tell you that much. It's too stressful.
Brandon Deroche: Is there anything you'd like to add?
Randy Blythe: I'm really just hoping to raise awareness for people to get on the bone marrow registry at bethematch.org. That's free. I'm hoping that as many people as possible will sign up for the Propeller campaign and enter to win my ridiculous gold record, and do some good at the same time. It feels good to help people.
Popular in the Community