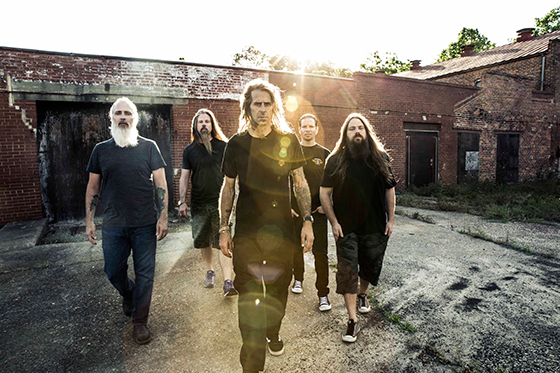 The Grammy nominations are out and heavy metal band Lamb Of God received a nod for Best Metal Performance for their song "512" from their latest album VII: Sturm und Drang, but does the band really care? Lead singer Randy Blythe really doesn't. Grammy's are not something that have been very appreciative to certain subcultures of music, especially the heavy metal community.
Along with learning the correct way to pronounced Randy Blythe's name (the "the" is silent in his last name, it rhymes with "fly") from his appearance on The Eddie Trunk Podcast, I was able to chat with Randy last month while he was getting his car inspected by his mechanic before he was set to hit the road on Lamb Of God's current tour with Anthrax.
How are things going? Looking like its never boring when it comes to Lamb Of God.
I would hope for boringness with us. It never ends. We just got back from Mexico City the day before yesterday and that was blessedly relatively uneventful. We just spent a lot of time in traffic. Mexico City is insane. We did see an elderly Mexican clown in a pickup truck. He wasn't like an ironic clown either. It was like an old man, in a clown outfit, in a pick up truck driving by. It was kind of nice.
Lamb Of God just got nominated for a Grammy for "512". How do you feel about that?
Don't care! Don't care at all! Everybody is sending congratulations. This is our fifth time being nominated for a Grammy, and from the very first one, I said, "I don't care." Nobody understands the way the Grammy's really work. Basically, all of the members of the voting committee, when you are selected, there's are a large group of people that are supposedly specialists in your field in each category and they get together in a room and they argue and they get it down to the final nominations. I can't remember how many categories there are but there's a bunch of them, so there's all these different groups who get the nominees for each category. Then, the ballots go out to every member of the voting committee. Every single person who votes has to vote in every single category or else their ballots doesn't count, so basically a lot of people I know personally, a friend of mine who is a member of the Grammy committee who is a part of the heavy metal board, he gets his secretary to fill the votes. Just vote for our band and just fill out the rest. There's people who have no clue what we sound like who are required to vote, so it's a joke, its not a jury of your peers. Awards for music are just silly to me. I don't care. It means nothing to me. It's not a swim meet.
How can you even expect everyone to know about everything though?
You can't! That's the way the Grammy voting committee works. That's the truth. They'll say its your peers. Do you think Mariah Carey is going to know who Lamb Of God is? I'm sure she is on the voting committee. Do you think she's going to having any clue of who we are when she casts her vote? If she wants her vote to count for Best Pop Female Single, she has to vote for best Heavy Metal Performance. Mariah's personal assistance is probably casting her vote.
The Grammy's have never been kind to the metal community.
No. The metal ceremony is like at 2 o'clock in the afternoon or something, in between Best Polka Performance and the Grammy for Best Underwater Basket Weaving or whatever else (laughs). Nobody cares! If I win a Grammy, all its going to do is get me a lot of congratulations. Its not going to sell anymore records. Its not going to sell anymore black t-shirts. Its not going to put any more sweaty metalheads into some club where I'm playing. The metal community doesn't really care about Grammy's.
How's the surf these days?
The surf was pretty freaking epic not this weekend, but last weekend. There was a decent swell. I got some nice head high waves, pretty cruising. That's what I enjoy doing when I'm not doing the band thing or writing or doing photos. Hopefully, it'll kick up. It doesn't look that great now.
Are you able to find places throughout the year that have good waves?
It depends. This year, for example, I've surfed in California in January down near Huntington. I've surfed in Bali. I've surfed in Australia. I've surfed in Virginia. I'm surfed in North Carolina. I've surfed every month this year so far so yeah. I don't know if you ever seen the old surf movie Endless Summer. These two guys just follow good weather and waves around the world, its one of the first surf movies. That would pretty much be my dream (laughs). As I get older, I don't like cold weather much anymore. It's a part of becoming a crotchety old man I suppose. I hate cold weather more and more so if I could just run away from winter, I'd be happy.
Lamb Of God is playing the Royal Oak Music Theatre in Royal Oak, Michigan on Thursday, January 28th with Anthrax, Deafheaven, and Power Trip. For more information, visit lamb-of-god.com.
Calling all HuffPost superfans!
Sign up for membership to become a founding member and help shape HuffPost's next chapter