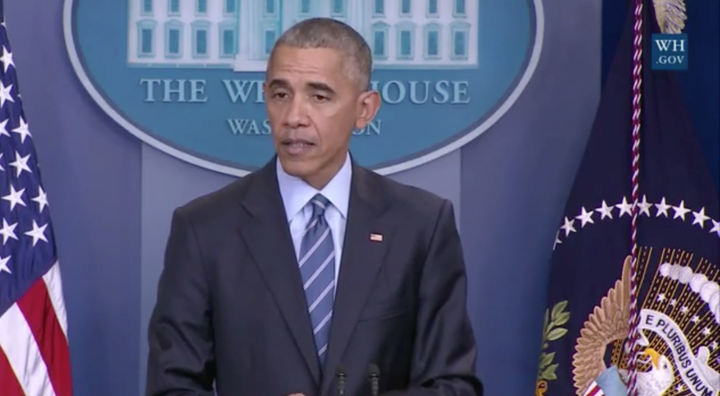 If the GOP won the popular vote by nearly 3 million and lost the Electoral College by 80,000 votes in three states amidst news that Russia hacked the election to swing the outcome, they would have incited a civil war by now.
President Obama gave his final press conference of 2016 from the White House Friday afternoon only hours after announcing that the United States will retaliate against Russian hacks meant to help Donald Trump win the presidential election, in some instances directed by Russian President Vladimir Putin himself.
Citing national security concerns, the president declined to state specifics on his promise and left much to be desired for distraught Americans hoping for a bold response to what many now view as an illegitimate election.
"Our goal continues to be to send a clear message to Russia or others not to do this to us. Because we can do stuff to you," the President said in a painfully timid response to what some are calling an act of warfare. In the most cringe-worthy moment of the event, Obama recalled how he told Putin to "cut it out" in person before the election.
Even Hillary Clinton, who has been noticeably silent in recent weeks, was more pointed and assertive in a speech she gave Thursday evening to donors at a fundraiser. According to Bloomberg, Clinton expressed that the Russian intervention was a result of Putin's "personal beef" against her and was partially to blame for her loss:
"Putin publicly blamed me for the outpouring of outrage by his own people, and that is the direct line between what he said back then and what he did in this election," the Democrat said. She also claimed FBI director James Comey's Oct. 28 letter disclosing a new investigation of e-mails from her time as secretary of state damaged her with swing-state voters days before the election. The two factors were "unprecedented," Clinton said.
The president declined to declassify information pertaining to the Russian hacking scandal, though he confirmed that the attacks were directed by the highest levels of the Russian government and implied Vladimir Putin was involved. He also made a point to express the information had been provided to high-level American government officials from both parties.
"Our vulnerability to [Russia] is directly related to how divided we are as a country," President Obama said in one of several references to "partisanship" throughout the afternoon, particularly while recalling his mindset in the months leading up to Election Day, when hacked DNC e-mails were being leaked daily to the press. "I wanted to make sure we were playing this thing straight."
The president continued, "my principal goal leading up to the election was making sure the election itself went off without a hitch, it was not tarnished, and it did not feed any sense in the public that somehow tampering had taken place with the actual process of voting."
With regards to Trump's controversial cabinet selections, Obama declined to criticize the disastrous slate. "The president-elect is still in transition mode. From campaign, to governance." Obama said almost apologetically, indicating he would continue to make himself available to Trump in the future.
Obama did not respond to comments made by the Kremlin Friday morning, in which a Presidential spokesman for Russian President Vladimir Putin called hacking allegations against Russia "indecent," and challenged the United States to either "stop talking about that or produce some proof at last."
Yet in his press conference today, President Obama failed to be a much-needed voice of opposition and leadership to the troubling series of events that precipitated and followed the 2016 presidential election. Instead, he deferred to his trademark overabundance of political caution at a time when he was poised to object to and swiftly respond to a political crisis. By doing so, not only is President Obama capitulating to Putin, but to his own misguided desire to be viewed as non-partisan and non-controversial during what he describes as a "hyper-partisan" time. President Obama's natural tendency to seek moral high ground is something to be admired, but here it registers as vain and dubious, his prescriptions for how to respond to the Russians coming off flat and empty. His failure to take bold action in defense of Clinton, or in response to interference by Russians, is a disappointing blemish on a superb, historic presidency.
Popular in the Community