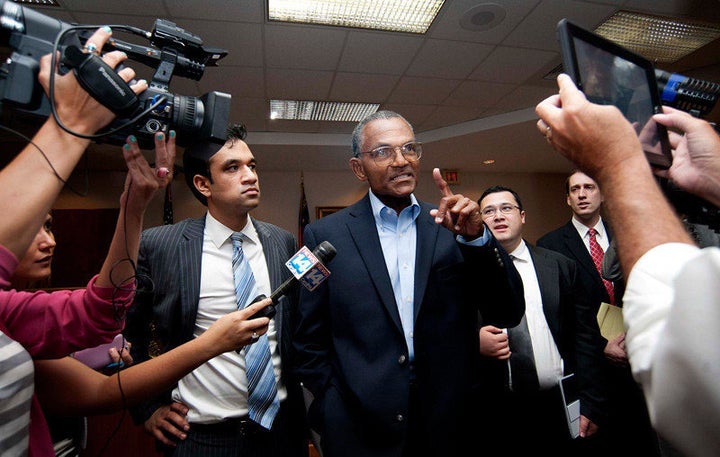 LaMonte Armstrong is putting his life back together, piece by piece. But his freedom -- all three days of it -- hasn't been easy.
"I'm confused, lost and little bit fearful of the unknown," Armstrong said in a phone interview. "I wasn't ready to get out of prison last Friday."
Nearly 17 years ago, a Greensboro, N.C., jury convicted Armstrong of murdering his mother's best friend, a beloved college professor named Ernestine Compton, by stabbing her and strangling her with an electrical cord. A judge sentenced him to life in prison. Prosecutors had sought the death penalty. Armstrong vowed to fight to clear his name.
He won that fight on Friday afternoon, when Superior Court Judge Joe Turner threw out his conviction. Two hours later, he was released from the county jail. He is 62 years old.
At the hearing, Turner said freeing Armstrong was likely the "closest to knowing I'm doing justice, in my career, I will ever experience."
The words bowled Armstrong over. "He made me almost drop my head to my feet," he said.
Armstrong's case is a textbook example of police and prosecutorial misconduct, according to a lengthy brief filed by his attorneys, with Duke Law School's Wrongful Convictions Clinic. Crucial evidence was deliberately withheld from his defense -- evidence so clearly exculpatory it is hard to understand why the case was ever brought to trial, according to Theresa Newman, a Duke Law School professor and the clinic's executive director.
"It was a gross miscarriage of justice," Newman said. "Nobody should be convicted this way."
The brief states that a neighbor of the murdered woman told police that she saw a strange man, not Armstrong, in the area after the killing, wearing bloody Army fatigues. The man muttered that "the woman thought she was somebody," according to an investigator's notes. Those notes were never shared with Armstrong's defense.
Police said they now believe another man, Christopher Caviness, was the real killer. Under pressure from Armstrong's attorneys, Greensboro investigators re-tested evidence from the case and matched a palm print from the murder scene with Caviness, who was identified as a suspect by police early in the case. A year after Compton was killed, Caviness went to prison for murdering his father.
He died last year in a car crash.
"We are truly saddened that an apparently innocent man has been convicted," Greensboro police Capt. Mike Richey, head of the department's investigative division, told the Greensboro News-Record.
In the end, Armstrong nearly faced the death penalty based on the testimony of four prison inmates, all of whom received favors from prosecutors for implicating Armstrong.
The key witness, Charles Blackwell, a police informant, changed his story about the murder repeatedly before the trial, even writing letters to Armstrong and a local civil rights group declaring that Armstrong was innocent.
Prosecutors put him on the stand anyway, where he declared that he watched Armstrong murder Compton.
Prosecutors did not share with Armstrong's lawyers testimony from multiple witnesses who told police they had seen the murder victim alive several days after Blackwell said he had seen Armstrong commit the crime.
The three other witnesses were prison inmates who received favorable treatment in exchange for bolstering Blackwell's testimony. Two said Armstrong had confessed the murder to them. At his 1995 trial, Armstrong called the testimony lies. The jury "agonized" over the lack of physical evidence and credibility problems with the witnesses, jurors told the local newspaper.
But after two days of deliberation, the panel voted to convict.
Armstrong said he believes that Randy Carroll, the assistant district attorney who tried the case, deliberately withheld evidence he knew would have led the jury to acquit. But years ago, he decided he could not let his anger consume him.
"A little over 12 years ago, I realized how sick this guy was," he said of Carroll, who left the district attorney's office and now works in private practice as a defense attorney.
"I try not to hate," Armstrong said. "You accept what has happened, but you don't have to like it."
Carroll did not respond to a request for comment.
In order for Armstrong to be compensated by the state for the years he lost behind bars, the North Carolina governor will need to authorize a pardon, a difficult prospect. For now, he is living in a halfway house in Chapel Hill, N.C., and has an upcoming interview for a job as a drug counselor.
He's also looking forward to visiting Duke's Wrongful Convictions Clinic and meeting with the attorneys who helped on his case. Many of them began working on his case as law students.
"I'm impressed with those kids," Armstrong said.
Popular in the Community