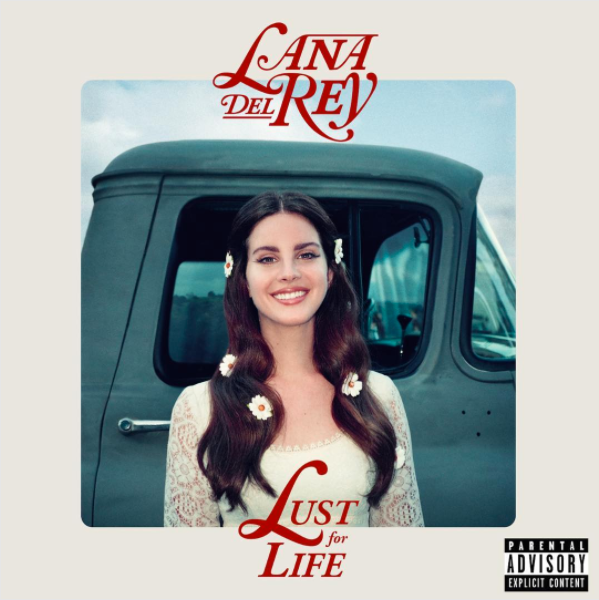 On the cover of Lana Del Rey's upcoming album "Lust for Life," the singer is pictured in front of a dusty blue pickup truck, wearing a white lace dress and her signature 1960s winged eye liner, white daisies in her long, dark tresses. For the most part, the sun-bleached image conforms to the aesthetic Del Rey is known for ― dreamy, vaguely retro, Californian and a bit too consciously curated to be classically cool.
And yet there is something different about this image: Del Rey's big, toothy smile.
There are few contemporary pop stars who opt to smile on their album covers. Reigning queens like Beyoncé, Rihanna and Taylor Swift most often assume "fierce," serious poses, all pursed lips and knowing gazes, that ooze a bankable combination of sexuality and control. Looking back to icons like Stevie Nicks, Patti Smith and Kate Bush, they, too, assumed dramatic yet stern-faced postures that were theatrical, absurd and always achingly cool.
There are many explanations for the predilection to pout on camera. Quite simply, smiling isn't cool. Tourists smile, class presidents smile, families of four dressed up in matching denim for a studio portrait smile. The learned gesture is not always genuine ― it can be too indicative of an eagerness to please.
But there are additional dangers when it comes to a woman smiling, specifically on the cover of an album ― her album ― signifying her art and work and self. The expression can be read as infantilizing, pandering, a visual manifestation of the societal pressures women are forced to endure on a daily basis. Smiling is to indulge the catcaller who hollers, "How 'bout a smile, pretty lady," or to assuage the unease of any and all men who pass by and take a gander.
There is a power in refusing to smile, instead assuming the serious countenance of an artist. To know that millions of eyeballs are destined to graze each plastic album cover and you will not appease the owner of each single pair. To deny a smile can be a form of success, of transcending the societal mandate that women live to please, of owning your own power and becoming an icon.
Until recently, the freedom to pose seriously for photos was granted to celebrities and few others. To assume that position without earning the status made one appear self-serious and vain. However, the rise of social media, selfies and one family of reverse-camera aficionados has encouraged women to embrace a good duck face now and then.
Posing is a mode of performance and play, of testing your boundaries in a space both private and public. Young feminist artists have embraced the technique's exorcism of the male gaze, instead placing a woman as both subject and object of a photo, refusing to privilege one role over the other. By their own hands and cameras, women were permitted to embrace their seriousness and vanity and become icons in their own bedrooms.
A pioneer in the field is Audrey Wollen, who grew a massive following on Instagram by posting self-portraits that embraced her vulnerability, sexuality and artificiality. "I like the idea of Audrey Wollen performing Audrey Wollen without the space of a clearly artificial title or stage," she told former HuffPost writer Tricia Tongco. "Everyone that exists online is part of a performance or is being performative. I don't think [a strict version] of authenticity exists — we are mediated by technology and language."
Wollen is also known for what she's dubbed "Sad Girl Theory," which Tongco described as "the proposal that the sadness of girls should be witnessed and reframed as an act of political protest rather than a personal failure." At the top of the list of history's most iconic sad girls is no other than Miss Del Rey.
Del Rey's lyrics are often woozy, melodramatic and fatalistic. She appears eternally exhausted by the mere prospect of being alive. Or being alive as a woman. She is unapologetic in her malaise, though not entirely consistent. Like, you know, all people, she has swings in her selves and moods, both of which have been criticized since the dawn of her career.
When Del Rey dropped her first single, "Video Games," in 2011, seemingly out of nowhere it garnered Pitchfork's coveted Best New Track label. Following the release of her album "Born to Die" word got out that the mysterious songstress with the Instagram-worthy flower crown had a former life as Lizzie Grant, Fordham graduate, and daughter of an internet entrepreneur, who had released a lackluster EP titled "Kill Kill" in 2007.
The backlash to Del Rey's origins was swift and brutal. "Yep, it was a pose," The New York Times' Jon Caramanica wrote, "cut from existing, densely patterned cloth. Just like all the other poses. And all the other cloths." Caramanica did mention the absurdity (and sexism) built into the widespread outcry over a pop musician having (gasp!) a persona. He also mentioned her "fuller lips" twice.
How is a woman supposed to pose in a photograph, without appearing either childish, silly, pretentious, conceited or vain? How is a woman supposed to be, in a world where she's always seen and always already on some sort of stage?
There is something striking about Lana's easy smile for "Lust for Life," which doesn't appear to gratify anyone but herself. The fact that a female photographer (and Del Rey's little sister) Chuck Grant took the photo might help with that conclusion. The image doesn't subscribe to the typical women-musician formula demanding they appear "iconic," or more than human, to garner respect.
The overall style of Del Rey's photo is highly mediated, cropped into a softened square, faded into a hazy palette straight out of Instagram. Her look is 1960s California dreamer babe ― not the woman who Lizzie Grant was born, but the one that Lana Del Rey became.
And her smile? It might be genuine, it might be posed.
Who knows, and who cares?
Popular in the Community