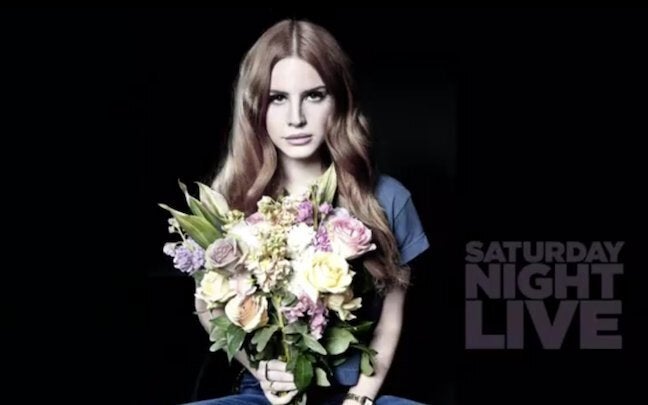 Internet phenomenon Lana Del Rey had her U.S. television debut on SNL Saturday night. Del Rey has thus far remained largely within the confines of the internet -- she first gained international attention with her song, "Video Games," and followed up with a series of internet releases in rapid succession, all of which will be featured on her forthcoming album, Born To Die. According to Stereogum, she's the first artist to perform on SNL before the release of a major label album since Natalie Imbruglia.
Her performance Saturday night was under high scrutiny by those who are familiar with her internet videos, and her American debut for those who've never heard her name. For these reasons, it possibly couldn't have gone worse. Del Rey, who had expressed her nervousness before the show, was pitchy and strangely guttural in her renditions of "Video Games" and "Blue Jeans." Those who have only heard Del Rey online wondered whether she just isn't meant for the stage. Those who hadn't wondered how she slipped through the cracks and onto SNL. According to the Hollywood Reporter, actress Juliette Lewis tweeted, "Wow watching this 'singer' on SNL is like watching a 12 yearold in their bedroom when they're pretending to sing and perform. #signofourtimes." The tweet has since been removed from Lewis' account. The rest of the Twitterverse shared similar reactions, calling the performance "cringeworthy" and a "snoozefest." Perez Hilton warned that we "#DontBuyTheHype." Others were kinder -- one tweeter said "it was better than Ashlee Simpsons' disaster."
Still, we wonder how little this has to do with talent, and how much with nerves. After all, we've seen her perform for a television audience outside the U.S. Her rendition of "Video Games" on Jools Holland, for one, was decent, and far from deserving this sort of criticism. Is this just be a case of being pushed into the spotlight too fast, with too much pressure for perfection? Or has Del Rey's starpower faded before she's even put out her first album? Let us know what you think in the comments.
Watch Del Rey perform "Video Games":
Watch Del Rey perform "Blue Jeans":
Related
Popular in the Community