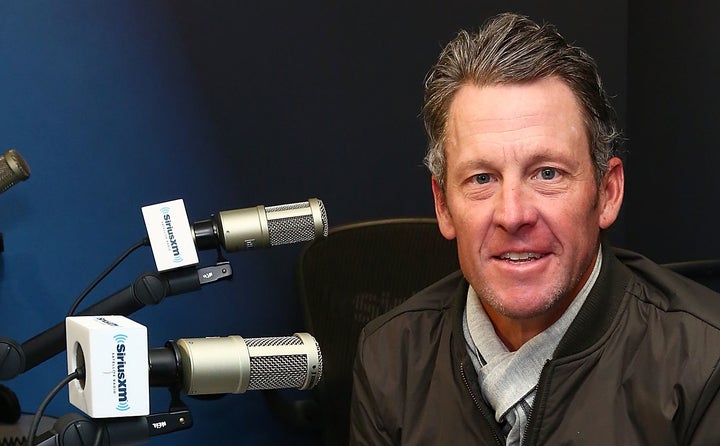 "Tour de Pharmacy" is a movie that features a bicycle rider dying during a race while his penis is exposed, another rider bailing on the same race to repeatedly make love with a farmer and yet another rider committing murder.
And yet, none of these moments are nearly as strange or memorable as Lance Armstrong's decision to make numerous cameo appearances for this faux-documentary about doping in professional cycling. 
Gracing the movie as a talking head, he first is shrouded in a purposefully bad shadow of anonymity with his voice changed. Armstrong is billed as "an anonymous informant." As the movie progresses, the lights get turned up and he keeps donning more outrageous attire so that he's anything but anonymous.
Armstrong, of course, was memorably stripped of his seven Tour de France wins and banned from the sport for life after secretly doping and helping his teammates do so as well. He also had to step down as chairman from his cancer foundation, Livestrong. It was one of the largest-ever instances of an American professional athlete falling from grace.
"I'm only saying this because I'm in the dark here, but every tour is fucked up in its own way," Armstrong says near the end of the movie, while wearing a cowboy hat and white fur coat ― very much no longer in the dark anymore on-screen.
"Put any year under a microscope, you're gonna find a lot of dirt," continues Armstrong. "It actually feels good to speak candidly like this without anyone even knowing it's me. Good way to get stuff off my chest."
Armstrong has recently been hosting a Tour de France podcast to talk about the daily stages of the famed race currently taking place. It's doing well on the Apple charts. He's also been doing an interview-based podcast called, "The Forward" for about a year, where he notably had almost entirely avoided talking about cycling.
To promote the new podcast, he described the surprising decision to associate himself with the sport again to the publication Bicycling as such:
My relationship with the sport and the industry and the bicycle — the device — has changed in the past year. We know what it used to be and what it was the last three or four years. That's neither here nor there. I understand what and how everything went down, and that that's led to hard feelings. On my part, I've chosen to set that aside and fall back in love with the sport. It could be going for a ride every day; it could be sitting down to watch the Tour. And I thought I could do a 20 to 30-minute wrap-up show every day. 
Armstrong appears to finally be in a mental space where he's ready to address his spectacularly weird (and public) rise and crash. 
This return does coincide with Armstrong's recent setback that a $100 million lawsuit against him will now proceed to a trial. If he loses that trial, the majority of his estimated net worth would evaporate. He has already lost all major sponsors and has had to pay more than $10 million in various damages. 
Regardless of whether a newly dire financial situation is motivating this return though, Armstrong's willingness to ridicule himself and to mess with the expectation he would remain in hiding is fun to watch.
This all feels like a revival. In 2004, Armstrong arguably had the strongest movie cameo of the year when he appeared near the end of "Dodgeball" to convince Vince Vaughn's character to not quit.
"Quit? You know, once I was thinking about quitting when I was diagnosed with brain, lung, and testicular cancer all at the same time," Armstrong said in the movie. "But with the love and support of my friends and family I got back on the bike and I won the Tour de France five times in a row."
The true merit of Armstrong's original comeback has lessened since then, but it still was a spectacular comeback from medical setbacks nonetheless. "If a person never quit when the going got tough they wouldn't have anything to regret for the rest of their life," Armstrong continued.
Lance Armstrong was not a man, he was an idea; an American myth like Honest Abe and Johnny Appleseed."

Michael Specter in The New Yorker
It's been a bad few years for Armstrong, to say the least.
"Lance Armstrong was not a man, he was an idea; an American myth like Honest Abe and Johnny Appleseed," wrote Michael Specter in The New Yorker, chronicling the dissolution. "He was the little engine, brutalized by illness and then savaged by opponents, who could anyway, somebody who shrugged off hate and always took the high road. I love a good myth."
Now in 2017, perceived to be down and out, Armstrong isn't giving up just yet on rekindling at least some of the myth.
To watch him now is to witness someone balance atop a tightrope, knowing many want to see him fall again. Even despite the past, it's exciting to see him in yet another memorable cameo. It's exciting to see him slowly ― and literally, in "Tour de Pharmacy" ― come out of hiding.
These are baby steps for a man most comfortable on a bike. But as he's banned from the latter, consider accepting his invitation to watch him teeter.
"Tour de Pharmacy" debuts July 8 on HBO.
REAL LIFE. REAL NEWS. REAL VOICES.
Help us tell more of the stories that matter from voices that too often remain unheard.
BEFORE YOU GO