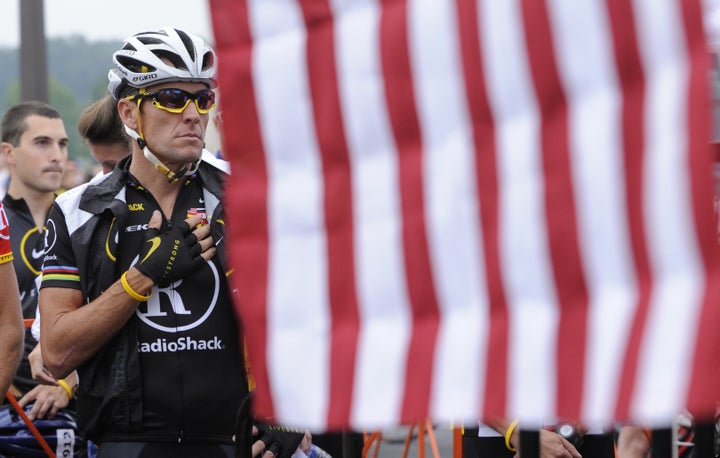 Lance Armstrong has beaten countless rivals in the blazing heat of the Tour de France. But now a different kind of sweating is taking place behind heavy dark wooden doors and under the bright lights of a downtown Los Angeles grand jury room.
Witnesses in the federal Armstrong U.S. Postal Service Pro Cycling Team investigation are being sworn in and ordered to testify about whether the front rider ever took banned substances.
Some prosecutors and investigators love grand juries. They grant them extraordinary powers to subpoena and to potentially intimidate witnesses. So far in the Armstrong case, former teammates, a chiropractor, a sports physiologist, and Tour de France champion Greg LeMond are among those who have received subpoenas. Once a witness enters a grand jury room he or she is totally alone. There are few rules about what constitutes evidence, ironic perhaps when you consider this is a case about breaking the rules of a sport. No lawyer is allowed inside. The deck is stacked. One or more prosecutors fire questions as long as they wish. Investigators or legal aids may be on hand to assist. A court reporter records every word. You, the witness, are alone in the jury box. Don't imagine the assigned 23 grand jurors (16 is the minimum required) are impartial referees. The first step is often to weave a narrative that shapes what grand jurors think -- and do.
This is abundantly clear from the grand jury testimony surrounding another superstar, Barry Bonds. IRS Agent Jeff Novitzky was one of the first witnesses to testify during the Bonds/BALCO grand jury, and amazingly he's also the very same investigator who has now joined the FDA and leads the hunt against Armstrong. Inside that San Francisco grand jury room it was Novitzky and other friendly government "experts" who helped the BALCO prosecutors frame a perjury trap for Bonds.
Lance Armstrong's seven straight Tour de France wins are considered one of the most miraculous feats in all of sport, regardless of whether you believe he did or didn't gain an unfair edge. But to emerge unscathed from this bruising downtown L.A. fight the legendary cyclist will need something even more rare. As Tom Wolfe wrote in The Bonfire of the Vanities, "But mainly you used the grand jury to indict people, and in the famous phrase of Sol Wachtler, Chief Judge of the New York State Court of Appeals, a grand jury would "indict a ham sandwich," if that's what you wanted.
Armstrong can't imagine that Agent Novitzky and Doug Miller, the assistant U.S. attorney in Los Angeles, intend to stop with anything less than a federal indictment. Evidence of that bare-knuckled strategy can be seen in the treatment of Stephanie McIlvain, one of the most recent witnesses to receive a subpoena to appear before the grand jury. She is an employee of a sunglass company, Oakley Inc., the liaison to Armstrong, who was paid handsomely to wear the firm's glasses.
Last week McIlvain reportedly testified in a grand jury room on the 13th floor of the downtown L.A. federal courthouse for more than seven hours. That is a very long time. During the BALCO San Francisco grand jury, a tag-team of prosecutors interrogated Barry Bonds in repeated attempts to catch him committing perjury. Total time in the box: 2 hours and 53 minutes. New York Yankee Jason Giambi testified for 56 minutes. Brother Jeremy for 29 minutes. Bonds' San Francisco teammate, Armando Rios testified for 74 minutes, and Benito Santiago, a scant 40 minutes. All told five key ball players testified a total of six hours and 12 minutes.
In comparison, the seven-hour plus sweating of Stephanie McIlvain suggests that the Los Angeles grand jury is on steroids, blowing up anything and everyone no matter how far afield. McIlvain had been called to testify on two accounts. First, whether she heard a rumored 1996 Indiana hospital room confession by Lance Armstrong to his doctors. It's an old story that was recounted in a 2004 book. The story became the subject of extensive testimony when Armstrong sued SCA Promotions, an insurance company that withheld a $5 million bonus because of doping allegations. Former U.S. Postal rider Frankie Andreu and his wife Betsy testified they heard the confession. McIlvain testified she didn't. No doctor has confirmed the conversation or even been identified. Armstrong won the arbitration, and the insurance company was ordered to pay.
Enter Greg LeMond, the second most decorated American cyclist in history with four fewer Tour de France victories than Armstrong. On July 21, 2004 LeMond taped a phone conversation with McIlvain without her permission. LeMond did not produce the tape in the SCA case, and the legality of the tape is in question. LeMond was in Minnesota where consent of only one party is required to make a recording. But McIlvain was in California, where state law requires consent of both parties, with violations punishable by imprisonment up to one year (A recent California Supreme Court case unanimously upheld the state's Invasion of Privacy Act, even against intrusions by people in states where only one party must consent).
The recording was subpoenaed by the federal government and selective excerpts publicized in the media. Fox Sports reports that LeMond referred to the rumored hospital confession and said: "I'm not asking you to do anything you would never want to do, but, you know, if I did get down where it was... a lawsuit... would you be willing to testify?"
"You know I was in that room. I heard it," McIlvain reportedly said. "...I definitely won't lie about that because it's public knowledge."
LeMond has a personal motive. He was recently embroiled in a lawsuit with Trek Bicycle corp., in part because two years ago he began making public doping allegations against Armstrong. The company dropped LeMond bicycles from its line (earlier this year they reached a settlement, and LeMond's lawyer has said that Trek made a charitable contribution to a charity affiliated with the cyclist)
So for a good chunk of seven hours Stephanie McIlvain was likely interrogated about whether Armstrong talked about performance drugs in his Indiana hospital room in 1996. That was years before Armstrong joined the U.S. Postal, so it's hard to understand what it might have to do with a possible criminal case related to defrauding the U.S. government. Perhaps hours were also spent discussing the LeMond tape recording or another tape that Besty Andreu turned over to the government, an allegedly harassing answering machine message left by McIlvain.
McIlvain's attorney, Tom Bienert told the Los Angeles Times she "testified truthfully. Most of what she was asked about was between five and 14 years old, so she didn't have the greatest recall. But she confirmed she had no personal knowledge of Lance Armstrong using or taking drugs." Betsy Andreu, wife of former Postal rider Frankie, shot back in an interview with the Los Angeles Times, "The weight of the evidence will show she is lying."
It's a good thing this is being slugged out a few miles from Hollywood. This Hatfield and McCoy made-for-media feud is ideally suited for reality TV. Government witnesses declaring what is evidence, settling scores, making news and calling Armstrong and others liars in what sounds like classic attempts to influence testimony and try a suspect in the media. The bit players are center stage, judge and jury. Wrote the New York Times a week before McIlvain's grand jury testimony, "Kathy LeMond, Greg's wife, said she was surprised McIlvain had not been charged with perjury."

It's worth remembering that there has yet to be an indictment let alone evidence of a crime (blood transfusions or taking banned drugs may violate cycling rules but are not necessarily crimes here or in France). Grand juries are not supposed to be run as media entertainment in America, but then again since when did the Food and Drug Agency have a mandate to investigate professional cycling in Europe.
This much is certain: Betsy Andreu and Stephanie McIlvain don't have a heck of a lot of direct, first-hand information about European cycling. Second hand accounts of a 1996 Indiana hospital room conversation are not evidence of fraud during the U.S. Postal Service Pro Cycling Team's 1999 to 2005 reign. Possibly illegally taped phone calls by blood rivals may make news but aren't evidence.
Seven hours is a long time to grill a sunglass rep. And that's not all. There are rumors that McIlvain, the mother of an autistic son, may have been sweated before she entered that Los Angeles grand jury room. Earlier this summer, Agent Novitzky reportedly made an unannounced early morning visit to her home.
Justice Department guidelines strictly prohibit agents or prosecutors from intimidating witnesses or shaping testimony. Agent Jeff Novitzky has a history of intimidating witnesses in BALCO with threats of prosecution for lying to a federal agent (him) or perjury. The agent has broken his share of rules. Novitzky's repudiated search of Major League records, recently affirmed by the 9th Circuit Court of Appeals, led one outraged district judge to state that Novitzky appeared to have intentionally deceived the court. Yet another district judge, Susan Illston, the judge in the Bonds case, said in open court of Novitzky's unwarranted search: "I think the government has displayed... a callous disregard for constitutional rights."
Whether Novitzky has been given free reign to repeat that conduct in the Armstrong case has yet to be proven. But in this made-for-television grand jury we are certain to soon learn more about the male lead.
Cyclists may not be the only ones who have broken rules.
REAL LIFE. REAL NEWS. REAL VOICES.
Help us tell more of the stories that matter from voices that too often remain unheard.