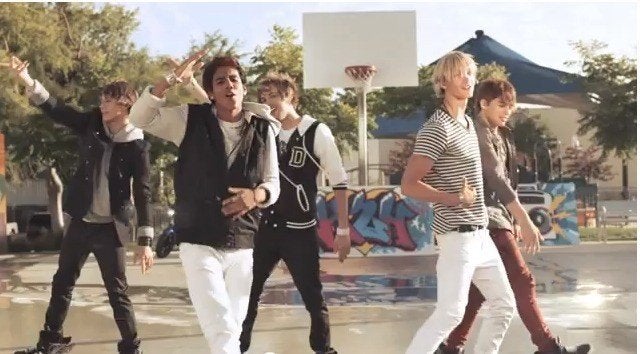 Former NSYNC member, Lance Bass must be missing the group choreography and hideous costumes because he's got a new boy band in the making; Heart2Heart. Seeing as how Lance is the ripe old age of 32, he's sitting this one out and just mentoring the band, reports Pop Dust.
While the video looks like it cost someone some major cash, it's not certain if the group, with their Justin Bieber meets 2001 style and song called "Facebook Official" is a real musical group or a parody. According to The Prophet Blog, the group's frontman David Lehre aka Chad Future, is a filmmaker who has a history of creating boy band parody videos.
But with lyrics like, "Will you friend me this request/agree to my terms of service/the message has been sent/and all I want to do is put a heart on your page/a heart on your page/Lets make it official/baby you and me, you and me/Facebook official," Heart2Heart is well on their way to becoming the next Rebecca Black.
"I got a member from the Backstreet Boys, A.J. McLean. A member from *NSYNC, Joey Fatone. A member from New Kids on the Block, Joe McIntyre. And a member from New Edition, Bobby Brown," he said. "They're all going to form a boy band, each, from the most talented guys in America that I've scouted, and then they'll go head-to-head in a competition to see who the best band is, so it's bragging rights for the guy in the group, for sure."
Perhaps the show didn't pan out and Heart2Heart is what he came up with instead.
WATCH:

Popular in the Community