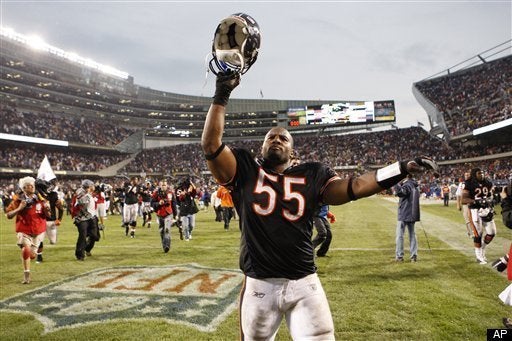 Chicago Bears linebacker Lance Briggs doesn't think there should be a debate about a woman being harassed in a men's locker room--because he doesn't think women should be there at all.
Briggs' opinion on the matter came out following an NFL memo that said female reporters should be granted the same access as men and treated in a respectful fashion, the New York Daily News reports. The memo followed some reported drama in the New York Jets locker room, where female reporter Ines Sainz was reportedly harassed by players.
"I don't think women should be in the locker room," Briggs told NBC Chicago reporter Peggy Kusinski. "The locker room is the place where us guys, us football players, we dress, we shower, we're naked, we're walking around and we're bombarded by media. A lot of times I'm asking the media to wait until I'm dressed."
Despite this fact--and the fact that male reporters are allowed in WNBA locker rooms--Briggs stood by his statement Thursday.
"I don't regret what I said," Briggs told reporters. "My statement is that the men's locker room is for men and the women's locker room is for women. I mean no disrespect towards Peggy [Kusinski] because we've never had a problem in our locker room or with any other women that are in our locker room...The fact that there is an issue over a woman that's in the locker room, in the men's locker room, to me is ridiculous...That's our realm."
As Washington Post sports columnist Dan Steinberg pointed out in his Wednesday column, many people sharing Briggs' opinion have come out of the woodwork following the Sainz scandal. Steinberg, however, thinks the whole thing has become completely over-sexualized:
To me, NFL locker rooms are not hyper-sexualized dens of flirtation in which women stare at packages and men stare at curves and everyone's just thinking about whom to bed. Post-game locker rooms are about sweaty and dirty jerseys, open wounds, back hair, man-boobs, the smell of soiled laundry, jostling reporters with microphones and tape recorders, platters of orange slices, Mike Wise asking what his column should be about and Sonny and Sam in their full suits hanging out with Larry Michael as they interview Mike Shanahan. These scenes are about as sexy as the 80-and-over South Florida Shuffleboard Championships.
WATCH Briggs defend his stance on women in locker rooms here:

Popular in the Community