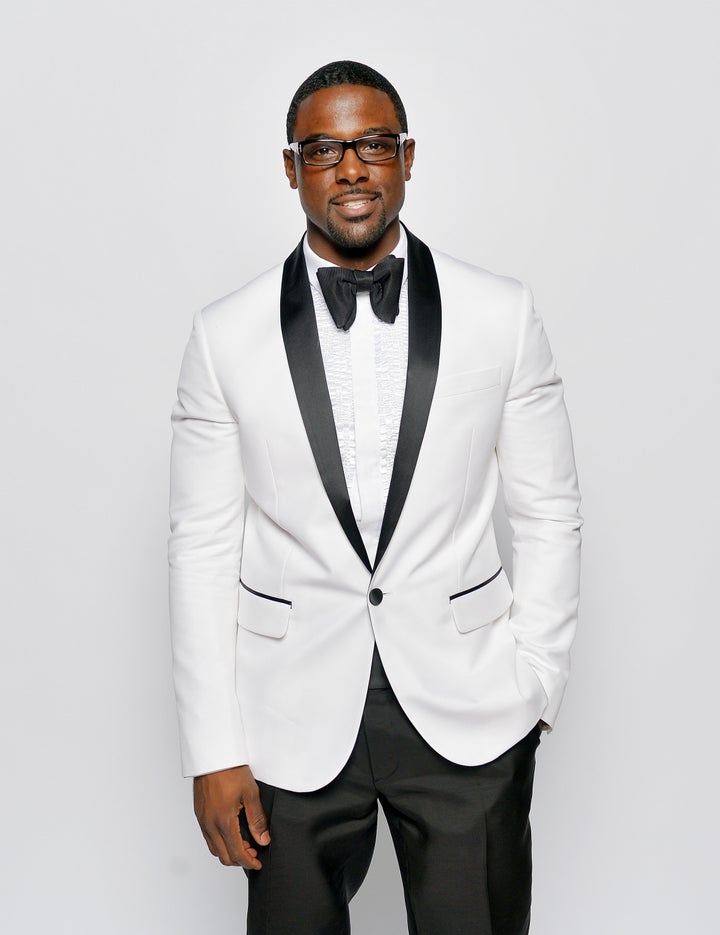 Starring Jurnee Smollett-Bell, Lance Gross, Robbie Jones, Kim Kardashian, Vanessa Williams, and Brandy Norwood, the drama centers around a married woman whose escapades with a suave tech billionaire leads her to a string of chaos which ultimately jeopardizes her life.
This week during an interview with the Huffington Post, Gross opened up on his character as "Brice" in addition to his thoughts on the controversy surrounding Kim Kardashian's role in the film and his forthcoming NBC pilot.

Congratulations on your latest film, "Temptation." How would you describe your role as Brice?
He's a small town guy, very passionate about his career, on his way to becoming a pharmacist. And he's just a very regular guy. He married his childhood sweetheart, "Judith," played by Jurnee Smollett-Bell. Along the way, as far as his relationship, he becomes comfortable and stops doing the things that he used to do to make her feel special. And then she meets this guy and the temptation comes in. He shows her a whole new world that she's just not used to. So I spend most of my time in the movie fighting for my marriage.
Throughout your career you've been viewed as a heartthrob. With that said, have you ever found yourself in a position similar to your character?
Man, I've never been through a situation like this. I mean, of course as a man you go through that. If you got a dope girl there's going to be people that want her. But I don't know, I've always kept my "A-game" on point. I just make a point to make sure the woman that I'm with is taken care of. You got to keep it new, so I go out of my way to make them feel special. My thing is, if I'm going to be with you, I'm going to be with you to make you feel like this is the best relationship that you ever had. And that's what I aim for to make sure none of this happens to me.
Since you've never experienced any issues in your personal life, was that a challenge in preparing for the role?
It was and it wasn't. Because I have a lot of friends who are married and who have dealt with infidelity, so I pretty much picked their brains and experienced it through them. And for me, personally, everyone has experienced losing someone. Whether it's a relationship that fell apart or death, everyone knows that feeling. So that's where I pretty much pulled from for this.

Last year upon the announcement of the film's cast, there was a ton of criticism surrounding Kim Kardashian's role. What was your thoughts on the situation?

I've been working with Tyler since 2007 and he has a great business mind. He knows what he's doing and he knows what he wants for his films. So I don't really question his decisions in casting people. To Kim's defense, she did a great job. The role that he gave her was well thought out. It was something that he believed she could execute. And I think she brought her "A-game." I get what all the fuss was about, but at the end of the day you got to give people a chance. And I feel like she really proved herself.
How would you compare Tyler's style of directing in comparison to other directors that you've worked with?

It's definitely different. Tyler has his thing. He appeals to a certain type of audience, but Tyler really targets the African-American, church going community. And actually, it's really growing now. Tyler works very quickly, he knows what he wants and he executes. It's like a good boot camp for an actor, because it's just puts you on your "A-game." It prepares you for other directors who tend to take their time. But it's depends on who it is, because some directors work fast like Tyler Perry and some like to take their time and do 17 takes.
It's been reported that you're set to star alongside Halston Sage in a forthcoming NBC pilot. Is there a tentative air date for the show?

It's an NBC pilot, so we won't find out until May or June to see if it's actually going to be picked up for the Fall. So it's pretty hard to say right now, but I will say that it's a great script and it's one of my favorite scripts from the pilot season.
What attracted you to the script?
It was just something new. I've been dying to do an action role and this is a political, action thriller. I'm playing a Secret Service agent who's on the first day of the detail of the President's son. I mean just to have a gun in my hand, running through the woods being chased by the bad guys, and I'm doing all of my own stunts. So it's a good situation.
Before I got the script, I've been talking about how much of an important time this is for African-Americans. You've got Kerry Washington for "Scandal," you've got Meagan Good for "Deception." We don't really get those network roles, and now I find myself as having a chance of being an African-American lead on network television…This character isn't written as African-American. It could've been anyone. But it just goes to show if you're prepared when you go in that room and you execute and make an impression on people there's no color lines.
Tyler Perry's "Temptation" is now playing in theaters nationwide.