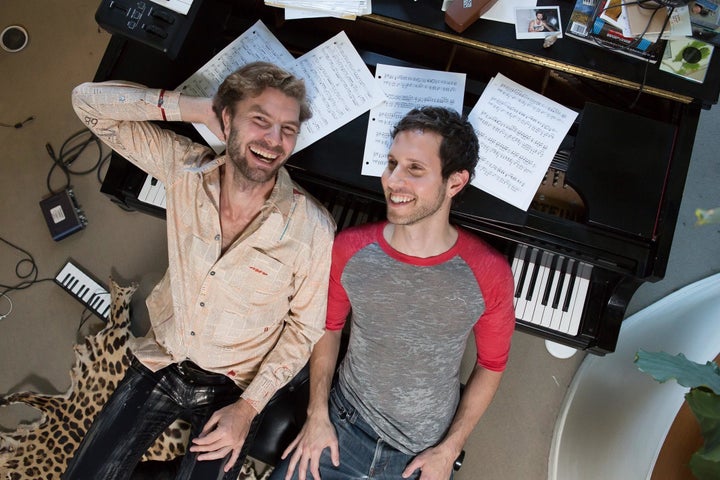 New York theater composers Drew Brody and Lance Horne have teamed up for a five-song EP, "A Little Single," and The Huffington Post got a first listen to one of the pair's brand-new tracks. 
The writers say "Wingman," which can be heard below, is a new and quirky "twist on the curious and caring nature of the gay community." The lyrics are sung from the perspective of a platonic friend who wants to help a gay pal score with Mr. Right (or Mr. Right Now) during a woozy night on the town.  
"It's my wingman, I'll be at your side, I'll help you land the hottie you identified," Brody and Horne croon on the song's catchy chorus. "Let me do the talking/Drop your resume/I'll buy a round a shots, and then I'll slip away, and he'll never suspect a thing." 
Brody ("Grind," "Cutman: A Boxing Musical") told The Huffington Post that the song is, in some ways, indicative of his own relationship with Horne. 
"We wanted to underline that not only are we fans of each other's work, but we're also friends who support each other in our careers and personal lives," he said. "So I wanted to do a song about friendship, but we needed a unique angle, and we were trying not to be too sentimental." 
Horne, who has collaborated with the likes of Jake Shears, Liza Minnelli and Alan Cumming, said the song includes some "pointed differences between a wingman in the straight bro sense and a wingman in the queer New York sense." 
The full-length "Little Single" EP is a departure for the team, as they're writing directly from their own experiences rather than through the perspective of a character in a musical. It's safe to say that "Wingman" won't be the only tune on the EP to touch on a queer theme, as another track is cheekily titled "The Grindr Song." 
"The songs are drawing on insights and emotions from our own lives and presented from our own point of view," Horne said. "Drew and I encouraged each other to be vulnerable in the honesty of the songs on this record. I'm proud that we achieved that, letting down our defenses and risking feeling exposed by the frankness of the emotional content." 
The pair will present "A Little Single," which hits retailers May 11, with a special release concert featuring Tony-nominated "Fun Home" star, Beth Malone, at New York's Feinstein's/54 Below that same evening. Head here for more details. 
Calling all HuffPost superfans!
Sign up for membership to become a founding member and help shape HuffPost's next chapter
BEFORE YOU GO
PHOTO GALLERY
'Broadway Bares: On Demand'