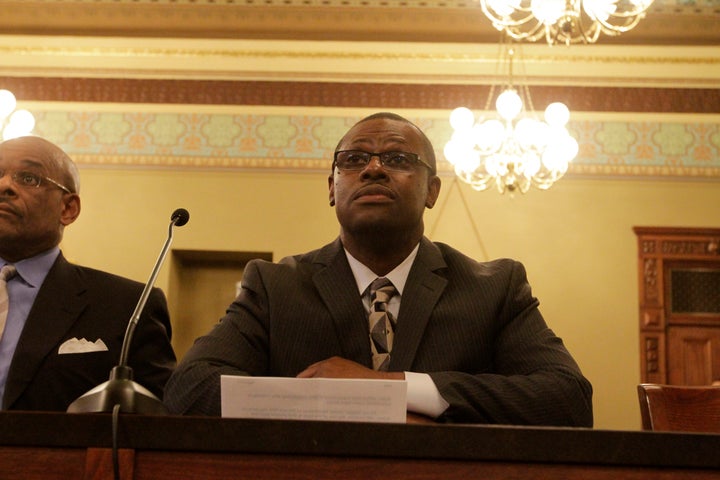 Two months ago, Derrick Smith became the first state representative to be expelled from the Illinois House of Representatives since 1905. Smith represented the 10th District, which is a relatively small piece of the 1st Ward. The expulsion of Rep. Smith, on August 17, was the result of him allegedly accepting a $7,000 bribe. It is important to note that Rep. Smith was caught on tape accepting the bribe and that he does not deny accepting the bribe.
Smith was arrested by federal agents, a week before the primary elections last March. In this election, he won overwhelmingly and therefore will be on the ballot as the Democrat in the upcoming November election. Most people expected Smith to resign, but he stubbornly and strangely refused.
Because of Smith's bizarre refusal to bow out of the race, we are left with a very peculiar and attention-grabbing situation. His opponent, who I and all relevant committeemen have endorsed, is Lance Tyson, who'll be running as a member of the "Unity Party."
My political organization helped Lance get the necessary signatures to get on the ballot for the November election. Since the beginning of this whole ugly situation, I have worked closely with Lance and have been highly impressed by his intelligence and grasp of the issues, which are important to the 1st Ward community.
I fully endorse Lance and believe if elected, he would bring dignity and honesty back to the district.
The oddness of this race has broader implications for our community. The 10th District is large, stretching from Lincoln Park to the West Side. A recent piece by Mary Mitchell in the Sun-Times, shows, rather amazingly, that Smith is far ahead of Tyson.
There is a lot of time left in the race and Tyson will be frantically campaigning (door-knocking, mailings, etc.) over the next few weeks. However, the consequences of a Smith victory would be far-ranging. In a very cynical and disgusting way, Smith is preying upon the ignorance and apathy of constituents he used to represent. He hopes that people will blindly vote the "straight-Democrat" ticket. He hopes that people do not pay attention to current events and do not know about his expulsion and bribery charge. He hopes that people think he is a victim of some ridiculous conspiracy. Frankly, he hopes that the voters of the 10th district are ignorant.
We must show Mr. Smith, and anyone else who's watching, that Illinois, Chicago and the 10th Legislative District are not ignorant and will not elect an "alleged" criminal, who has proven that he lacks any rational thought.