Land O'Lakes, the Minnesota-based dairy giant, announced Tuesday it will not make any further campaign contributions to Rep. Steve King (R-Iowa), who just last week detailed his white nationalist worldview in an interview with a far-right publication.
"We take our civic responsibility seriously, want our contributions to be a positive force for good and also seek to ensure that recipients of our contributions uphold our company's values," the company said in a statement. "On that basis, we have determined that our PAC will no longer support Rep. Steve King moving forward."
King is one of dozens of Republicans and Democrats the Land O'Lakes PAC has supported in 2018. The PAC has spent more than $400,000 in the midterms so far, according to the Center for Responsive Politics. It has given $2,500 to King, whose campaign has spent more than $680,000 so far.
The dairy company is not the first to drop its support for the congressman, who is running against Democratic challenger J.D. Scholten in the November midterm elections. Similarly, technology corporation Intel told employees in an internal email that it would no longer donate to King's re-election campaign after looking into his public statements and determining that "they conflict with Intel values."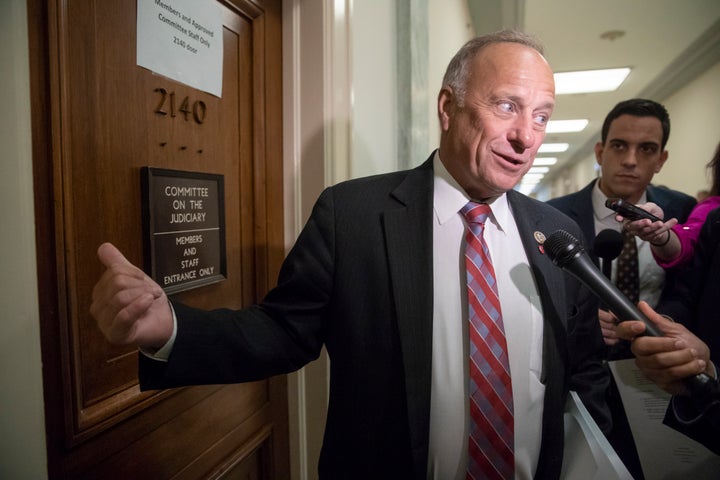 The Sioux City Journal, an Iowa newspaper, broke with tradition in an editorial last week by pledging support for King's challenger, due to the congressman's ties to "intolerant ugliness."
In August, King visited Austria and gave an extensive interview to Unzensuriert, a far-right publication whose name means "uncensored" in English. The eight-term congressman spelled out his belief in the superiority of European culture as he spoke with Caroline Sommerfeld, a prominent figure in a European neo-fascist movement.
King explained his fear that mass migration, particularly from Muslim-majority countries, is contributing to a "slow-motion cultural suicide" of white Europeans, which Sommerfeld referred to as the "Great Replacement."
King has also spread false claims that large portions of violent crime in the U.S. are committed by undocumented immigrants and called for the government to spy on mosques.
Land O'Lakes said its PAC has "traditionally contributed to lawmakers of both parties that represent the communities where our members and employees live and work." It is also involved with "committees that oversee policies that directly impact our farmer owners."
Popular in the Community