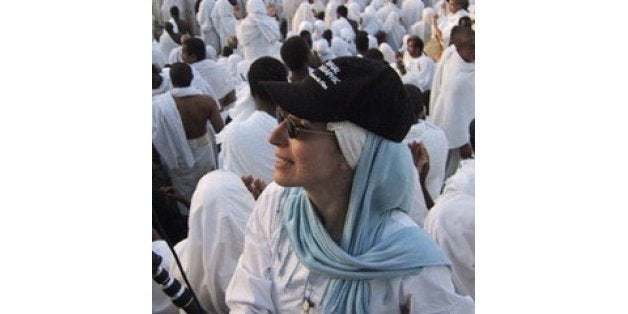 The rain was torrential and the sun blazed through cloudy skies the day before I flew off to Saudi Arabia. It was an omen of good for this challenging film shoot. Rain was rushing, abundant, provocative, urging my creative juices to flow. Sun smiled possibilities for success. It was as if nature's powers were wishing me well. But perhaps I'm not as good at reading omens as Odysseus's old friend at Ithaca. There was a storm front ahead.
Pilgrims have confronted inner spiritual storms on the hajj for centuries. Getting to the holy city – as difficult as it would be for my documentary film team – has only gotten easier with air travel. It used to take weeks, months, even years to cross the cruel desert of the Arabian Peninsula from as far away as Seville and Samarkand. Caravans out of Damascus could take days to leave the city and string out for 17 miles along the routes south to Mecca. They'd have to bring most supplies with them; there were no five star hotels. They'd face bandits; they'd fight disease; people would suffer and struggle in pursuit of completing a "pillar" of Islam.
Muslims go to Mecca 24/7/365 for worship. But the hajj is a special series of rituals that is only performed during the last month of the Islamic calendar. That calendar, strictly lunar, is 11 days shorter each year than the calendar we use daily. Every year the months of the Islamic calendar creep back. When I first covered Hajj in 1998 it took place in March. This time, my third film on this massive, arduous and triumphant journey, it's happening in now.
It's a privilege and a mountain of effort to do this work. The image of Islam and the stories of Muslims are in dire straights in public opinion. In 1998 I covered the pilgrimage for "Religion and Ethics News Weekly." With that I became the first woman and American broadcaster to tell the story, soup-to-nuts, from location. The patience and perseverance pilgrims demonstrate is breathtaking. Once they begin the formal rituals they enter a state of mind called "ihram." No matter the crowds (now up to four million people at a time), the lines, the waiting, the pushing, shoving, culture clashes and lack of sleep, pilgrims must maintain a calm demeanor and remain civil. Passing a test like that proves great inner strength that can bring benefits year 'round if the practice continues.
My work rode the shoulders of ABC News Nightline's 1997 groundbreaking half-hour on the journey of writer and American convert to Islam, Michael Wolfe. A Muslim camera crew documented Wolfe's journey in the holy places while producer Paolo Marenghi quarterbacked the project from Jeddah. CNN had a camera crew there that year, too, with producer Jim Miller running the show remotely from Jeddah. In each case production crews took their own kind of pilgrimage, struggling through heat, sleeplessness, dusty lenses and dying batteries.
In '98 videotaped the story of Abdul Alim Mubarak, a Blackamerican who brought his deep knowledge of Islam along with heart wide open, to this foreign land. With two to three million others from around the world he faced trials of language barriers, exhaustion and racism. I had landed with a hajj visa myself -- it was the only route of entry. I'd no permission to film, no crew, and no contacts. Just how I made that happen will be Chapter One in a book someday. Suffice it to say I was well prepared for the opportunity when National Geographic Television contacted me in 2002 asking if I'd direct a film on the hajj for their "PBS Specials" series.
"You're the only Muslim journalist and broadcast professional we could find," they told me. It was true. For most of my 25-year career I've been a solo act in newsrooms: the only Arab-American and the only Muslim. Since it premiered in October 2003 my National Geographic Special, "Inside Mecca" has become a staple for colleges and middle schools nationwide as an introduction to Islam, Muslim diversity, and ritual.
Now we are speeding north to Medina in a Chevy SUV: my team and a driver and guide from the Ministry of Culture and Information. The harsh desert and rugged mountains of western Arabia surround us. All sun, no rain. Just getting to this moment was a trial of patience and successive Plans B.
Although my production associate and I had proper "government" visas, Saudi consulates in the UK and India issued the wrong visas to my crewmembers. Lufthansa denied us the right to board our flights from London. A courageous and visionary duty manager at Heathrow's Etihad re-routed us through Abu Dhabi and we got to Jeddah at 4 am. I cleared immigration as a businessperson at King Abdulaziz Airport's North Terminal. My camera and audio crew endured miles of lines and bureaucracy at the Hajj Terminal, miles away. Three hours later we got to our hotel.
"Not bad!" smiled a ministry representative who prepared our press credentials at one this afternoon. "Only two-and-a-half hours at Hajj Terminal." He wasn't kidding. Hajjis may wait at the terminal five, six, seven hours or more, until busses bring them to Mecca where the pilgrimage begins.
My production pilgrimage had begun 33 hours earlier when I left home in New Jersey. This is only the prelude.
As director I wasn't sure how to prepare my team for the hardships of fieldwork ahead. Fortunately, the unwelcome struggle to simply get here raised the flag for them. None has been in this land before yet all are in good spirits, excited to take on the adventure of our filmmaking. I'd love to think the storm is behind us now; certainly in this land there will be an abundance of sun. But in desert climes, the sun may be less than a friend.
REAL LIFE. REAL NEWS. REAL VOICES.
Help us tell more of the stories that matter from voices that too often remain unheard.