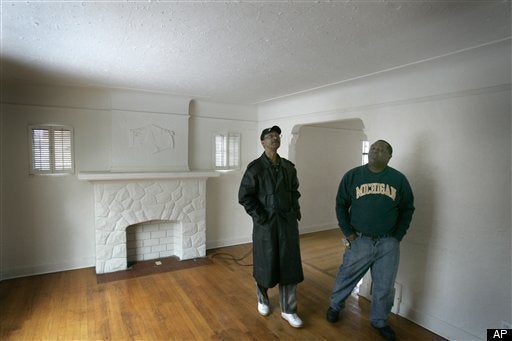 As the Huffington Post continues to bear witness to the effects of the current economic environment on ordinary Americans, we've found additional compelling stories reported by local news organizations around the country.
Andrew Dys of the Rock Hill, SC-based Herald reports that Ed Peirce, 54, works eight hours a day in a Walgreens photo department Read More">to cover the costs of two families whose chief breadwinners lost their jobs. Rather than send his tenants -- including small children -- out on the streets, this former stockbroker-turned-savior landlord put himself back to work to cover their expenses out of his own pocket while they get back on their feet.
Peirce refused to evict them. He didn't throw the families into the street, though he has every right to.

"I sat with them and prayed for better times," Peirce said. "These are stand-up guys. Family men. Proud. They paid me before, when they were working. You don't show your faith, your Christianity, in words. You do it in deeds."
Animals are oft-overlooked innocent victims of the housing crisis. Families, sometimes unable to take their dog or cat with them when forced out of a home, sometimes leave their pets to die. Jodi Polanski, a mortgage lender and founder of Phoenix-area nonprofit Lost Our Home Pet Foundation, is pledging to save these animals by finding new homes and, in some cases, giving them medical help, reports the Mohave Daily News.
Ann Garey of Glendale has been fostering for about a year for the group and is taking care of three dogs for Lost Our Home until they are placed in permanent homes. She initially took in 3-year-old pitbull mix, Bert, as a foster but ended up adopting him.
''He was found nearly starved to death,'' Garey said. ''He's special.''
Detroit ABC News 7 highlights a horse farm forced into foreclosure and animals with nowhere to go. The farm is home to 31 horses -- rescued after injuries, from slaughterhouses, and from negligent owners -- who need new stables or face the worst. Many of the horses have health issues and are lucky to be alive at all, but now are left to the mercy of citizens who can adopt them.
Polly was injured in a car accident while pulling an Amish cart, Lady Jayne was saved from a slaughterhouse, and A.J. was just dropped off one day by his owner who no longer wanted him.

The Equine Star Foundation rescues horses, takes care of them, and then adopts them out. But home on the Haley Hills Farm is about to come to an end.
Southern California community clinics for the uninsured and under-insured are being forced to undergo major changes in the way they operate, according to Hoa Quach of the San Diego News Network. Statewide cutbacks combined with added stimulus dollars, more patients, and fewer employees mean more clinics are opening with fewer services, including an end to optometry and podiatry care. The number of new patients continues to rise as even more people lose insurance or are employed without coverage.
In a bizarre business move, the American Girl doll company introduced a homeless doll, who is forced to live in a car with her mother. The doll's biography, clearly meant to evoke empathy for those worst hit by the current economy, details how her father left the family and her mother lost her job, forcing them out of their home. New York Post columnist Andrea Peyser is disturbed by the sexual dynamic of a helpless, passive woman who can do nothing after her husband leaves, and perhaps rightly so, but the presence of a doll whose life story has her sleeping in a car is certainly a reflection of the overwhelming -- and disheartening -- number of homeless children.
HuffPost readers: Have you seen a local story that expresses the toll of the current crisis? What about heroic judges, neighbors, or doctors who are helping people stay in their homes and coming together to make their community a better place? Tell us about it! Email jmhattem@gmail.com.
Related
Popular in the Community