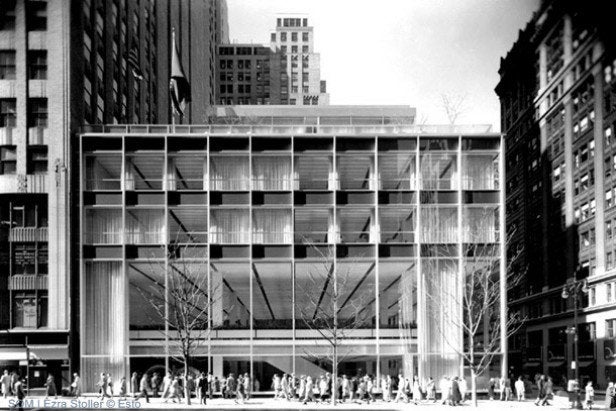 New York City became the proving grounds for the international style of architecture in the 1950s, with many buildings remaining today as a testament to the importance of the groundbreaking movement. Despite this history, one of the style's most notable buildings is threatened by a wave of new developments surrounding it. The Manufacturers Hanover Trust building has found itself in the middle of a dispute between preservationists and the break-neck speed of developers looking to give the famous building a facelift.
Vornado Realty Trust, the owner of the building, has received permission to add new entryways into the Fifth Avenue facade, rotate the escalators and reduce the size of a vaulted wall. The renovation would allow for two new stores in the building on the Fifth Avenue side. Critics note that this plan is at odds with the functional intentions of the original design. "The resulting alteration totally obliterates the quality of this iconic structure," Roberta Brandes Gratz, a former landmarks commissioner, told the New York Times . "The interior is totally one piece with the exterior, both visually from the street and architecturally within. That has been totally compromised."
In a bid to dissuade protest, Vornado has enlisted the help of the original architectural firm, Skidmore, Owings & Merrill, to make the alterations. Roger Duffy, design partner at S.O.M says that the new plans are consistent with the original intent of the design, which allowed for adaptability in case the building should ever cease to function as a bank. "That was always a part of the building, the adaptability of the project." Duffy told the Times.
Though the remodeling has already begun, preservationists have been granted a stop-work order by a Manhattan Supreme Court judge who has been assigned to the case. Construction will continue under the stipulation that any changes to the structure can be reversed should the court rule in favor of the preservationists. Architect Richard Gluckman said that these changes could represent the declining integrity of preservation efforts,
"Since the building is one of the most transparent in New York and it's an iconic structure, it's almost as if the interior is more significant than the facade...If things are designated, they should be rigorously protected."
REAL LIFE. REAL NEWS. REAL VOICES.
Help us tell more of the stories that matter from voices that too often remain unheard.