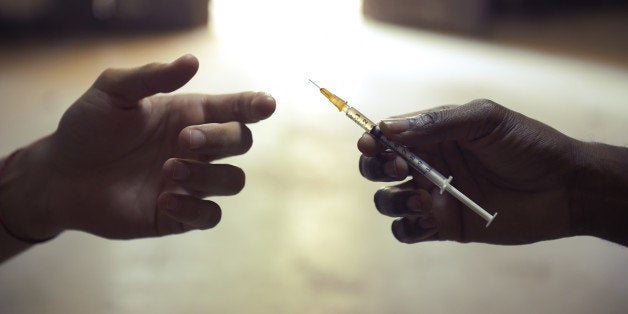 What are needle exchanges, and why are they important? Most simply, needle exchanges are public health programs where people who inject drugs can safely dispose of their used syringes and obtain clean injection supplies. In the United States, millions of people inject drugs every year. Many of them are denied access to the most basic social services, including housing and addiction treatment. Even more face violence, stigma, homelessness, and disease. In this setting, needle exchanges are one of the only places where injection drug users are reliably treated with kindness, dignity, and respect.
Despite the overwhelming evidence supporting needle exchanges, current regulations mean that establishing a program is incredibly difficult. 64% of California counties lack even one needle exchange, even though they are cheap, easy to administer, and require no technical staff. Supporters of OCNEP — the recently approved Orange County needle exchange — include academic faculty, law enforcement, physicians, businesses, the California and Orange County Medical Associations, public health experts, and some of the largest HIV prevention organizations in the United States. Yet implementation took 17 months of struggling against unjustified threats of arrest, multiple and contradictory demands that the program change locations, endless red tape even after demonstrating levels of community support unheard of for other public health programs, excessive fundraising requirements, and other major obstacles. This meant 17 months of new HIV cases; 17 months of unnecessary overdoses; 17 months of Orange County failing its most vulnerable citizens.
Needle exchanges are simple. They are safe, proven to work, and cost almost nothing. By approving a needle exchange program for the first time in its history, the California Department of Public Health has taken a brave step forward. But that step isn't enough. Government officials and public health authorities must not just regulate, but actively facilitate, the development of new needle exchanges. They must streamline the approval process, which required thousands of hours of organizing and multiple rounds of applications to establish even a bare-bones program. Although unwritten, the de facto requirements impose near-impossible hurdles for the majority of people interested in starting a program. Instead of these barriers, public health departments should provide early and frequent assistance to community organizers who want to build needle exchanges in regions that currently lack them, thereby ensuring that their efforts build sustainable, successful programs. Promoting community leadership in this way would guarantee the health of everyone, not just those who live in well-funded areas with well-networked organizers.
Everyone can contribute to this mission. If you want to support public health and drug policy reform efforts in your community, volunteer with your local needle exchange program. If you are in Orange County, join the team at OCNEP. The program is entirely volunteer run and democratically organized. If your county doesn't currently have a program, or enough programs to serve the population, consider starting one. If you need help, contact us — we would love to support your efforts. And if you are a healthcare professional, ensure that your patients are aware of local harm reduction services, including needle exchange programs.
OCNEP's approval has implications that reach far beyond California, as it demonstrates that with dedicated activism, community health efforts can overcome misinformation, stigma, and fear — even in one of the most conservative places in the world. There is a grave need for the expansion of needle exchange services. Needle exchanges respect the dignity and worth of their clients, protect the health and safety of their communities, and do so without any known downsides. Successfully establishing a program in Orange County is something to celebrate, but it is only part of a much larger and longer effort to make harm reduction services available to anyone who needs them. Barriers to establishing needle exchanges must come down. More people must stand up for the rights of themselves and their loved ones by launching programs where none presently exist. In this mission, the path is lit ahead — we hope you join us in walking down it.
Popular in the Community