What does New York Fashion Week have in common with the Democratic and Republican National Conventions? A lot more than you'd think.
As NYFW kicks off this week to a mob of models, designers, stylists, editors, bloggers and photographers, the rest of us get backstage access through the unique eyes of Landon Nordeman, a photographer who has been documenting these shows ("spectacles," as he calls them) in New York, Milan and Paris for four years for New York Magazine and the New York Times.
But he also recently shot the Democratic and Republican conventions for Time, to strikingly similar results.
So which was more fun, the fashion shows or the political rallies? He told HuffPost that he loves worlds where everything is meant to be gawked at.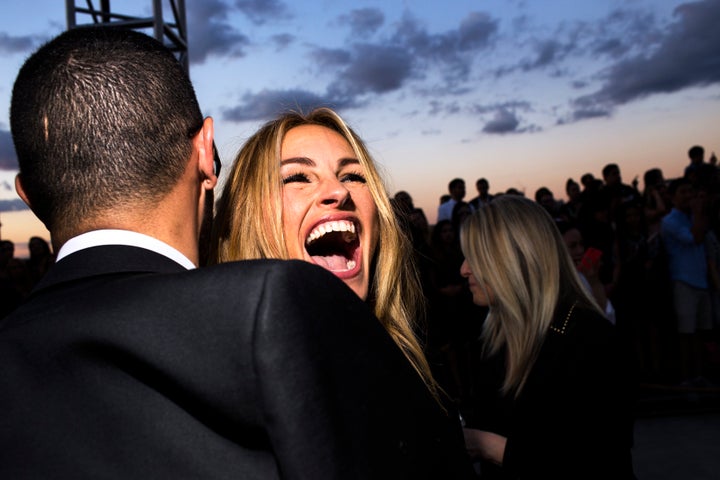 "I like to be in an event where people are expecting that there are going to be photographers. There is this sort of expectation that there is this celebratory event, [whether a] political rally or fashion show, and people are there to photograph it," he said. "Where it gets a little interesting is where I'm trying to photograph someone in the audience, a spectator, and they don't expect to be photographed. And they don't understand, like 'why are you trying to photograph me?'"
Politics and the fashion scene are "very similar worlds," he said. "It's become apparent to me that the people who go to these things ― to fashion week and to the political rallies ― they like to express themselves with what they're wearing."
He's put his fashion week images together in a new book (his first), called "Out Of Fashion" to be published in October by Damiani books. It's 112 images of typical fashion week substance: loud colors, clashing patterns, odd juxtapositions, famous faces and tall models, all cast in Nordeman's signature dramatic flash.
"I love using the flash," he told HuffPost, "and I love how it can exaggerate and amplify the intention of a photograph. I'm never trying to consciously make someone look bad or make someone look funny, I'm just trying to photograph what I see in the best way that I can. What I'm there to do is look and document with my eye and with my heart; it's a physical, whole body experience for me. And I guess the flash is just part of that kind of expression."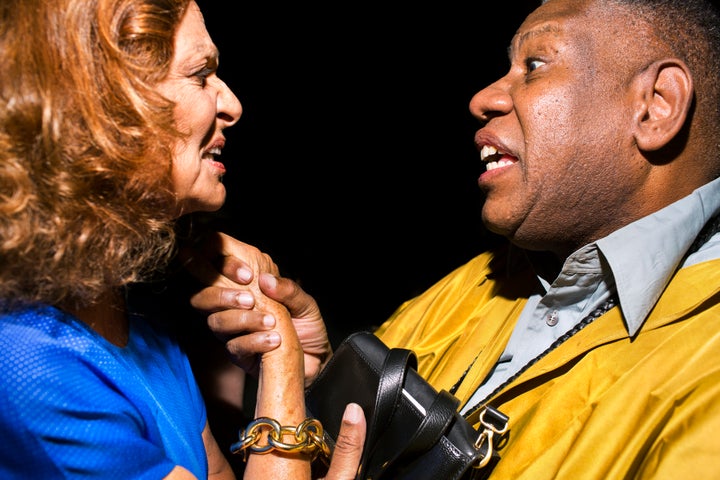 If you've ever been to any fashion show that's ever existed, you know there tends to be a lot going on, a lot to look at. It can be overstimulating.
"You have to remember that your role and your purpose is all part of the whole spinning wheel. You know?" Nordeman said. "And that, in a way, the entire spectacle is made to be photographed and documented and shown. I think the challenge is that people expect, and they're used to, a certain type of photograph, where there's a certain part of, 'Oh this is the part that we want to show or where we expect you to shoot.' And whenever I'm in these type of situations I try to remind myself that any part of it is fair game. And that is what is true about photography. The picture can be anywhere ... don't just say, 'Oh that's not a picture because that's the waiting room.' Even in the waiting room, there could be some amazing picture."
"I would like to photograph the Vanity Fair Oscars party," he said. "I find that fascinating. Being in that room, where the invitation is so exclusive... I love this idea of having this very controlled environment. I love being in there and photographing it in an uncontrolled way."