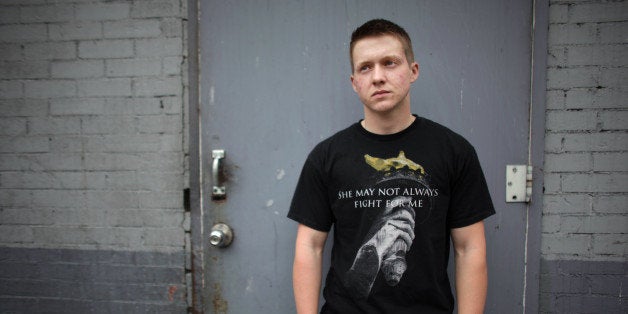 Landon Wilson was serving as a Dominance Warfare Specialist in the U.S. Navy, stationed in Afghanistan, when his life was turned upside down one day last December. But it wasn't because of any conflict with the Taliban or insurgents; it was rather at the hands of the U.S. military, a sergeant major to be precise, who, after checking some paperwork, wanted to know why Wilson was identified as female. A highly-talented cryptologic technician, Wilson had enlisted with the same first name he had been given at birth. But he'd enlisted before he transitioned as a transgender man.
"I enlisted in 2011 as a female, and, a year or so after, I began hormone therapy," he said in interview with me on SiriusXM Progress. "I left my parent command in Hawaii and began training, and when I arrived at my training command I began being [gender-correct] completely as a male. So I went through uniform issue with the males, went through combat training, specialized skill training, all of these things with the guys. No one ever questioned me. No one ever thought anything different. Everybody took me as a cisgender male."
Wilson had been doing exemplary work, and, as The Washington Post reported earlier this week, "the Navy spent at least a half-million dollars getting him the highest-level security clearance in government and training him for an intelligence job that involves intercepting and analyzing communications from foreign governments and extremists." But because something became known about him that had no bearing on his work whatsoever, the process was begun to eject him from the military.
Transgender people are banned from the U.S. military under a decades-old policy that still deems them as sexual deviants, suffering from a condition called "paraphilia," even though the American Psychiatric Association revised its manual last year to state that gender nonconformity "is not itself a mental disorder." One study suggests thousands of transgender service members are serving in the U.S. military in silence, and fear, while transgender people are serving openly in Canada, Britain, Spain, Israel, Australia and other countries.
"I was actually up for a promotion," Wilson said, described how his being transgender became known, "and my leadership in Hawaii contacted my leadership in Afghanistan and they used a female pronoun on me, which started the confusion and everybody started looking into things then. And within hours of this being told to my senior chief I was automatically sent back home to the states."
Wilson is now part of a project, Transmilitary, a docu-reality series and a documentary, currently in the fundraising period. He was filmed for the project before he was deployed to Afghanistan, for a pilot that has already been produced. He hopes it will help educate people about the plight of transgender soldiers and why the Pentagon policy is only doing harm — to the military, to the country and to transgender service members.
"The only issues we run into is when we are not able to begin our transition," Wilson explained. "For me, when I began hormone replacement therapy, knowing that I was finally taking steps to be who I am, it was like taking my first breath. And that makes a difference in who you are and how you're perceived, and an outstanding difference in how you perform at work."
Calling all HuffPost superfans!
Sign up for membership to become a founding member and help shape HuffPost's next chapter
BEFORE YOU GO
PHOTO GALLERY
48 Transgender Pioneers