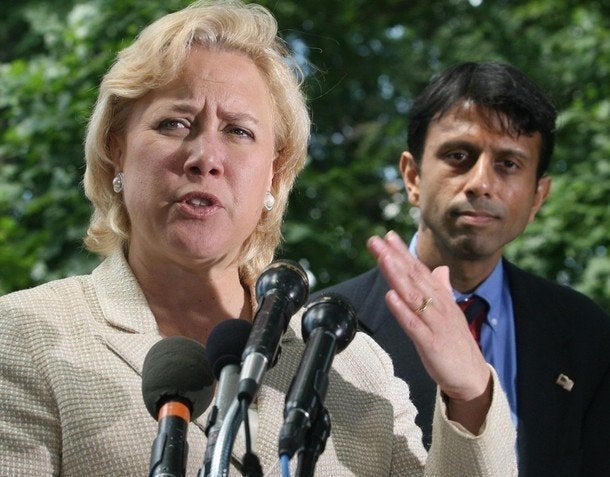 Under fire throughout much of the health care debate from the left, conservative Democratic senators are now getting an even harsher reception from the right.
The angriest accusation: that they sold their votes.
On Tuesday, Sen. Mary Landrieu (D-La.) was pilloried during an appearance on C-SPAN Newsmakers for the $300 million in emergency Medicaid funding that she secured for her state in the Senate's legislation. One self-identified Republican caller proclaimed that she had engaged in political prostitution -- trading her vote for the funds. Another called her "nothing but a Judas goat selling out for thirty pieces of silver" who would lose her next election.
"You know," Landrieu chimed in at that point, "being in public office isn't easy because we have to listen to situations like this.
"I'll say it again and I'll continue to say it, I did not vote for this bill because of [the Medicare funding]," she added. "I voted for this bill because it's going to lower costs for Americans, it's going to give the private market the boost and the reform it needs to do a better job for all consumers in our country. It's going to expand the life of Medicare for nine years, it's going to reduce the federal deficit, and it's going to bring efficiencies to a system that is wasteful, abusive and out of control. I know there are some people that don't believe that. Time will tell. And I'll tell that gentleman I've been elected three times to the United States Senate, and I will probably be elected again. Thank you."
Landrieu isn't alone. Both she and Sen. Ben Nelson (D-Neb.) have been called prostitutes by conservative radio talk show host Rush Limbaugh. The Nebraska Democrat also secured Medicaid funding for his state -- a legislative coup that was deemed either the "Cornhusker Kickback" or "Cash for Cloture" depending on the reporter or medium.
Nelson isn't up for re-election until 2012. Landrieu, meanwhile, runs again in 2014. So they have three and five years respectively before voters decide their fates. Unlike, say, Sen. Blanche Lincoln (D-Ark.) -- another swing-state Democrat who is up for re-election in 2010 -- both Landrieu and Nelson stand to actually benefit from the health care provisions they secured, rather than be blamed for the messy process that produced those provisions.
REAL LIFE. REAL NEWS. REAL VOICES.
Help us tell more of the stories that matter from voices that too often remain unheard.