I didn't know I needed a vacation. But I got one when I saw the film Lands (Terras). Actually, I didn't just see it. I heard it, felt it, and fell for it. Your chance to see it comes Friday, August 20, 4:30pm at the New Museum, and the same time and place Saturday, September 18.
This weird, wild and wonderful film took me by surprise. Brazilian director Maya Da-Rin gave me a trip to a strange and interesting land where four cultures come together at three countries' conjoined borders, or frontiers, as they call them. I asked her for specific directions to this place.
This land is at the triple border that brings Colombia, Peru and Brazil together. Colombia's and Brazil's very remote twin cities, Leticia and Tabatinga, each with about 150,000 inhabitants, have merged. With a Peruvian village nearby, this area has become an urban island surrounded by the enormous Amazon Rain Forest. Linking it all together is the Solimoes River, actually the upper part of the Amazon River.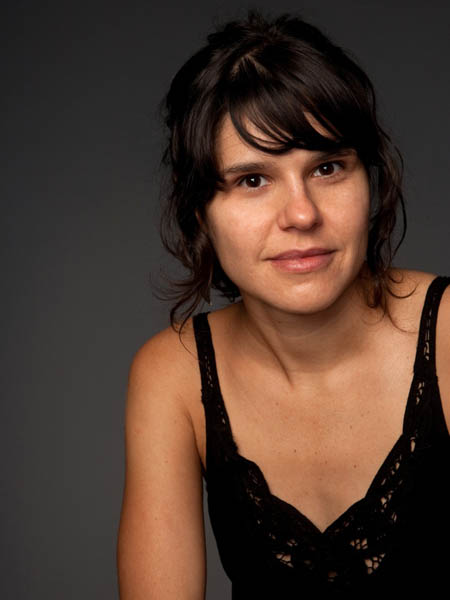 Filmmaker Maya Da-Rin / Photo by Leslie Hassler
The Solimoes flows beside these twin cities, giving berth to houseboats and working boats bringing goods. The fourth culture in this Amazonian amalgam is the important one of the indigenous Indian tribes who live mainly in the forest. Da-Rin found colorful spokespeople within this culture who offer their long view of how people live now compared to earlier times. While swinging her machete at stray weeds, one woman says,
We lived with this land before the Franciscan Spanish came and got us used to an easy life. Before, we didn't think of anything except working to live. Today we don't live, we beg. People ask the government to give them money to start a plantation that will hire 7-8 workers. In the old days, we didn't need this. We'd say, 'Ah, the summer's here, how lovely.' There would be a river where I'd set up a trap and get fish. I'd get my fish, my manioc [Ed: cassava, tapioca], my axe, I'd work alone. I didn't need the government.
Da-Rin's mother, Rio-based filmmaker Sandra Werneck, helped produce this film out of her studio, Cineluz. But despite the expertise behind her, Da-Rin imposed nothing and stuck to her plan "We had no shooting script at all, no planned dialogue," she reported. "What was more important to us was how our cameras were positioned to get the best shots." Da-Rin certainly shows respect for the land and its people. She lets it - and them - tell their own story. "The land is the main character in my film," she said.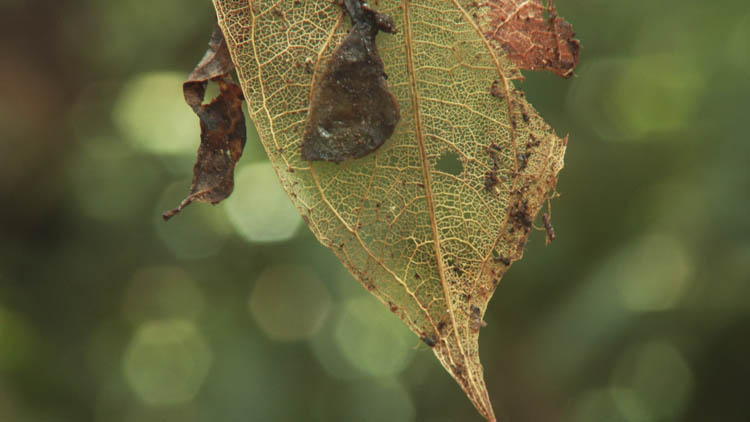 One of many nature photos in the film
A huge plus throughout the film are the seductive ambient noises that boost the enjoyment of the scenes and scenery in the city, on the river, in the forest. I don't recall another film that uses natural sounds to this extent. The film starts with gradually increasing buzz of insects and birds in dense brush or forest. Filling the screen are art forms we recognize as some form of nature, but what? Is that the inside of a fallen tree? A diseased branch? A piece of wood covered with multi-colored fungi?
Lands is more an art film than a documentary. Da-Rin herself doesn't think of it as a documentary. But it's actually both, just as a good glass of spirits is both delicious and a relaxer. The art part is why MoMA premiered the film July 26 and the New Museum entered it in its current series of "experimental Brazilian films that use visual art to portray a playful perspective on the world."
Da-Rin kept her subjects natural by frequently using long lenses to establish distance from subjects. And she set her cameras mainly on the ground to record life as it happens from the land's vantage point. We watch human legs carry their cargo to and fro, motorcycle wheels head this way and that, and a grandmother squat on her floor to brush it with a hand broom. (The only noises for a full two minutes are the swish-swish of her broom and her soft singing.). I was reminded that in indigenous cultures, everyone works at something to benefit the group, regardless of age.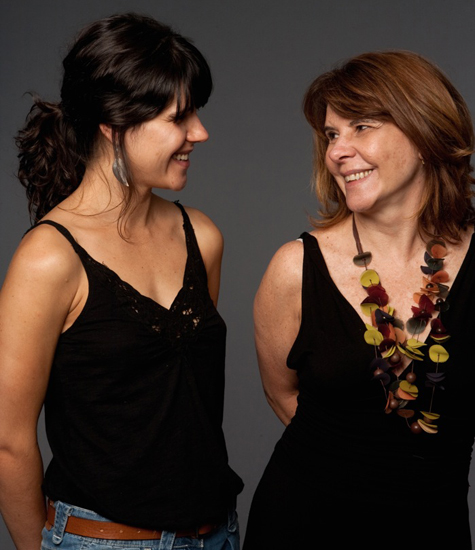 Maya Da-Rin with her mother, Sandra Werneck / Photo by Leslie Hassler
I felt like a toddler at times, looking up at people from down below. But many of these thin people squat or crouch to prepare food, cook, work, and visit with each other. Food sellers at a public outdoor market sit on the ground with their vegetables, fruits, and chickens. (What were those fat crawling bugs someone was picking hungrily out of some straw?) So a lot happens down low. I came out of my analytical head as my awareness shifted back into my whole body, where it belongs.
Lands had put me back in my animal nature. I was able to just relax and enjoy the goings and comings of insects, birds, people, motorcycles, boats and clouds. I merged with them all for those 75 precious minutes, with some longer-lasting residual effects. Nature will do it every time. Now let me add that category to this film. It's a nature film, too.
Popular in the Community