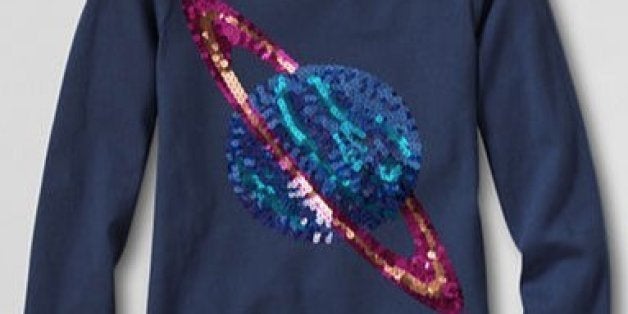 In just a few short paragraphs, one mom has summed up the problem with gender stereotyping in kids' products.
New Jersey mom Lisa Ryder was flipping through a Lands' End clothing catalog with her daughter when she noticed something wrong with the graphic t-shirt offerings. While there were several interesting science-themed shirts for boys, there were no equivalent options for girls. This disparity prompted her to write a letter to the company, which she posted on its Facebook page.
Dear Lands' End,

My nine year old daughter loves science; She especially enjoys learning about ocean life and outer space. She has read more books on sharks than I ever knew existed, follows NASA news, and hopes to be an astronaut one day.

So you can imagine her reaction when she saw your company's science-themed t-shirt designs for boys featured on page 26 of your latest catalog. The boys' options include realistic images of planets and our solar system, labeled diagrams of sharks and dinosaurs, and a "NASA Crew" tee design that she immediately declared to be "the coolest shirt ever."

We immediately flipped forward in your catalog to find the equivalent shirts in girls' sizes. But when we got to the available t-shirt designs for girls on page 56, instead of science-themed art, we were treated to sparkly tees with rhinestones, non-realistic looking stars, and a design featuring a dog dressed like a princess and wearing a tutu.

My daughter was very confused. Lots of her friends that are girls love science, too. Why were there no cool science shirts for girls?

So, Lands' End corporate, how should I respond to my daughter's question? In 2014, why are you selling "mighty" tees for boys and "adorable" tees for girls? (Descriptions taken straight from your marketing copy.)

My daughter is mighty and she loves science. And until you recognize that it's not only boys that can fit that description, I'm afraid our family will no longer be shopping in your stores.

Sincerely,
Lisa Ryder
For an idea of what she's talking about, here are some examples of science-themed graphic t-shirt options.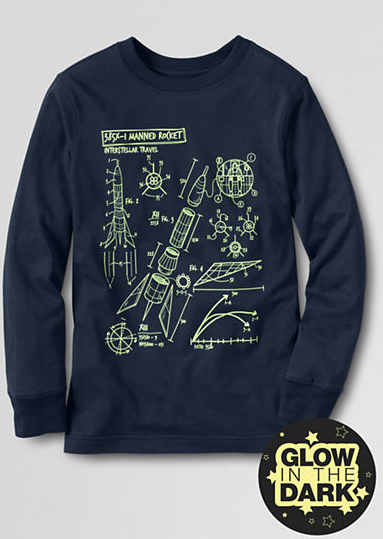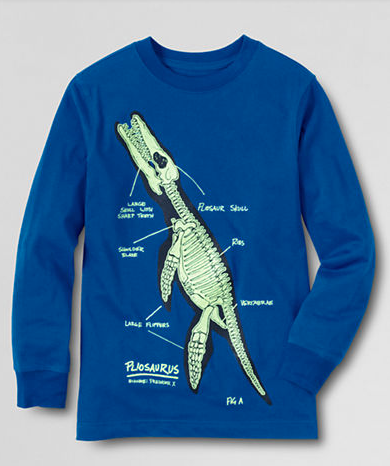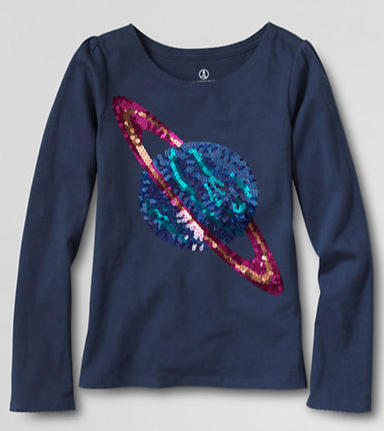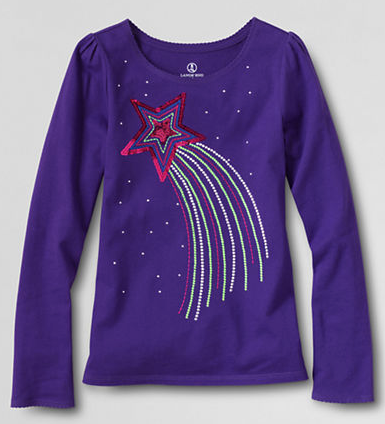 In response to the letter, Lands' End commented on Ryder's Facebook post, "Thank you for your honest feedback – we sincerely appreciate it. Customer feedback has, and will continue to be, of the utmost importance to us. Please be assured that we are currently sharing your comments with our Catalog Creative and Kids Design Teams."
Meanwhile, other commenters chimed in, suggesting that the mom buy one of the boy shirts for her daughter since the sizes are almost identical for children that age. Ryder responded, "The problem is that your recent catalog copy and product offerings strongly promote the gender stereotypes that young boys are smart and mighty and young girls are adorable. Simply buying my daughter one of your 'boy shirts' is not the answer because it perpetuates the idea that science is a boy thing that she happens to be participating in."
Because Lands' End is hardly the first brand to be called out for marketing to boys and girls separately, groups like Pigtail Pals, PinkStinks and PrincessFreeZone are working to combat these strategies. In the comments on her post, Lisa Ryder further suggested that Lands' End offer each of its designs in a variety of colors and sizes and stop separating its kids' clothing by gender.
Like Us On Facebook |

Follow Us On Twitter |

Contact HuffPost Parents
Related